ESPN Ranks Teams Most Affected by Injuries. You Agree With Ravens' Standing?
We're (rightfully) reminded of it constantly: "All teams deal with injuries."
Reading through ESPN's rankings of NFL teams most affected by injuries certainly brings that to life, demonstrating that, even though the Ravens lead the NFL with 16 players on injured reserve (IR), they aren't the only ones hurting.
As such, looking at this list isn't meant to excuse Baltimore's losses. But it also can't be completely overlooked as ONE factor in the team's struggles.
1) Green Bay Packers (4-2) Key losses:QB Aaron Rodgers, so many offensive linemen that they've started a different combination in every game this season, three starting defensive backs (Davon House, Kevin King and Morgan Burnett) missed last week's game.
With a winning record, the Packers obviously haven't been too affected by injuries, but that could change after Rodgers suffered what looks like a season-ending broken collarbone last week. The Packers don't have close to the number of players on injured reserve (10) as the Ravens (16), but Rodgers is one of the league's best players and it's hard to overstate the impact of his loss.
2) New York Giants (1-5) Key losses:Three wide receivers were lost for the season in Week 5, including NFL star Odell Beckham Jr.
"The Giants looked great in Sunday night's victory over the Denver Broncos. But Beckham has been a safety net for quarterback Eli Manning throughout his brief career," wrote Seifert. "The Giants had six players on their active roster Sunday night who were ruled out because of injury two days before kickoff. The loss of Beckham alone is enough to merit inclusion on this list. Over time, Manning and the Giants will struggle to score points without him."
I have to say, it's debatable to say solely losing Beckham is enough to put the Giants in the top five, especially when you look at the graphic and hear the debate in the "Speak For Yourself" video below. The win-loss record with and without Beckham really isn't all that different. But the Giants do also have 13 players on injured reserve (tied for fifth-most).
3) New England Patriots (4-2)
Key losses: WR Julian Edelman, OLB Shea McClellin, CB Cyrus Jones
Maybe the Patriots really are hurting, but Seifert's explanation falls short of justifying this ranking. "I won't try to argue that the preseason loss of receiver Julian Edelman has contributed to the Patriots' somewhat wobbly 4-2 start," Seifert wrote. "Their offense is averaging an NFL-high 28.7 points per game, not including defensive or special-teams touchdowns." But then Seifert writes four paragraphs about how Edelman's loss will hurt in the playoffs. Sorry, but that doesn't come close to the pain other teams on this list (and some not on this list) are feeling.
4) Baltimore Ravens (3-3) Key losses:RG Marshal Yanda, LG Alex Lewis, DE Brent Urban, DT Brandon Williams (not season ending), RB Danny Woodhead, CB Tavon Young, RB Kenneth Dixon, CB Maurice Canady, TE Dennis Pitta, TE Crockett Gillmore
"Sometimes it's fair to wonder how the Ravens have won three games," Seifert wrote. "They lost nine players for the season between June 1 and the end of the preseason, including running back Kenneth Davis and tight end Crockett Gillmore. Since the season began, they have placed All-Pro guard Marshal Yanda, defensive end Brent Urban and running back Danny Woodhead on injured reserve. Quarterback Joe Flacco missed the preseason because of a back injury, and nose tackle Brandon Williams has played in only two games."* *With the Ravens placing the most players on IR over the last three years (69), according to ESPN Stats and Information, fans have been vocal about wondering what is creating so many injuries over a long period of time. The problem is there's no trend, other than about one-third of this year's injured reserve players having knee injuries. But they all happened under different circumstances. The team already changed its offseason training program, which the players raved about this year.
5) Detroit Lions (3-3) Key losses: DTs Kerry Hyder (Achilles) and Haloti Ngata (biceps), LT Taylor Decker, 13 players on injured reserve
"Decker's offseason biceps injury developed into a massive issue the past few weeks," wrote Seifert. "Replacement left tackle Greg Robinson has struggled and was benched during Sunday's game against the New Orleans Saints. With guard T.J. Lang (back) already sidelined, it got ugly when right tackle Rick Wagner was banged up."
Ravens' Playoff Hopes Fading, Chance of Getting a Top-10 Draft Pick Increasing
They may be one of the teams most hurt by injuries, but the Ravens don't have time to feel sorry for themselves (and they're not). They quickly have to get things turned around if they want to make the playoffs this year.
The math is against them.
According to ESPN's Football Power Index (FPI), the Ravens' chances of advancing to the postseason have fallen by nearly 50 percentage points since the beginning of the season. While the offense has struggled, FPI also attributes the Ravens' fall to the defense giving up the third-most rushing yards per game (141.3).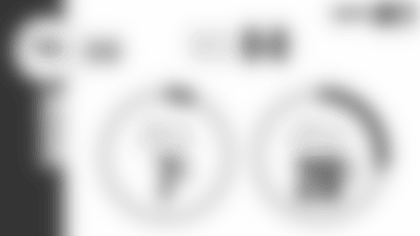 "We're going to need to go more than .500 the rest of the way to accomplish what we want to accomplish," Head Coach John Harbaugh said Monday. "We need to get about 10 wins. So, we need to find a way to put wins together."
The Ravens certainly remain in the hunt, but the 28 percent chance of making the playoffs is actually worse than Baltimore's odds of getting a high draft pick this April. According to ESPN analytics, the Ravens have a 35.4 percent chance of getting a top-10 selection.
"Baltimore is currently projected to win eight games," ESPN writes. "The Ravens are considered to be heavy favorites in four of their remaining games: home against Miami, Indianapolis and Cincinnati and at Cleveland. They are decided underdogs in four games: at Minnesota, Tennessee, Green Bay and Pittsburgh. The swing games are home against Houston and Detroit, which could determine whether the Ravens return to the playoffs for the first time since 2014."
Thoughts on Getting More Creative on Offense, Re-Visiting Draft Decisions, More
WNST's Luke Jones published his weekly "12 Thoughts" feature, which is always worth reading. You can take a look at all 12 here, and I've pulled out four intriguing ideas below:
"After earning a stop-the-bleeding win last week, the putrid Ravens offense resurfaced and was responsible for just 11 of the team's 24 points. Marty Mornhinweg may not deserve all blame, but he should take a cue from Chicago's playbook that included a halfback pass. Desperate times call for desperate measures."
"Tony Jefferson was beaten for two touchdown passes and ranks 60th among safeties in Pro Football Focus' grading system after finishing fifth last year. Fellow safety Eric Weddle has also struggled, but the Ravens need to start seeing a better return on the $19 million guaranteed to Jefferson in March."
"Supporters who refuse to find fault in Joe Flacco are as tiresome as those who want to blame him for everything, but I don't know how anyone who actually watched the game can criticize him above everything else. He certainly made some mistakes, but did you see those receivers play?"
"John Harbaugh didn't offer a glowing endorsement of Bronson Kaufusi after the rest of the defensive line was overworked and he barely played Sunday. Ronnie Stanley certainly hasn't disappointed, but remember the Ravens could have traded the pick used on Kaufusi to move up for cornerback Jalen Ramsey in 2016."
Ravens Fall Back Down Power Rankings After Brief Rise
The Ravens took a step back down the power rankings after a slight bump after their win over Oakland. Two outlets believe Baltimore is a bottom-five team.
Sporting News: 20 (down three)
"Joe Flacco is getting nothing done in the passing game, and when opponents shut down the Ravens' running game early, there's not much of a chance for them to be competitive. John Harbaugh's team is in danger of a free-fall. This week: at Vikings, no break for the offense."
ESPN.com: No. 22 (down four from last week)
"The Ravens beat a Raiders team without Derek Carr in Week 5, then lost to Mitchell Trubisky in his second career start. They might get to face Case Keenum this week, Jay Cutler the next and then whoever is starting for the Packers (it's looking like Brett Hundley) after a trip to Nashville and their Week 10 bye. If the defense can take advantage, the Ravens could get back above .500 for the stretch run."
Bleacher Report: No. 23 (down three spots)
Chris Simms: "Listen, we have to recognize that football is a three-phase game. The Ravens are strong in two of those phases. They scored twice on special teams against Chicago, and their defense is competent enough to at least give Baltimore a chance. The issue is the Ravens just can't find any consistency on offense. When it's up to that phase of the game to win contests, Baltimore is at a disadvantage."
Yahoo! Sports: No. 23 (down two)Frank Schwab: "The Ravens got a punt return for a touchdown, a kickoff return for a touchdown and still lost to the Bears at home. They'll win games because they're well coached and tough, but every win will be ugly."
CBS Sports: No. 24 (down four)
Pete Prisco: "There's no excuse for losing at home to the Bears with a rookie quarterback making his first NFL road start. Their offense is bad."
NFL.com: No. 28 (down seven)
Elliot Harrison: "This football team has played poorly, for the most part, over the past four weeks. The one positive blip on the radar was handling the EJ Manuel-led Raiders. Other than that, the Ravens have been b.a.d. In fact, Sunday was awful. The defense faltered against an offense featuring a rookie quarterback with a single start under his belt on a short week. Joe Flacco is enduring his worst season as a pro. How 'bout that 4:8 TD-to-INT ratio? Straight out of the 1935 sports almanac."
USA Today: No. 28 (down seven)"Not only did they stumble at home to lowly Chicago, all of Baltimore's points came courtesy of special teams. Might be time to bench Joe Flacco."