Analysts Split in Their Ravens-Dolphins Game Predictions
While ESPN dubbed Thursday night's matchup between the Ravens and Miami Dolphins the "boring bowl" because it features the league's two worst offenses, the draw of the game stems from the massive playoff stakes on the line.
Mathematically speaking, for the Ravens to keep their postseason hopes alive, a win in Miami would do wonders.
"FPI sees this as a pivotal game for both teams, with a playoff leverage north of 20 percent for each squad. Even with a win, neither side will have much of a chance at their respective divisions (Dolphins 6 percent, Ravens 5 percent), but a wild card – and a potentially large head-to-head tiebreaker – are the prize."
Most of the national analysts below don't see Baltimore notching a win, but the folks at Pro Football Focus (PFF) are bucking the trend and clearly see something in this matchup that favors the Ravens. Seven PFF analysts account for more than half of the pundits below picking Baltimore.
Of the 40 analysts, 24 are predicting a Miami upset as Vegas made Baltimore three-point favorites. That's about as split as we've seen analysts get for a Ravens game this year.
Miami fans have been calling for Matt Moore, the Dolphins' third quarterback of the year, and he will get the start while Jay Cutler recovers from cracked ribs. Meanwhile, the Ravens only have two wide receivers not listed on this week's injury report (Chris Moore and Griff Whalen).
As such, this game is expected to come down to the running game.
In part, that's why many analysts are predicting a Miami win despite traveling teams historically losing Thursday night bouts. They see the Dolphins with the upper hand against the worst-ranked Ravens rush defense.
"Don't make this complicated: Run the ball, play defense, and get out of town with a win," wrote ESPN's Matt Bowen, who is predicting a Miami upset.
Those predicting a Ravens victory are partly doing so because Baltimore's back is against the wall (the Ravens' playoff chances would be 33 percent with a win, and 11 percent with a loss). Additionally, the offense could get back some pieces (see below) to put the unit in a better spot to score some points.
"If the Ravens are ever going to arrest their fall, it will be on a short week at home against a team that also struggles to score," wrote The Baltimore Sun's Childs Walker, who predicted a 16-14 win for Baltimore. "They're on track to be a bit healthier as well."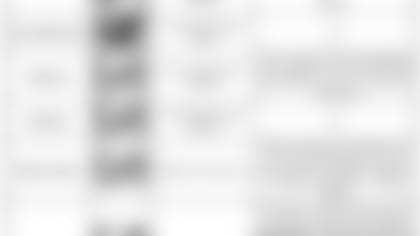 Clues That Will Help You Figure Out Ravens' Injury Situation
The Ravens continue to juggle a litany of injured players as 30 percent of their roster is on the injury report heading into tonight's matchup, including 10 of 22 starters.
The area of concern is at wide receiver, where we already know they'll likely be down two players as Michael Campanaro (shoulder) and Chris Matthews (thigh) are both doubtful to play. Whether the top three receivers – Mike Wallace, Jeremy Maclin and Breshad Perriman – will be available, The Baltimore Sun's Jeff Zrebiec says there are clues to watch for today.
There is a 4 p.m. deadline to make roster moves, and what the Ravens do (or don't do) will give an indication of players' health status.
"If they promote one of their practice squad receivers, Quincy Adeboyejo or Kenny Bell, it would be an indication that Wallace (concussion) and/or Maclin (shoulder) won't play," Zrebiec wrote.
"The Ravens will want at least four active receivers, if not five, so if Maclin and Wallace can't go, they'd have to make a move. … As things stand, Moore, Whalen and likely Perriman (concussion) are in."
Meanwhile, the Ravens would love to get back right guard Matt Skura, who has missed the last two games with a knee injury. He is listed as questionable after returning to practice this week as a limited participant.
Either Skura or rookie Jermain Eluemunor will get the challenge of blocking Dolphins defensive tackle Ndamukong Suh, who leads Miami's fifth-ranked run defense.
A roster move (or lack thereof) by 4 p.m. will give another clue to which Ravens guard will get the call.
"If [Skura] can't play, the Ravens will need to add a seventh healthy offensive lineman," Zrebiec wrote. "If Skura is fine, he'd probably slide into the starting right guard spot with Eluemunor and Luke Bowanko being the two reserves."
Based on the injury report sent out Wednesday, five of the seven Ravens' inactives will likely be Campanaro, Matthews, running back Terrance West (calf, out), tight end Maxx Williams (ankle, out) and outside linebacker Tim Williams (thigh, doubtful).
Tony Bergstrom Signed by Redskins; Unlikely Ravens Will Have to Send Draft Pick to Arizona
If the Ravens do make a move to supplement the offensive line, it won't be Tony Bergstrom, who's been released twice and re-signed in a little over a week.
That's because Bergstrom was signed by Washington Wednesday as the Redskins have endured injuries along their offensive line. Four of their five offensive linemen missed portions of their game last week.
That leaves the question of whether the Ravens have to send their conditional seventh-round pick to the Arizona Cardinals after Baltimore traded it for Bergstrom ahead of the season.
Dolphins Switch Color Rush Uniform After Last Year
The Ravens nailed it with last year's all-purple color rush uniforms, which was a sigh of relief after the mustard-colored change-up from the year before.
As such, Baltimore's bringing the purple look back tonight.
Meanwhile, the Dolphins are switching to an all-white look after they got crushed with an all-orange uniform last year.
"The Dolphins wore brightly-colored orange Color Rush uniforms last year at Cincinnati that some likened to candy corn, cheese puffs and orange traffic cones," wrote The Sun-Sentinel's Chris Perkins. "But this isn't the Dolphins' fault. Nike designed the Color Rush uniforms for Thursday night games that debuted in 2015."
The Dolphins haven't given a preview of their new all-white look.
Who Has the Edge? Dolphins-Ravens Scouting Report
As he does every week, Zrebiec offered a detailed scouting report for the upcoming matchup between the Ravens and Dolphins, and I've pulled out a few thoughts below. Zrebiec predicts a 17-13 win for Miami.
Passing Game
"Perhaps a matchup with the Dolphins is what Joe Flacco needs to turn his season around. He is 5-0 in his career against Miami. … Matt Moore will get the start for an injured Jay Cutler, but it's hardly unfamiliar territory for the veteran. He started three games last year and has 28 career starts."
Edge = Dolphins
Running Game
"The Ravens were held to a season-low 64 rushing yards against the Minnesota Vikings on Sunday and they face another top run defense Thursday. … [The Dolphins] figure to lean heavily on Jay Ajayi, given the Ravens' struggles stopping the run."
Edge = Even
Rush Defense
"This continues to be the most head-scratching aspect of the Ravens' slide. Even with Brandon Williams back, the Ravens allowed 169 rushing yards to Minnesota. … Miami ranks fifth in the NFL in allowing 82.3 rushing yards per game and 3.61 yards per carry."
Edge = Dolphins
Pass Defense
"The play of Jimmy Smith, Brandon Carr and Marlon Humphrey on the outside has been the strength of the Ravens, but the group will be tested by a talented Miami receiving corps. … Miami is allowing 225.8 passing yards per game, which ranks 17th in the NFL."
Edge = Ravens
"Top offensive linemen going down. Left tackles Joe Thomas and Jason Peters are officially ruled out for the season, and they join Marshal Yanda as some of the league's best O-linemen who are missing the rest of the season." [ESPN]