What's Going on With Jimmy Smith?
The last 24 hours have been full of ups and downs for Ravens fans as they anxiously await news on whether a* *serious injury caused Jimmy Smith to miss Wednesday's practice.
Here's how the confusing day unfolded:
Journalists reported yesterday afternoon that Smith, the team's top cornerback, was absent from the portion of practice open to the media. Reporters were immediately bombarded on social media with questions as to why Smith was missing, with no concrete answers until Jeff Zrebiec of The Baltimore Sun tweeted that Smith's absence was due to a personal matter and not injury related.
That calmed nerves … until the Ravens released their official injury report last night and listed Smith with an Achilles injury.
Zrebiec might be the best Ravens reporter in town, so reviewing the day is no knock on him. The focus is really on Smith and whether he will be available for Sunday's matchup against the Oakland Raiders. The Raiders boast two skilled receivers in Amari Cooper and Michael Crabtree (more on him below), and even though quarterback Derek Carr (back) won't play, the duo will be a challenge to defend.
The hope is Smith's injury isn't serious, but there may not be clarification on that very soon. Head Coach John Harbaugh doesn't speak to the media today (the coordinators speak on Thursdays) and the injury report may not come out until later in the evening as the Ravens usually wait for opponents to finish their injury report, and the Raiders are three hours behind on the West Coast.
WNST's Luke Jones describes Smith's final play in Sunday's game.
"Smith was replaced by rookie Marlon Humphrey on Pittsburgh's final touchdown drive in the fourth quarter Sunday, but he didn't appear to suffer a serious injury and never went to the ground during his final play of the afternoon, Le'Veon Bell's 21-yard run to the Baltimore 21 with under five minutes remaining," Jones wrote.
"Smith played 52 of 76 defensive snaps against the Steelers as Humphrey replaced him for a few series over the course of the contest, something the rookie also did the previous week."
It's hard to overstate the importance of Smith's presence on the defense. Last year, the unit was leading the NFL for most of the season, and when Smith went down with a season-ending ankle injury in Week 14, the defense wasn't the same.
Through the first four weeks of this season, Smith has been brilliant. In fact, he and Brandon Carr have been two of the best corners in the league.
To make matters worse, starting nickelback Lardarius Webb also missed practice Wednesday with a thigh injury. And starting defensive tackle Brandon Williams didn't return either (more on him below).
The good news is cornerback Jaylen Hill (hamstring) returned to practice on a limited basis after missing about a month. If Smith can't go, Hill likely won't take his spot. Humphrey, a first-rounder, would get that job. But Hill could help fill in if Webb doesn't suit up in Oakland.
"Though he'll likely need some time to get back into football shape and prove he's fully recovered from a long-term hamstring injury, Hill could be a potential fit at the nickel spot with Webb having struggled in pass coverage over the last couple weeks," wrote Jones.
UPDATE: Smith was not at Thursday's portion of practice open to the media.
Michael Crabtree Expected to Return After Bruised Lung
While the Ravens missed two of their veteran corners Wednesday, the Raiders were happy to see Crabtree at practice, even as a limited participant, after he missed last week's game recovering from a reported bruised lung.
Crabtree also practiced early last week before being ruled out, but Head Coach Jack Del Rio said he's optimistic about Crabtree returning this week.
"[Crabtree] wouldn't admit much, but I just saw him reacting as though it was sore a little more last week," Del Rio told reporters Monday, per NBC Sports in the Bay Area. "So, he got the weekend off. We'll practice him probably Thursday and be smart on Wednesday … And then, get a good workload on Thursday and get him to the game and look at him that way."
Despite sitting out last week, Crabtree still leads the Raiders with 170 receiving yards (tied) and three touchdown catches.
"The Raiders obviously need all the help they can get for quarterback E.J. Manuel as he takes over for Derek Carr," wrote ProFootballTalk.com's Charean Williams.
Nobody Should Be Questioning Brandon Williams' Contract Anymore
This is a pass-happy league. So, it's not surprising when some questioned the Ravens for giving run-stuffing defensive tackle Brandon Williams a reported $52.5 million contract in March.
Over the last two games, we've seen why the Ravens did. His absence not only affects the rush defense, but much more. Zrebiec likens the defensive line losing Williams to the offensive line losing Marshal Yanda. It may not be quite as bad, but he says it's not far off.
"I was among those that wondered whether it was the right move, but I'm not wondering anymore, and nobody else should be either," Zrebiec wrote. "Williams' absence over the past two weeks because of a foot injury has been glaring in myriad ways.
"It's been evident in the struggles of the run defense, which has given up 339 yards and three rushing touchdowns with Williams out. It's been evident with the Ravens' failure to get any inside pressure on the quarterback the past two weeks, a concern exacerbated by the season-ending foot injury to defensive end Brent Urban. It's been evident with the number of double teams that nose tackle Michael Pierce is facing, the increased attention on rush linebacker Terrell Suggs, who has struggled to get near the quarterback with Williams out, and with the number of blockers getting to middle linebacker C.J. Mosley."
Zrebiec said Williams will "almost certainly" miss his third consecutive game when the Ravens travel to Oakland. And he's not so sure Williams will be ready for the Chicago Bears on Oct. 15 either.
Can Ravens Turn Things Around to Keep Playoff Hopes Alive?
At the first quarter mark of the season, the Ravens sit at .500.
ESPN's Football Power Index (FPI) predicts Baltimore will end the season with the same mark, giving the team only a 22 percent chance of making the playoffs.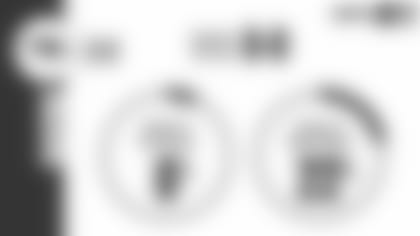 If injuries continue to pile up, it will get increasingly tough for the Ravens to get back on a winning track. But with 23 other teams either boasting the same .500 record or just one game from it, Baltimore is obviously in the thick of things.
And Russell Street Report's Tony Lombardi says the Ravens' upcoming schedule gives them a solid opportunity to notch a couple wins. We already know Oakland will be without its franchise quarterback.
"Last season the Raiders were (12-3) with Carr, (0-2) without him. It's a big loss," Lombardi wrote. "Next week the Ravens return home to M&T Bank Stadium where they'll host the Bears who announced that rookie signal caller Mitch Trubisky will be behind center. Under John Harbaugh the Ravens are (9-0) against first-year quarterbacks. After that it's the Vikings on the road who will be without RB Dalvin Cook and possibly QB Sam Bradford. Then it's home for Thursday Night Football against Jay Cutler and the Dolphins.
"In a league where the only certain thing is uncertainty, these four games, despite the Ravens struggles, are all very winnable."
None of that is to diminish the Ravens' upcoming opponents. This is the NFL, and it's purposely set up to make teams even and give everyone a chance. At the same time, there's no denying that facing an undefeated Kansas City Chiefs or an established quarterback like Tom Brady would be a more daunting task.
"If the Ravens keep taking hits along their defensive front, you wonder if they'd explore bringing back free agent Arthur Jones, who was released by the Indianapolis Colts in March," wrote Zrebiec. "Jones had sports hernia surgery in July, so he should be close to being healthy again." [The Baltimore Sun]
"Safety Eric Weddle is a tough guy who plays through injuries and it seems obvious the past couple of weeks that something is bothering him," Zrebiec added. "Weddle hasn't been as aggressive or as sturdy as a tackler." [The Baltimore Sun]