40 Experts Give Ravens-Browns Predictions
Pundits, pollsters and analysts don't have a great reputation in this country right now after getting the presidential election predictions oh so wrong.
But, the guessing and speculating go on …
Of the 40 NFL experts below, a whopping 38 predict the Ravens (4-4) will beat the winless AFC North rival Cleveland Browns. Even all five Cleveland.com writers are predicting the team's 10th loss of the season.
Following the Browns' 35-10 blowout loss to the Dallas Cowboys last week, linebacker Chris Kirksey pronounced, "We're not going to go winless. We're going to win a game." His head coach, Hue Jackson, said he supported Kirksey "100 percent."
The hope is that the Ravens, who want to protect their AFC North lead, is not the team that proves Kirksey right.
According to ESPN Analytics, the Browns have a 19.4 percent chance of pulling off an upset. That's the fourth best chance Cleveland has left of its seven remaining opponents. The teams it has a better chance of beating are the Pittsburgh Steelers (23.3 percent), Cincinnati Bengals (34.9), New York Giants (29.0) and San Diego Chargers (30.4), which are all home games.
"Upsets happen, but the Browns' chances to win one single game are not good," wrote ESPN's Pat McManamon.* *
Still, the Ravens are wary of the Browns. Not only do these teams typically play each other tight, but outside linebacker Terrell Suggs remembers losing to the 0-13 Miami Dolphins nine years ago. He said he'll bring the example up with his teammates to serve as a cautionary tale of what can happen when you overlook an opponent.* *
"I remember all of us just looking at each other, like did we just lose this [m-----f-----]?," Suggs said this week, per ESPN's Jamison Hensley.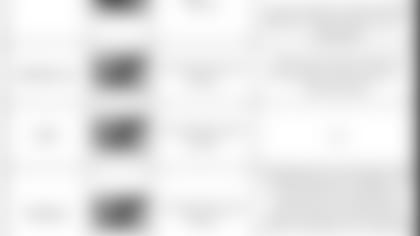 Four Ravens Make PFF's 2016 Midseason All-Pro Team
The unit is made up of the players that have the highest grades at each position so far this season, and the Ravens boast four players who have been the best in the game. Believe it or not, they are not all on the Ravens' second-ranked defense.
PFF's Sam Monson explains how each player has succeeded so far:
FB Kyle Juszczyk: 84.0 grade
"Fullback is a position that is barely used by most teams, but we felt it only right to recognize the few that do still fill the role. Only one fullback league-wide has more than 200 snaps this season, and he just so happens to have been arguably the best too: Baltimore's Kyle Juszczyk."
"Marshal Yanda has missed some time, but when he has been on the field, he has been as good as ever, allowing just four total pressures and no sacks or hits on his QB. Yanda's run blocking hasn't been quite as dominant as it has been in the past—yet. Look for him to kick things up a notch in that regard down the stretch for the Ravens."
"A new defense has done little to dampen the impact of Eric Weddle, who has been one of the best safeties in the game for pretty much his entire career. He once again leads PFF's safety rankings this season, and has been an impact player against both the run and pass for the Ravens."
K Justin Tucker: (no grade listed)
"We have two kickers who are perfect on the year so far, with Tucker and Adam Vinatieri both not missing a kick yet this season. Going 20-for-20, Tucker has been comfortable from anywhere on the field, going four-for-four on kicks of 50 yards and longer. Really at this point, all that separates him from Vinatieri is that he is a good kick-off kicker too, but that's what gives him the nod here."
Yanda Expected To Miss Tonight's Game
Things are not looking good for the Ravens' Pro Bowl right guard.
After missing all three practice sessions this week, Yanda was officially listed as doubtful for tonight's Thursday night game against the Browns. Yanda is one of the toughest Ravens ever to put on a purple uniform, so there's always a chance he could play, but it's not likely.
It's not a coincidence that the Ravens' wins and losses have coincided with whether the entire starting offensive line has been on the field. The win over the Steelers marked the first time the starters were together since Week 3.
If Yanda can't play, either Ryan Jensen, Vladimir Ducasse or John Urschel will take his spot at right guard.
Browns Rule Out Starting Cornerback
The Ravens have a strong opportunity to get their passing offense on track.
Not only are they facing the league's 23rd-ranked pass defense, but the Browns also ruled out one of their starting cornerbacks.
The Browns still have one of the league's top corners in Joe Haden, but quarterback Joe Flacco can attack the other side of the field with backup Briean Boddy-Calhoun.
"If the Ravens offense can't move the ball and put up points against a bad Cleveland defense, all hope might be lost," wrote Zrebiec.
NFL Films' 'A Football Life: Steve Smith Sr.' Trailer
I have to give a shout out to this NFL Films trailer.
The NFL Network will air "A Football Life" on Friday, Nov. 18, which will document Steve Smith Sr.'s comeback from an Achilles injury at age 37. The trailer gives me chills.