Can Ravens Shock NFL World And Upset Cowboys?
The Ravens have the chance to drop jaws around the NFL world Sunday.
That's because everyone is googly-eyed and head-over-heels in love with the Dallas Cowboys, as evidenced by the fact that all but one (Bleacher Report) of the national power rankings below have crowned Dallas the NFL's best team.
Frankly, it's hard to argue, seeing as the Cowboys have a league-leading 8-1 record. Their average margin of victory is 11.1 points. Rookies Ezekiel Elliott and Dak Prescott are sizzling hot. The offensive line might be the best in the NFL. And the last time the Cowboys won eight straight games in a single season was nearly 40 years ago in 1977, according to the Elias Sports Bureau.
Meanwhile, Baltimore is widely being dubbed the "best team in the league's worst division." The team's average ranking below is No. 14. There are plenty of reasons to write off the Ravens, including the streaky play of quarterback Joe Flacco, a banged-up offensive line, an inconsistent rushing attack and all of Baltimore's wins coming against teams with losing records.
But then there's that gritty top-ranked defense with the league's best front seven against the run. Maybe, just maybe, it's good enough to slow down the NFL's leading rusher (Elliott) to make things interesting.
"Baltimore's run defense is great, you say? Here come the Dallas Cowboys. Prove it," wrote Bleacher Report's Chris Simms.
Maybe they will prove it, and surprise everyone in the process.
At least one person thinks the Ravens will pull it off, even if he might be a little biased as a former Raven himself.
"It's the most explosive offense versus the best defense in the National Football League," former Ravens linebacker Brad Jackson says in the CSNMidAtlantic.com video below. "I think it could come down, and I'm going to predict, it's coming down to a field goal. …
ESPN: No. 13 (moved up two spots)
"The AFC North is not at its strongest right now, and the Ravens are taking advantage. Baltimore is currently 3-0 against the AFC North and 2-4 against every other division, losing the past four. They not only play a team outside their division this week, they play the team with the league's best record (8-1 Cowboys)."
NFL.com: No. 15 (moved up four spots)
"Another big win for the Ravens. By that, I am not implying the Browns are (or were) a threat in the AFC North. That said, how many teams this season -- other than the best club in each conference -- have played down to Cleveland? Baltimore did what playoff teams are supposed to do: beat the struggling clubs by multiple touchdowns. Oh, before we go, yes, that was a running game you saw from the Ravens on Thursday. #supermoon"
Fox Sports: No. 17 (moved up one spot)
"The Ravens looked shaky in the first half against the Browns, but they turned on the jets after halftime to blow out Cleveland. The running game is still a trouble spot that needs to be addressed, but at least they're in first place in the division."
Yahoo! Sports: No. 20 (moved up one spot)
"If I could punt ranking one team each week, it would probably be the Ravens. The record isn't bad. The metrics aren't bad either. Yet I watch this team and nothing jumps off the screen. They're just kind of there. Yet, they have a good chance at winning a bad AFC North."
Despite Ravens' Division Lead, Steelers Still Favorites To Win AFC North
The Ravens enjoy a perfect 3-0 record against other AFC North teams and a one-game lead over the second-place Pittsburgh Steelers. They also hold the tiebreaker over the Steelers after beating them in Week 9.
But guess who is considered the favorite to win the division once all is said and done?
That's right. Those annoying Steelers.
ESPN's Football Power Index gives Pittsburgh a 50-percent chance of winning the AFC North crown while Baltimore has a 30-percent chance.
"It's more of a reflection of the Ravens' upcoming opponents than the Ravens themselves," wrote ESPN's Jamison Hensley. "Baltimore has one of the toughest remaining schedules in the NFL, which starts with Sunday's game against the Dallas Cowboys (8-1), who have the best record in football."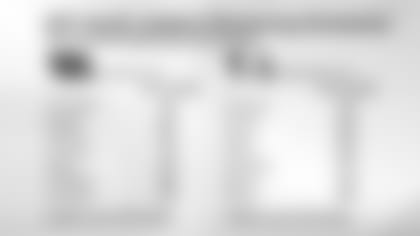 Would Ravens Have Taken Elliott Over Stanley?
Have you ever wondered what would've happened in the 2016 NFL Draft if the Cowboys decided to take highly-regarded defensive back Jalen Ramsey at No. 4, perhaps allowing Elliott to slide to the Ravens at No. 6?
No? Well, Baltimore reporters have. And they asked Head Coach John Harbaugh yesterday who the Ravens would've selected had Elliott and left tackle Ronnie Stanley both been on the board.
"It would've been a very tough call," Harbaugh said. "I think I know which way I would've gone. I was in the room. I did see the board. I don't have clearance to be an unauthorized leak on that. … [Elliott] was a guy we thought a lot of. He's a guy who would've gotten very serious consideration if he would've been there."
Hensley pointed out that the player Baltimore mostly coveted was Ramsey, not Elliott. Ramsey's had a solid rookie campaign, starting all nine games for the Jacksonville Jaguars, but Elliott leads the league with 1,005 rushing yards.
"When the Cowboys were on the clock, the Ravens attempted to trade up to No. 4 with the intention of selecting Ramsey," Hensley wrote. "Ravens officials, though, liked Elliott and considered him one of the top players in the draft."
"I think clearly they knew we weren't taking Elliott," Assistant General Manager Eric DeCosta told CBSSports.com's Jason La Canfora at the time. "Those discussions had taken place. I don't know why, but in the end we just had differing values on what we thought that trade was worth. We just couldn't get it done. There is a great history between [Ravens General Manager] Ozzie [Newsome] and Jerry Jones and Stephen Jones, and those guys have a lot of mutual respect for each other, and we did inquire about moving up."
Mini-Bye Helped Ravens Get Healthy; J. Smith Should Shadow Bryant
Guard Marshal Yanda (shoulder), outside linebacker Elvis Dumervil (foot), cornerback Shareece Wright (thigh) and rookie linebacker Kamalei Correa (thigh) were all full participants in Wednesday's practice session.
"Yanda's potential return to Sunday's game against the NFC East-leading Dallas Cowboys would be significant for an offensive line that knows it will not have starting rookie left guard Alex Lewis because of a high right ankle sprain," wrote The Baltimore Sun's Edward Lee.
Meanwhile, Ravens' top cornerback Jimmy Smith missed practice with a back injury, but Harbaugh expects him to return this week and play in Sunday's game.
If Smith is indeed out there, The Sun's Jeff Zrebiec thinks he should shadow Cowboys receiver Dez Bryant. The idea of shadowing has come up a lot recently and the Ravens don't always do it, but this time it might be helpful.
"I think we'll probably see Smith on [Bryant] more often than not Sunday," wrote Zrebiec.
"As good as Ravens cornerback Tavon Young has been, the rookie would be giving up about five inches and 40 pounds to the 6-foot-2, 220-pound Bryant. That's pretty unfair. Smith, on the other hand, is 6-foot-2 and 210 pounds and prefers matching up with bigger receivers rather than the small quick guys. Young will have his hands full with Dallas' diminutive slot receiver Cole Beasley."* *
S. Smith Nearing 1,000th Catch; Will Be Featured On 'A Football Life'
That's all it's going to take for wide receiver Steve Smith Sr. to notch 1,000 career receptions, which only 13 other players have done in the history of the league. It sure would be nice to see him hit the milestone along with a win in Dallas Sunday.
You know who doesn't gush over … anything … ever? Joe Flacco.
But even the Ravens quarterback is in awe of the milestone his teammate is on the verge of reaching.
"Come on man, everything that guy does is incredible athletically," Flacco said yesterday. "The physical nature of him is … Everybody should look at him, and I don't know if they should be jealous or what, but they should definitely take notice of how special of a person that they're watching. I think he's going to be a guy that we remember for a while. I'm definitely a very proud person to say that I can play with him." 
Coincidentally, just as Smith is about to make history, NFL Films will feature Smith's incredible comeback from Achilles surgery in "A Football Life" this Friday at 9 p.m. on the NFL Network. Here's a sneak peek …
If you're looking to be inspired this morning, read this honest and open piece from Helen Maroulis, who is the first American woman to win Olympic wrestling gold. She grew up in Maryland and spoke to the Ravens in the locker room before their first preseason game. Maroulis divulged her "greatest secret" and how she overcame it to win the gold medal. It's a must-read, and here's how it starts out to get you hooked …
"Go ahead. Google me. When you do, here's what you'll see: First American woman to win Olympic wrestling gold … 'Stuns Japan's 16-time world champion and three-time gold medalist … Historic Olympic triumph recognized by First Lady Michelle Obama.' And all of it is true. But there's something even truer that you won't see. It's a secret. Something you can't Google, until now. Come close; I'll whisper it to you … I'm afraid." [Sports Illustrated]