Ray Lewis' Take On Joe Flacco's Inconsistent Play: Lack Of Passion
When asked to explain the reason for former teammate Joe Flacco's inconsistent play this season, future Hall of Famer Ray Lewis pointed to a familiar criticism we've heard since the quarterback entered the league in 2008.
At first, Lewis said he didn't know for sure, but then said he believes Flacco lacks passion.
"I'll tell you what I do know. There's something called talent, right? You see it a dime a dozen," Lewis told Fox Sports 1 Thursday. "And then there's something called being passionate about what you do, about really what you do. Me being around it. Gifted? Absolutely. Passionate about what he do? I've never seen that. I don't know what that looks like."
Flacco's red-hot playoff performance was a big reason Lewis got his second Super Bowl ring, but the Ravens franchise quarterback has struggled this season, as his 29th-ranked quarterback rating and the offense's 25th-overall ranking indicate.
Lewis would like to see Flacco interact more with his teammates on the sideline, whether it's after a good or bad series. Instead, the quarterback "isolates himself" on the bench. Lewis says it's other offensive players, including wide receivers Steve Smith Sr. and Mike Wallace, who have to make Flacco rally.
"I don't know how many times you will hear somebody just really go out on a limb to defend, '[Flacco is] the greatest teammate I've ever had.' I don't know how many times you'll hear that, right?" Lewis said. "Maybe it's because his personality just isn't that personality. He's not a rah-rah guy. He won't say much, but in the game of football, there has to be some burning fire behind you. There has to be something that's bigger than me."       
This isn't the first time Lewis has urged Flacco to be more vocal. He said something similar in the 2012 playoffs.
"What Lewis forgets to mention is that Flacco was the one who carried Lewis and the Ravens to a Super Bowl title four years ago with his scintillating playoff run," wrote ESPN's Jamison Hensley.
"Flacco and Lewis, who were teammates for five seasons (2008-12), couldn't have been more different in terms of their approach to the game. Flacco has always been stoic, and Lewis was vocal and fiery."
Flacco would 100 percent agree with Lewis that he doesn't have a rah-rah leadership style or personality. It was a style that Lewis embraced, and some people responded to. The question is whether it really matters.
Coincidentally, Flacco was on "The Lounge" podcast this week before Lewis' comments, and Garrett Downing asked Flacco why he doesn't get fired up on the sideline and maybe even yell at a teammate once in a while.
Flacco said he believes that type of leadership style is a way to create praise and attention for himself, rather than truly helping a teammate.
"There's a time to do it when guys are blatantly messing up because they're doing the wrong thing here and there," Flacco said. "There's a time to get them fired up. You could be yelling at them in a good way, telling them good things, just in a fired up manner. I think there's times for that, but overall it's really just for show. At the end of the day, a lot of it really doesn't do too much besides say, 'Look at me, I'm getting these guys pumped up because I'm awesome.' That's just my take on it."
Flacco told stories about his high school days, when he was the same person you see today. He was quiet, didn't like to party and liked to keep to a couple of close friends. After winning a Super Bowl ring and being one of the highest-paid quarterbacks in the league, he's still the same "average Joe."
"That's all I'm interested in being," Flacco said. "I'm not interested in being anybody but who I am.  It's really tough for me to do that. I think it's just not my personality. I think we all are who we are. Especially when the spotlight is put on us, you become who you truly are."
46 Ravens-Cowboys Game Predictions
Very few people believe it will actually happen, however. Of the 46 analysts below, only six predicted the Ravens will pull off the victory.
Despite wanting Flacco to be more passionate, Lewis still picked the Ravens to win. He thinks the defense will make rookies Ezekiel Elliott and Dak Prescott struggle.
"In the big picture, a loss wouldn't be devastating to the Ravens. Baltimore would still lead the AFC North, have a 3-0 record in the division and hold the tiebreaker edge over the Steelers," wrote Hensley.
"A victory would do wonders to confidence and perception. What better stage for the Ravens to announce they're capable of beating anyone in the NFL than the grandiose, $1.3 billion AT&T Stadium."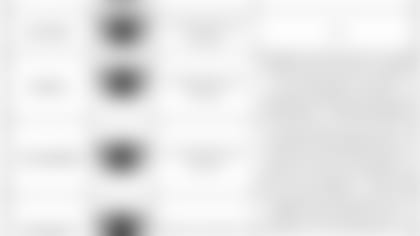 The Origin Of 'Hacksaw Smithers'
"Hacksaw Smithers" has been popping up all over the place this week.
Then, he made an appearance on the Ravens injury report Thursday.
Now, he wants your Pro Bowl votes.
So where did Suggs come up with the amazing pseudonym?
Well, in the ESPN video below, Suggs explained that "Hacksaw" comes from an uncle who helped raise him and passed away.
"I was just trying to come up with something," Suggs said. "And I came up with that."
Should Ravens Give Increased Snaps To Dixon?
Pro Football Focus (PFF) named one player from each NFL team that is being underutilized and should start to see increased snaps going forward.
PFF named rookie running back Kenneth Dixon for the Ravens, which isn't a bad idea, but it should be noted that Dixon had been dealing with a knee injury, and only recently has shown signs of feeling 100 percent healthy again.
"Dixon has played only 64 offensive snaps this season, and 46 of those have come in the past two weeks, when he has gotten 15 of his 21 carries," wrote PFF.  "On those 15 carries, he has gained 51 yards and broken six tackles. He added five catches for 42 yards against the Browns in Week 10, breaking another two tackles. Dixon was one of the nation's leaders in our Elusive Rating a season ago at Louisiana Tech."