Should League REALLY Consider Awarding A Point For Kickoffs Through Uprights?
Both Head Coach John Harbaugh and kicker Justin Tucker said after Sunday's win that the league should consider awarding one point for kickoffs that split the uprights.
Of course, the topic came up because Tucker did just that against the Cincinnati Bengals.
Tucker doubled down on the idea, or is at least in favor of a variation of it, as a guest of "The Dan Patrick Show" Tuesday. The thought is to make the kickoff a more exciting play.
"The idea is if you split the uprights on a kickoff you get a point or you get rewarded for it in some way," Tucker said in the video above. "The version I like is, you split the uprights, you get a point. I've also heard that if you split the uprights, and instead of the opposing team starting at the 25, maybe they start at the 10, just to make the game a little more interesting."
Tucker and the other NFL kickers don't regularly attempt to hit the ball through the uprights because there is no incentive. If it were his goal, Tucker estimates he could successfully do so on maybe one out of every five kickoffs if the weather and field provided good conditions.
Seeing as the Ravens have one of, if not the,best kicker in the league, they could be biased. So would the league *really *consider rewarding a team if the kickoff crosses the goalpost?
The crew at Sports Nation debated the idea, and Marcellus Wiley clearly hates it. The retired 10-year defensive end says points should not be awarded on plays where the defense has no chance to actually defend it.
"Nobody's trying to block it," Wiley said in the video below. "That is not a football play, where a team is going to be awarded because you don't have any defense and you're going against oxygen."
Ravens Run Defense 'Shockingly' On Pace To Surpass 2000 Squad In DVOA History
We already know the Ravens have the NFL's top rush defense this year, but how does the unit compare historically?
You won't get a better measuring stick than the Ravens' 2000 Super Bowl-winning rush defense.
If you look at the raw stats, this year's Ravens don't quite measure up with 3.4 yards per carry and 75 yards per game. The 2000 Ravens only allowed 2.7 yards per carry and 61 yards per game. That stands as the best mark in franchise history.
"Baltimore leads the league in defensive DVOA even though the Ravens are just eighth against the pass," wrote Aaron Schatz. "That's because they have a mind-blowing [minus]-42.5% DVOA against the run this year. How good is that? It puts the Ravens on pace to have the greatest run defense in DVOA history, surpassing their Super Bowl-winning 2000 team."
The website created the table below to compare the top DVOA rush defenses: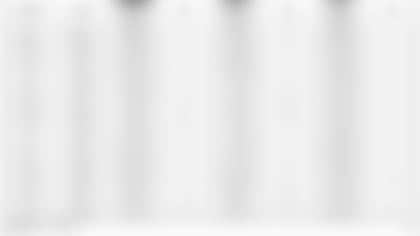 Schatz explained this year's opponents have been harder than in 2000 because, back then, the league was imbalanced a year after an expansion, and the Ravens played the league's easiest schedule of opposing offenses.
He also explained the raw averages of yards per carry and yards per game are skewed for the 2016 unit because of a single outlier, when the defense gave up an 85-yard run to Cleveland's Isaiah Crowell early in Week 2. Baltimore hasn't given up any other runs longer than 30 yards this season.
"Baltimore's spectacular run defense makes for a really interesting matchup this week with the Miami Dolphins," wrote Schatz. "The Dolphins are No. 3 in run offense DVOA but just 21st in pass offense. Miami has been winning with a running-and-defense philosophy. Their defense will probably have a strong game against Baltimore's No. 30 offense, but it's really going to be on Ryan Tannehill to move the ball this week. He's not going to get much help from Jay Ajayi, especially if road-grading linemen such as Laremy Tunsil and Mike Pouncey miss another game with injuries."
Judon In, Smith Out … Expect More Tough Decisions At OLB
With the return of Elvis Dumervil Sunday, the Ravens had to make a tough decision at outside linebacker.
You can only dress so many players at any given position with just 46 active players on Sunday, and last week against the Bengals, it was second-year player Za'Darius Smith and second-round rookie Kamalei Correa who had to sit out of the contest.
The Ravens went with fifth-round pick Matthew Judon instead, who has shown a penchant for getting after the quarterback. The Baltimore Sun's Jeff Zrebiec says Judon has the edge over the other two because of that fact.* *
"[I]t's just hard to dress five outside linebackers," wrote Zrebiec. "That's especially true when Matthew Judon and Za'Darius Smith haven't done much - or in Judon's case - have struggled on special teams.
"Suggs and Dumervil are going to be up, and Albert McClellan is still the best edge setter the Ravens have opposite Suggs. That's not Dumervil's strength and Smith struggled mightily with that task against the Dallas Cowboys. McClellan also can move inside on occasion and is one of the team's best special teamers."
With Dumervil and Suggs above the age of 30, the search for a franchise pass rusher will likely continue beyond this season.
"Smith being a healthy inactive illustrates how much finding an edge pass rusher remains a priority this offseason," wrote WNST's Luke Jones. "[Judon] flashes potential, but Smith's second season has been a disappointment."
When Will NFL Announce London Games?
The move makes sense as Baltimore is one of just eight teams that hasn't played across the pond, and it has a road game on the schedule against the Jacksonville Jaguars, who are under contract to play one game in London every year through the 2020 season.
So when will the league make the London schedule official so fans can start booking their trips? If it's anything like last year, the announcement should come sooner rather than later.
"It's unknown when a final determination will be made for the teams traveling overseas in 2017," wrote ESPN's Jamison Hensley. "Last year, the NFL announced the teams for all three London games in November."
Did You Notice Webb Moving To Nickel Corner And Elam In At Safety?
This likely isn't a permanent move, but Defensive Coordinator Dean Pees got creative last week with top cornerback Jimmy Smith on the sideline with a back issue.
The Baltimore Sun's Edward Lee pointed out that Webb started Sunday's game as a safety for the 11th time this season, but in the second half, he moved to nickel back while Jerraud Powers was on the sideline. Per Webb, it was part of a package the defense has been working on.
With Webb at the corner position, along with Tavon Young and Shareece Wright, the Ravens used 2013 first-round pick Matt Elam at safety next to Eric Weddle. Elam missed the first nine games of the season because he was on injured reserve with a knee injury.
"They were bringing me in on sub and trying to get me going," Elam told Lee. "It was my fourth game back. So I'm getting into the groove, starting to feel well, starting to get healthy. I guess they're giving me the opportunity."
"We're moving guys around, guys that maybe haven't practiced all week in certain positions, but you've got to credit Webby," added Weddle. "I thought he played really well for going down and playing nickel. [Elam] came in. We kept everything in front of us. We made plays when we needed to make them, and we played team defense. That's what it's going to come down to."