No NFL Game Has Bigger Playoff Implications This Week Than Ravens-Dolphins
Based on how badly both the Ravens and Miami Dolphins need* *a victory, we can expect an absolute brawl until the bitter end Sunday.
If you're looking for an NFL game that has bigger playoff implications in Week 13, you're not going to find it.
Statistical analysis website FiveThirtyEight has declared the Ravens-Dolphins matchup the "biggest game of the week" based on a model it uses to calculate how much each team's playoff chances "swing" depending on the outcome of each game.
Per the FiveThirtyEight chart below, the Ravens currently have a 34 percent chance of reaching the postseason. If they win, it will jump to 48 percent. However, if they lose, it will drop to 18 percent. That's a 29 percentage point swing.
If you add Baltimore and Miami's swing points together, they total 115, which is the most of any game this week.
(Interestingly, the Pittsburgh Steelers, who the Ravens are battling for the top spot in the AFC North, are playing in a game against the New York Giants that will have the week's second-biggest playoff implications with 110 total swing points.)
The chart that shows how a Ravens win or loss will not only affect their own postseason fate, but the domino effect it will have on other teams in contention for the same playoff spot.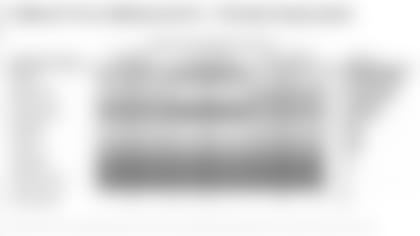 "If the season ended today, Miami (on a six-game winning streak) would take the second slot on tiebreak," wrote Reuben Fischer-Baum. "But our projections still think they're a much worse team than the defending-champion Broncos, who have the same 7-4 record. A minor upset at Baltimore would go a long way toward shoring up the Dolphins' playoff odds."
So who has the better chance of winning?
Well, neither team is heavily favored to get the victory. Baltimore opened as 3.5 favorites, which isn't unusual for a home team.
Of all the AFC teams who are in the thick of the wild-card race, both the Ravens and Dolphins have two of the toughest strength of schedules, based on the ESPN table below.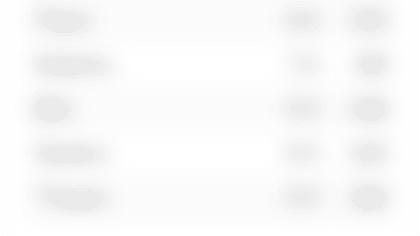 While Ravens Get Jimmy Smith Back, A Top Dolphins WR Dealing With Injury
Baltimore's defense seems to be getting healthy at the right time (knock on wood) with the final quarter of the season upon us.
Last week, the return of outside linebacker Elvis Dumervil (foot) had a major impact on the Ravens' win as he notched a game-sealing sack/strip with about a minute left in the game. This week, it looks like the defense could get back its top cornerback, Jimmy Smith (back), who returned to practice as a full participant yesterday after a two-game absence.
And just as the Ravens are getting reinforcements in their secondary, it looks like the Dolphins may be without their second-leading receiver, DeVante Parker. He missed practice yesterday with a back injury.
The sophomore first-round pick has 41 catches for 549 yards and two touchdowns this season. To put that in perspective, Parker's production is on par with Ravens wide receiver Steve Smith Sr. this year (48 catches, 536 yards, three touchdowns).
Things are not all glum in Miami, however, because left tackle Branden Albert and rookie guard Laremy Tunsil both participated in practice after missing last week's game against the San Francisco 49ers.
The importance of their presence cannot be overstated.
"It is no secret that the most valuable group for the Miami Dolphins (7-4) this season has been their offensive line," wrote Walker. "The team is 4-0 this year when all five starters are healthy and 3-4 when that's not the case.
"Miami earned a victory over the 49ers and put up 31 points. But the offensive line would have to play much better Sunday against a stout Baltimore Ravens defense that is No. 1 against the run at 74.9 rushing yards per game. … Dolphins Pro Bowl center Mike Pouncey (hip) was absent Wednesday and did not practice."
S. Smith Got A Brief 'Scare' … And A New Bentley
Things got a little worrying when Steve Smith limped off the field after a collision during a one-on-one drill during the portion of practice open to the media yesterday.
"A scary moment … occurred when wide receiver Steve Smith appeared to tweak his right leg while going against cornerback Shareece Wright in a one-on-one drill," wrote WNST's Luke Jones. "Smith limped off and was laboring on the sideline, but he finished practice without any further issue."
Not only did Smith seem to be fine physically after the brief incident, but he went home to this beauty. I guess it wasn't such a bad day, after all.
Tucker's Response To Smith: Watching Cotton Candy Being Made Is Fascinating
A reporter asked him a couple of weeks ago if he enjoys watching teammate Justin Tucker practice, seeing as the Ravens kicker is one of the best at his craft.
"I would rather go to a circus, a carnival, a fair or even a Medieval festival and watch cotton candy be made before I watch Justin Tucker and the other guy practice kicking in pregame to see the evolution of kicking," Smith said. "Sorry."
Tucker was a guest on NFL Network's "Good Morning Football" earlier this week, and he had witty reply for his teammate.
"Well, in fairness to Steve's comments – have you ever seen cotton candy being made? It's fascinating," Tucker said in the video to the right, drawing big laughter from the crew.
League: Competition Committee Will Look At Holding On Intentional Safety
Head Coach John Harbaugh has used a rulebook loophole to his advantage twice, but the option may not be available to him after this season.
After the Ravens intentionally held the Cincinnati Bengals on the final play of the game Sunday to run the remaining 11 seconds off the clock and purposefully take a safety, NFL Vice President of Officiating Dean Blandino said it's something the league will examine in the offseason.
While many have lauded Harbaugh for being "brilliant," others say the move violates the spirit of NFL rules by intentionally committing penalties without consequence.
As such, the league may put a stop to it.
"It is kind of a loophole," Blandino said in the NFL Network video to the right. "All the Ravens players pick a Bengals player out and just hold him. The idea is, 'We just want to bleed the clock.' . . . I think you'll see the competition committee review this."
Until that happens, do yourself a favor, and watch the video below. It offers several angles of the best takedowns during that final play. The Ravens offensive line goes completely WWE-style in order to stop the Bengals from getting to punter Sam Koch.
Time For Ravens Run Game To Ramp Up
It's time for December football, folks.
That means it's time for NFL teams to ramp up their rushing offenses.
"The calendar will officially turn to December on Thursday, and that means colder weather, well-worn fields, and tired and banged-up defenses," wrote The Baltimore Sun's Jeff Zrebiec. "If there ever was a time for the Ravens' much-maligned running game to hit its stride, this would be it."
This may sound like a bad thing for Baltimore seeing as its rushing unit ranks No. 28 in the league. But, in recent weeks there have been signs of the running attack starting to excel …
1)     The offensive line has found stability for the first time since Week 3.
2)     The return of Kenneth Dixon and his expanding role gives the Ravens a dynamic one-two punch with Terrance West.
3)     Production is up. Over the past two games, the two backs have combined for 179 rushing yards on 40 carries and 58 receiving yards on eight catches.
"While the Ravens have yet to take over and put away a game with their rushing attack, there have been moments in their past three games against the Bengals, Dallas Cowboys and Cleveland Browns that suggest they're at least capable of such a performance," wrote Zrebiec.
Baltimore seems to have found its formula with their two backs. They are just about even in snaps, as West has played 46 snaps over the last two weeks and Dixon has played 52. West likes that dynamic going forward.
"It's going to be great," West said. "To get to the Super Bowl, you need to have a running game. If you look at all the Super Bowl teams, you have to have two good backs to feed off each other. I think that's what we've got."