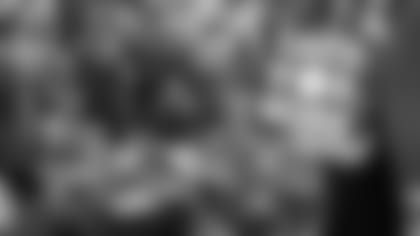 Ravens Good Team Or Lucky Team?
Sunday's wild finish rewrote NFL history books, including a record-breaking five go-ahead touchdowns in the final 2 minutes, 30 seconds of the fourth quarter.
In a game of that nature, the last team with the ball was the most likely to win. Fortunately, it was the Ravens.
So the question was asked: Were the Ravens lucky to win the game? Or did they win because they're good?
In the video below, CSNBaltimore.com's Brad Jackson somewhat danced around the question.
"It's good that they were lucky enough to win the game when you talk about what happened," he said.
Wait, I think he said the Ravens are lucky. Can you clarify, B-Jack?
"Of course, this was a* *good win for them, and they were lucky enough to get it," Jackson later said.
Regardless of how they got the win, Jackson believes it can propel the Ravens to wins in the final three-game stretch of the season at Detroit, vs. New England and at Cincinnati.
"Potentially, this is something this team can build on," Jackson said. "This is something that can really get the team motivated and get everyone's sense of urgency heightened and attention to detail greater as they continue to push toward the playoffs."
What say you, Ravens fans? Were the Ravens lucky or good?
Mobile users tap "View in Browser" at the top of the page to view the video below.
Can Marlon Brown Be No. 2 Receiver?
Rookie receiver Marlon Brown had been quiet in recent weeks, but became the hero in Sunday's 29-26 victory.
The Baltimore Sun's Matt Vensel said it was Brown's best game of the year, showing "composure and body control" on his game-winning touchdown. It was his first score since Week 9.
Brown is one touchdown away from tying Torrey Smith for the most touchdowns scored by a Ravens rookie. Considering Smith is now a legitimate No. 1 receiver, that's not bad company to be in.
So could Brown become Torrey's wingman for years to come?
"I'm not sure what the future holds for Brown," Vensel wrote. "It's too soon to say that he can be a legitimate No. 2 wide-out for the Ravens going forward. But at the very least, he can be a red-zone threat, which is a valuable commodity."
Rice's Best Game Of Season Overlooked
While everyone was (rightfully) gushing over the passing game Sunday, another positive was overlooked.
After struggling for most of the year, Ray Rice had his best game of the season, per Vensel, churning out 109 total yards from scrimmage.
"The Ravens did not give him the ball near the goal line, though, and Bernard Pierce was not able to punch the ball in from in tight," Vensel wrote. "It will be tough sledding for Rice and the Ravens next week against the Detroit Lions, who ranked first in the NFL in rushing defense before the Philadelphia Eagles ran all over them on Sunday.
"Rice still isn't the Rice of old, but he is starting to resemble him. The Ravens will need him to have another productive game if they are to keep pace with the high-scoring Lions in their house."
PFT: Time For Stokley To Call It Quits
John Harbaugh announced yesterday that 36-year-old receiver Brandon Stokley suffered a concussion in Sunday's game. The head coach called it "problematic" considering he's endured several concussions throughout his 15-year career.
ProFootballTalk.com's Michael David Smith thinks it may be time for Stokley to hang up his cleats.
"Stokley, however, has said every time the subject of concussions comes up that he loves football too much to walk away. He'll keep playing as long as he can, even if the concussions continue."
Patriots' Gronkowski To IR
One game removed from the Ravens-Patriots showdown, New England put their star tight end Rob Gronkowski on injured reserve after he suffered a knee injury in the third quarter of their victory over the Browns Sunday.
The absence of Gronkowski will have a major impact on their matchup with the Ravens. In fact, the Boston Globe's Christopher L. Gasper thinks the loss may be too much for the Patriots to overcome.
"The Patriots have overcome season-ending injuries to stalwarts Vince Wilfork (torn Achilles'), Jerod Mayo (torn pectoral), and Sebastian Vollmer (broken leg) to position themselves at 10-3, but this is different," he wrote.
"This is Gronk, an irreplaceable, irresistible offensive force and uncoverable object."
Quarterback Joe Flacco got Pro Football Focus' (PFF) game ball with an offensive high 3.5 grade. Flacco threw three interceptions (one wasn't his fault), but his late-game heroics and plays with his legs got him big scores. Flacco hasn't received an overall negative score since Week 10 vs. Cincy. That's four straight games with positive grades.
Only one player outscored Flacco, and that's safety James Ihedigbo with a 4.6 grade. He scored well in all three defensive phases of PFF grading: run defense ( 2.3), pass rush ( 1.1) and pass coverage ( 1.1). The obvious blemish on the day was missing Toby Gerhart on his way to a 41-yard touchdown in the fourth quarter. Other than that play, he generally wrapped up well.
And then there is the game-winning receiver Brown, who scored a 2.6 overall.
"Who needs Torrey?" asked PFF's Thomas Maney in jest.
Brown finished with seven catches on 11 targets for 92 yards, including the incredible game-winning touchdown in the back of the end zone in which he kept two feet in bounds. "He did have a couple of tough drops earlier in the game, but his fourth-quarter heroics certainly made up for it, especially in a game where Torrey Smith didn't do a whole lot," wrote Maney.
In his first game back from hip surgery, tight end Dennis Pitta scored a 0.3. That's an overall solid score, but considering his huge impact, one would think it would be higher. PFF didn't explain Pitta's final grade, but I imagine the first half – in which he was knocking off rust and dropped a couple balls – probably pulled down his overall grade.
OFFENSE
DEFENSE
Name
Snap Count
Rating
Name
Snap Count
Rating
Joe Flacco
87
3.5
James Ihedigbo
66
4.6
Marlon Brown
66
2.6
Chris Canty
36
3.4
Marshal Yanda
87
2.2
Jimmy Smith
66
2.7
Eugene Monroe
87
2.1
Terrell Suggs
60
2.1
Ray Rice
63
0.9
Arthur Jones
38
1.0
Ricky Wagner
7
0.6
Haloti Ngata
50
1.0
Dennis Pitta
36
0.3
Daryl Smith
66
0.8
A.Q. Shipley
87
0.2
Lardarius Webb
63
0.5
Bernard Pierce
24
0.2
Pernell McPhee
19
0.3
Jah Reid
5
0.1
Corey Graham
32
0.1
Brandon Stokley
8
-0.3
Albert McClellan
5
0.0
Vonta Leach
13
-0.7
Chykie Brown
1
0.0
Michael Oher
87
-0.9
John Simon
3
-0.2
Jacoby Jones
80
-0.9
Arthur Brown
11
-0.2
Torrey Smith
82
-1.2
Courtney Upshaw
60
-0.3
Gino Gradkowski
87
-2.7
Terrence Cody
18
-0.5
Ed Dickson
51
-4.1
DeAngelo Tyson
13
-0.5
 
Matt Elam
66
-1.0
 
Josh Bynes
16
-1.0
 
Jameel McClain
37
-3.4