Pittsburgh And Miami Put Pressure On Ravens To Beat Patriots
Thanks for nothing, Rex Ryan and Tyrod Taylor.
After four straight wins, the Steelers (8-5) have earned sole possession of the top spot in the division, and they'll stay there unless the Ravens (7-5) upset the New England Patriots (10-2) at Gillette Stadium on Monday Night Football.
By the way, if the Ravens do notch a win tonight, isn't it fitting to see who they would be projected to face in the first round if the season ended after Week 14, according to ESPN's Playoff Machine? Would anyone be surprised if this is how it really worked out?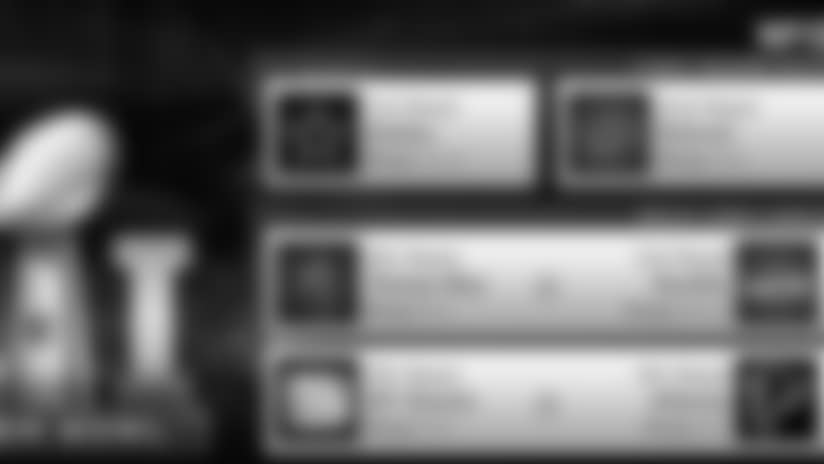 The good news is that even if the Ravens lose in Foxboro, they could still win the division by winning their final three games, including the Christmas day matchup in Pittsburgh. That would mean the Ravens would have swept the Steelers and would own the head-to-head tiebreaker.
The Ravens are also squarely in the middle of the wild-card race, should they need an alternate route to the postseason. They got mixed news Sunday about their standing for the final wild-card spot.
The Denver Broncos (8-5) continued to loosen their grip on the second wild-card position after a 13-10 loss to the Tennessee Titans. But the Miami Dolphins (8-5) are one spot behind the Broncos after a victory over the Arizona Cardinals. Miami will have to fight for that final position without starting quarterback Ryan Tannehill, who may have torn his ACL in the win.
The Titans' win over the Broncos was good for taking Denver down a notch, but it also puts the Titans (7-6) and Houston Texans (7-6) in the wild-card picture too. They are now tied atop the AFC South.
Put it all together, and the Ravens are currently in the eighth spot in the AFC race and could greatly improve their chances, both in the division and wild-card race, with a win over the Patriots. That would boost them to No. 3 in the conference.
"Week 14 proved there's no mega-team in the NFL this year," wrote TheMMQB.com's Peter King. "Actually, Weeks 13 and 14 have proven that, particularly with America's Teams – Dallas and Oakland – struggling. And New England might be great, but the last time they played a good team (Seattle a month ago), they got beat in Foxboro. Some dangerous teams, Pittsburgh and Green Bay and Baltimore, might not even make the postseason. 
"So it's just the way the NFL wants it. Mystery. Half the league has somewhere between a prayer (Tennessee, Baltimore), a shot (Seattle, Atlanta, Tampa Bay) and real hope (Kansas City, Dallas) of playing deep into January."
Smith Sr. Dodges Retirement Question
Thirty-seven-year-old wide receiver Steve Smith Sr. will be repeatedly asked whether he'll retire after this season until he actually does.
And unless he gives a firm, "Yes, I'm retiring" response every time he's asked, media will perceive that as him leaving the door open for a return.
That's what happened when Smith was a guest on "The Dan Patrick Show" last week and he left room for doubt about hanging up his cleats in 2017. Smith announced he would retire last season before a season-ending Achilles injury, but he ultimately returned and has been productive for the Ravens.
Here's the exchange he had with Patrick.
Patrick: You haven't decided about next year, right?
Smith: Yeah, I've decided.
Patrick: You're coming back?
Patrick: No? You're done?
Smith: Man, what I'm trying to do is enjoy these last four games.
Patrick: [Laughs.] Well, I'll see you during the highlights next season, Steve.
One difference between his 2016 comeback and a potential return next season is he was already under contract. If he were to stay in the league, either the Ravens or another team would have to sign him. Would Baltimore be interested in re-signing a 38-year-old receiver?
Despite missing two games with an ankle injury this season, Smith is second on the team with 589 receiving yards and third (tied) with three touchdowns. Head Coach John Harbaugh said in November that he would love to have Smith back, but believes his retirement plans are set. Smith could easily transition into a career of broadcasting.
"If he wants to come back, he is welcome, absolutely," Harbaugh said about a month ago. "You like every good football player you can get, but I don't want to speak for Steve. He has had an unbelievably awesome career."
Pitta Earns Back Nearly All His Pay Cut Money Via Incentives
Well, good for you, Dennis Pitta.
After a taking a $4 million pay cut last offseason to remain with the team after two major hip surgeries, the Ravens tight end has earned nearly all of it back via incentives, according to CBSSports.com. Pitta agreed to lower his 2016 salary from $5 million to $1 million, and the team added $3 million in incentives.
He has maxed out all $3 million, per Jason La Canfora, by catching 60 balls for a $1 million receptions incentive and by being on track to play 50 percent of the team's snaps for $2 million.
"Pitta is quietly tied for second in receptions among all tight ends (only Kansas City's Travis Kelce has more, and he has played one more game), and Pitta ranks 10th among all tight ends in yardage," wrote La Canfora. "He has two years remaining on his contract, worth $5.5 million per season, and his presence has been invaluable with a once-deep group of Ravens' tight ends being ravaged by injuries and suspensions."
Torrey Smith Thanks Fans For Prayers
Former Ravens wide receiver Torrey Smith had a scary moment yesterday when he hit his head on the ground after fighting for a jump ball with a defender.
Smith didn't move after landing on the ground and was carted off the field. He reportedly suffered a concussion. His status going forward is unclear, but Smith did take to Twitter to thank fans for their prayers.
League Says Steelers' Balls Were In Compliance After Giants' Complaints
Just when you thought Deflategate was completely behind us, a sequel involving the Steelers surfaced yesterday with this report.
To make a very long story short, the NFL said the balls that Pittsburgh used last week against the New York Giants were in compliance with league rules, which likely means there will be no formal investigation.
"The officiating game ball procedures were followed and there were no chain of command issues," a written statement issued Sunday by the league said. "All footballs were in compliance and no formal complaint was filed by the Giants with our office."
The report popped up on the eve of the Patriots-Ravens game. The media in New England still accuse Baltimore of starting Deflategate.
"The league's not going to do anything about the Steelers, obviously, with no physical evidence and only the Giants' word about two footballs," wrote King. "But the Patriots will feel justified to say, after their 11 footballs averaged 11.30 psi at halftime of the title game that changed the career of Tom Brady, that the line is too fine for the Patriots to have been slapped so hard."