Will Ravens Survive 'Be-Careful' Game? 49 Ravens vs. Browns Picks
It should be a no-brainer.
The Ravens are fighting for playoff positioning against the 0-13 Cleveland Browns. You can't ask for a better opponent with so much on the line, right?
Well, this is the NFL. It isn't always that simple.
"This is a classic be-careful game for the Ravens," wrote CBSSports.com's Pete Prisco. "They are coming off a physical game with the Pittsburgh Steelers and now head back out on the road. That's tough. The Browns almost beat the Green Bay Packers last week, and they will play another solid game."
Of the 49 analysts below, an overwhelming 47 majority believe Baltimore will be careful enough to get the win. Las Vegas has the Ravens favored by seven.
The Browns have a history of making these AFC North games uncomfortably close, especially when they're played in Cleveland. The last four games at FirstEnergy Stadium were all decided by less than one score.
Remember this 2015 squeaker?
It likely won't be any easier this time around, especially for quarterback Joe Flacco and the offense. The Browns will have No. 1 overall pick Myles Garrett breathing down Flacco's neck after he was absent in their Week 2 contest. Cleveland also boasts the league's sixth-ranked rush defense, which will look to challenge red-hot running back Alex Collins.
"The Cleveland Browns will be able to hang in there because of their defense and because they can make the game ugly early on," wrote Bleacher Report's Chris Simms. "The problem is that this is still a good Baltimore Ravens [defense], and the Browns don't have the weapons to exploit it the way the Steelers did last week."
The other problem is that Cleveland hasn't found a way to close out strong games. Last week was the perfect example. The Browns had a 14-point lead over the Green Bay Packers, but ended up stumbling and losing in overtime.
"I fully expect there to be some anxious moments for the Ravens, but they usually find a way versus Cleveland, no matter how ugly it looks," wrote The Baltimore Sun's Jeff Zrebiec. "The Browns aren't opposed to helping their opponent, either."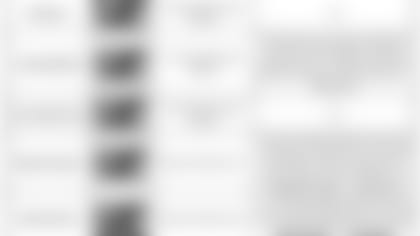 Pete Carroll Asked If He Kicks Himself for Cutting Alex Collins
Baltimore is forever grateful the Seattle Seahawks cut Collins just before the start of the season. Despite not consistently starting until Week 6, Collins now ranks 10th in the league with 825 rushing yards.
He's a big reason why the Ravens are in playoff contention. Meanwhile, the Seahawks are the 19th-ranked rushing team and haven't found their consistent go-to running back.
As such, Seahawks Head Coach Pete Carroll was asked Wednesday if he ever kicks himself for cutting Collins.
"I'm thrilled for him. We're thrilled for him," Carroll said, per ESPN. "He was right in the middle of the competition here and other guys were ahead of him. That's just how it turned out.
"He's great, he works really hard, it's really meaningful to him and he has a good spirit about him. I'm thrilled that he's doing well."
Carroll kind of avoided the question, but the answer is obvious. Of course Carroll would like to have him on the roster right now. Collins' 825 rushing yards nearly equals the 845 yards the Seahawks have garnered from six different tailbacks this season. The group has produced one touchdown to Collins' five.
Still, the word out of Seattle is that the move seemed logical in September.
"Perhaps Carroll and the Seahawks regret the move in hindsight, but in their defense, it made plenty of sense at the time," wrote ESPN's Brady Henderson. "No one questioned the Seahawks when they waived Collins and set their initial 53-man roster with five other tailbacks instead.
"Collins was simply the odd man out in a deep backfield that looked as though it could actually be a strength heading into the season. That seemed like the likely outcome for most of the summer. The nail in the coffin might have been when Collins, who had struggled with ball security since college, lost a fumble in the second preseason game."
Relinquishing Lead Was Uncharacteristic of Ravens Defense; Dean Pees Taking Too Much Heat?
This season's opportunistic Ravens defense has sealed more games than it has lost leads like it did Sunday night against the Steelers.
It makes one wonder if the 11-point fourth-quarter lead the unit relinquished was an aberration or will be a new concern with the loss of cornerback Jimmy Smith.
Here's another way to look at it …
"Consider this: Since that [Antonio] Brown touchdown on Christmas, the Ravens hadn't given up a point in the final two minutes for 13 straight games until Sunday night," wrote ESPN. "Dating to that loss last season in Pittsburgh, Baltimore has allowed 40 points in the fourth quarter in two trips to Heinz Field and has given up 51 fourth-quarter points in its other 13 games."
Watching Brown put the dagger in the Ravens' heart for the second consecutive year had many questioning whether Baltimore should've shadowed the wide receiver with rookie cornerback Marlon Humphrey.
Since Brown scorched the Ravens for more than 200 yards, Pees knows his game plan didn't work and he should've tried a different approach. It's big of him to admit that, but we don't know whether putting Humphrey on Brown would've worked either.
Former Ravens linebacker Brad Jackson has his doubts, to say the least.
Cincinnati Can Be Eliminated From Postseason Hunt This Week
At this point, the AFC North rival Cincinnati Bengals (5-8) don't pose a big threat to making the playoffs, but it's never over until it's over.
So officially eliminating them this weekend wouldn't be a bad thing, which could happen if they fall to the 10-3 Minnesota Vikings Sunday, according to tiebreaker guru Joe Ferreira.
Eliminating the Bengals this weekend could have a tangible effect on the Ravens' push to the postseason.
Last year, these two teams met in Week 17 after the Ravens were eliminated from playoff contention the week before. Baltimore turned in a dud of a game and lost 27-10.
Well, they're scheduled to meet again in the season finale, and it wouldn't hurt if the Bengals lost motivation to play hard. The Ravens may need to win their final three games to advance to the playoffs.
Mike Wallace Is Fine; Ravens Should Have All Hands on Deck
After not participating in the team's first two practices this week because of an ankle injury, journalists approached wide receiver Mike Wallace in the locker room yesterday to inquire about his health.
"I'm playing [Sunday]. You all don't even have to ask," Wallace immediately said.
Wallace suffered an ankle sprain Sunday in Pittsburgh, but finished the game. He was asked if he'll be 100 percent by game time in Cleveland.
"I don't think anybody's 100 percent, but I'll be about 99.9," Wallace said. "I'll be good, and I'll be all right. I'm going to tape it up and go to work like [former Los Angeles Lakers legend] Kobe [Bryant] at the end of the day. But no matter what it's going to be, I'm going to be out there. Come Sunday when we run out of the tunnel, I'm going to be out there."
With Wallace's expected start, the Ravens seem to be healthy as an entire unit. Everyone else participated in Thursday's practice, including wide receiver Chris Moore (hip) and outside linebacker Za'Darius Smith (shoulder). Cornerback Maurice Canady (knee) was a limited participant.