46 Very Lopsided Ravens-Steelers Predictions
That's how many experts of the 46 below think the Ravens will upset the division rival Pittsburgh Steelers on Christmas day.
There are so few picking the Ravens, I'm going to identify them by name: The Baltimore Sun's Mike Preston and Jen Badie, FoxSports.com's Peter Schrager and Chris Chase, and SB Nation's Joel Thorman.
Here's some of the reasoning behind each side's picks:
*Why the Ravens will win …
*1) The Ravens have the better defense with the NFL's second-ranked unit, and defense wins (AFC North) championships. The unit knows how to keep Pittsburgh's top offensive weapons – running back Le'Veon Bell and receiver Antonio Brown – at bay.
2) Baltimore has Pittsburgh's number, winning six of the last seven games and four straight. The Ravens have figured the Steelers out, and until Pittsburgh proves otherwise, sticking with the dominating team in the rivalry is the better choice.
3) While the Ravens haven't looked like a playoff team the last two weeks against the New England Patriots and Philadelphia Eagles, they usually show up and play their best football against the Steelers and perform well at Heinz Field.
---
Why the Ravens will lose …
*1) The Steelers are a very different team from the one that lost to Baltimore in Week 9, as quarterback Ben Roethlisberger was fresh off knee surgery. They're also the hottest team in football right now, winning five straight with a much-improved defense. Meanwhile, the Ravens appear in "survival mode."
2) No Jimmy Smith. Many view the Ravens' top cornerback as the one player the defense can't afford to be without. Roethlisberger's stats when Smith plays (four touchdowns, four interceptions since 2013) compared to when Smith is out (six touchdowns, 340 yards in one game) tell the whole story.
3) The Steelers have been very good at home this season, where they average 32.9 points. The Ravens haven't secured a road victory since Sept. 25 against the 2-12 Jacksonville Jaguars.
*Ravens and Steelers X-factors
Ravens QB Joe Flacco
:* "It's not a coincidence that the Ravens have dominated the rivalry lately when Flacco has played his best against Pittsburgh. Since 2011, Flacco has thrown 15 touchdowns and four interceptions against the Steelers and the Ravens have gone 8-3 (including playoffs). Flacco has been the biggest barometer in this fierce rivalry." --ESPN's Jamison Hensley
Steelers LB Ryan Shazier:"The defense is at its best when Shazier is flying around, and Shazier is regaining his late-2015 form with a smattering of splash plays. … The Steelers have won games with a balanced defensive attack, getting contributions from all 11 players. But Shazier is the unit's most explosive playmaker at a crucial time." -- ESPN's Jeremy Fowler
Below are the 46 expert picks: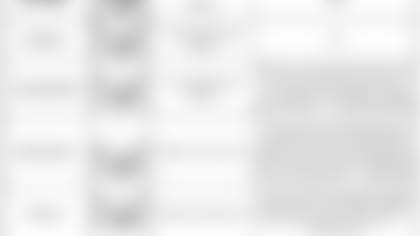 An Oral History Of Ravens-Steelers 'Pure Hatred'
If there was ever a link you clicked on in Late for Work, THIS would be it.
The MMQB.com's Jenny Vrentas compiled a 5,000-plus word oral history of the greatest rivalry in football, and let's just say it gets you into the Ravens and Steelers' version of the Christmas spirit.
I've pulled a few excerpts to whet your appetite.
The Time Joey Porter Came For Ray Lewis (2003) …
Pittsburgh Post-Gazette's Ed Bouchette: Joey Porter was shot in the butt in Colorado when he was out there for a Colorado State game, so he couldn't play in the Ravens game. He was on the sideline. Joey had a thing where he would kick his right leg [after a big play], and Ray Lewis did the Joey Porter kick. It just incensed Joey. He tried to go after Ray when the Ravens were leaving on the bus. We didn't find out about it until later.
Ravens Sr. PR Vice President Kevin Byrne: Ray was on Bus 1, toward the back. Joey comes out to the bus area, a few guys with him, yelling, "Where is Ray Lewis?" I am in the third seat from the front. Ray gets out of his seat, and I said, "Ray, we are not doing this." He says, "I'm not leaving the bus, but I am going to let him know he's an idiot." He yelled at Joey, "Time to grow up! Leave the fight on the field." And then he went to sit down.
Former Ravens linebacker Bart Scott: Joey was angry because Ray had said something like, "I'm praying for you." Joey thought Ray was being sarcastic. How could anybody on the Ravens be concerned with a Steeler? A younger Ray would have gotten off the bus, but he was already making the transition to "Reverend Ray." He didn't get off, but yo, we were ready to ride. You cannot make this s--- up.
Ray Lewis Breaks Rashard Mendenhall's Arm (2011) …
Former Ravens defensive end Trevor Pryce: All I remember is hearing [what sounded like] a gunshot. And then I looked around, and Rashard Mendenhall's arm was hanging off of his body.
Former Steelers running back Rashard Mendenhall: I remember getting up, and I wanted to go back to the huddle, but I knew something was not right. I ran to the sideline with my shoulder hanging down. I couldn't even hold it up while I was running, but I didn't want to show anyone. I went to the X-ray room, and they said, "Yeah, your scapula is fractured." The hit wasn't a bigger or crazier hit than normal, but the impact was all at one point, and that was my scapula. The doctors even said it was not a familiar injury in football, but something they usually see in car accidents. So that ended my rookie year. I saw Ray later that year at the Super Bowl, and he was really cool. He said he didn't mean to do it, and he had prayed for me. We built a professional respect from there, a running back and a linebacker playing two to three times a year, year after year. We had a play, 22 double, where the whole line is double-teamed, so I'm reading the "Mike" linebacker as I'm pressing the line of scrimmage. I don't make my decision until the linebacker makes his decision. I'm watching Ray, and whichever way he goes, I'm going the opposite way. I'm holding up until the last second, and he's holding up until the last second. And we'd be looking eye to eye.
Mike Tomlin Grants Bart Scott's Wish …
Scott: We are losing big in Pittsburgh one year, and I was known for always going to the opposing sideline during timeouts. I am arguing with Dan Kreider, the fullback then, in front of Mike Tomlin. Tomlin has his arms crossed, listening. So I say, "Coach, he's talking a lot of s---. Put him in the game, and run an iso, and I bet I knock his ass out." So, Tomlin asks Kreider, "You want him?" He says, "Hell yeah, I want him coach!" Tomlin uncrossed his arms, threw his hands and pointed for it. Now Kreider is running in mad. He's putting his chin strap on. I run out, and lo and behold, he runs the play. The down block came in, and I hit him, "pow!" and I tackle Willie Parker at the same time. Kreider jumps up too fast, runs to the sideline, but he only made it back to the numbers before he collapses. They had to call a TV timeout.
Steelers Head Coach Mike Tomlin: I will never confirm. But Bart is not a storyteller.
Wallace Advises Ravens Fans To Not Touch 'Bad Karma' Terrible Towels
You might not be superstitious, but this is no time to test the theory that touching the Steelers' Terrible Towels won't curse your team, says wide receiver Mike Wallace.
Wallace, who played four years in Pittsburgh, has seen some strange things happen when opponents or their fans grab a Terrible Towel that falls from the seats at Heinz Field.
"Don't do it," said Wallace, per The Sun's Jeff Zrebiec. "Bad karma. I don't know. It's been like that. It was like that when I got there. I can honestly say the people that I've seen doing it, it's been bad luck. It's superstition or whatever but don't do it, not this week anyway. This is not a regular-season game anymore. This is a playoff game. Maybe in a regular-season game you can try it, but not right now."
The latest example happened just last Sunday when Bengals running back Jeremy Hill scored a touchdown to give his team a 17-3 lead. He picked up a towel and mimicked tearing it in half. The Steelers started a comeback and wound up winning, 24-20.
Roethlisberger was asked on a conference call if the Terrible Towels really do have bad karma.
"I don't know," he said. "Give it a shot; we will see what happens."
S. Smith Added To Injury Report; Suggs Stays Quiet
There's no cause for alarm at this point, but wide receiver Steve Smith Sr. was an unexpected addition to the Ravens injury report Thursday. We'll find out his official game status this afternoon.
"Smith was listed as a limited participant in Thursday's practice due to a thigh issue," wrote WNST's Luke Jones. "The 37-year-old practiced without incident during the portion of the workout open to media and was seen in the locker room after practice."
Meanwhile, have you noticed how quiet a certain usually loud linebacker has been this week?
Outside linebacker Terrell Suggs has decided to stay out of the media spotlight this week as he prepares for this potentially division-deciding game.
"Suggs has been unusually quiet for Steelers week, not addressing the local media on Wednesday and Thursday," wrote CSNMidAtlantic.com's Clifton Brown.
"At age 34, Suggs' participation in the Steelers-Ravens rivalry could be close to the end. In his 14th season, Suggs has not talked much about his plans beyond this season. There is little doubt, however, that Suggs is very much looking forward to this game. Even if you don't hear from Suggs this week, the Steelers expect to hear from him Sunday."