Will Cincinnati Play Playoff Spoiler? 40 Ravens-Bengals Picks
The picks are in, and most everybody thinks the Ravens will take care of business and punch a playoff ticket by beating the AFC North rival Cincinnati Bengals Sunday.
Of the 40 pundits below, 37 predict a Ravens victory. Baltimore is favored by 13.5 points.
But that doesn't mean anyone would be shocked if the Bengals played spoiler.
Cincinnati is always a scary matchup, winning six of its last eight games against Baltimore. And with this rumored to be Head Coach Marvin Lewis' final game, the Bengals have extra motivation to play hard.
"Marvin's got a pretty good little record against the Ravens," Brian Billick said on the NFL Network. "Nobody's going to pick Cincinnati to win, but I'm not going to be surprised if they're able to pull off the upset."
"The Bengals are going to go out and be a pain in the a** for the Ravens one more time under Lewis," wrote Bleacher Report's Chris Simms.
Think about it. If the roles were reversed, the Ravens would relish the opportunity to ruin the Bengals' or the Pittsburgh Steelers' playoff chances. The Bengals could easily be thinking, "If we can't make it, neither is our AFC North rival, who clobbered us in Week 1."
The Bengals showed last week that they're capable of playing spoiler. The Detroit Lions' playoff lives were on the line when they visited Cincinnati, and the Bengals knocked them off, 26-17, despite having no chance of advancing.
The Sporting News' David Steele described the Bengals as a team that looks like it's waiting for the "sweet embrace of death," but The Baltimore Sun's Jeff Zrebiec isn't so sure. "Anybody who thinks that will be a cakewalk may be in for big surprise," he wrote.
That said, Zrebiec, along with most other pundits, believe the Ravens will survive the Bengals' best shot and take care of business.
The Ravens can lean on the running game, led by Alex Collins, against Cincinnati's 31st-ranked rush defense. That will set up play-action passing for quarterback Joe Flacco, who has been on fire this December.
"Do you ever feel like Joe Flacco is like that one pair of Steve Maddens that you wore to a party a few years ago and you got, like, a 9's phone number ... but then over time, you realize it wasn't the shoes, and that you are so money you don't even know you're money? That's Flacco, baby," wrote NFL.com's Elliott Harrison. "He crushed it in the 2012 playoffs – and even in the 2014 postseason against the Steelers and Patriots – but the reality is that the defense has always been the backbone of Ravens success. You probably know by now the Bengals are the team that leaves 18 messages on the answering machine."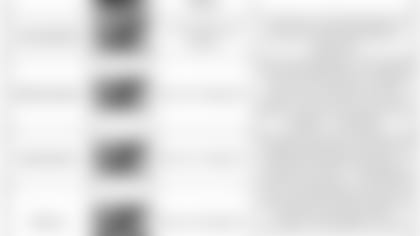 Eric Weddle Will Get $1 Million Playoff Bonus If Ravens Make Playoffs, and Didn't Even Know It
Ravens safety Eric Weddle is on the cusp of a $1 million bonus and he didn't even know it.
That is, not until General Manager Ozzie Newsome recently spelled it out for him.
Apparently, Weddle has a clause in his contract that guarantees him the extra cash by becoming an original-ballot Pro Bowler [checkmark emoji] in the same year that the Ravens make the playoffs [checkmark emoji ready for Sunday].
He was stunned when he found out. Here's how his exchange went down with Newsome, per ESPN.
"Newsome asked Eric Weddle last Friday if he was ready to go, and the safety thought he was talking about an injury issue.
"'No, you got a lot riding on this game,' Newsome said. After Weddle responded that the entire team has a lot invested in the Week 16 matchup against the Indianapolis Colts, Newsome clarified himself once again.
"'You better bring it and you better have everyone ready because you have a million bucks riding on this game,' Newsome said. That's when Weddle learned that he was closing in on a seven-figure incentive."
I say that goes down as a classic story in Ravens history. Just classic.
Most people would know the exact details of a massive bonus like that, but in Weddle's defense, he wasn't completely unaware of the clause. He just thought it didn't kick in until the third and fourth years of his contract, and he's currently in his second.
Well, here's to Weddle getting a million smackers, because if he does, we all benefit in the form of a postseason berth.
"It's pretty awesome, obviously," Weddle said. "I'm grateful that I have this opportunity. It means I've had a great season and our team has."
Joe Flacco Buys Offensive Linemen Grills for Christmas
I gotta say, I wish I was on Flacco's Christmas list.
The guy has treated his offensive linemen right for protecting him all these years.
Last year, he got them virtual reality Oculus Rift headsets. The year before, he got them drones. He's given expensive watches and gift cards before too.
This year, he rewarded the guys' stomachs by having Traeger smokers delivered to his linemen's houses, according to ESPN.
The Ravens quarterback said last year that he feels lots of "pressure" to be creative and get good gifts. But just like when the pressure is on during a game, that's when he's at his best.
His line has come through too this year, even after everyone had written the unit off after losing starting guards Marshal Yanda and Alex Lewis. Despite it all, Flacco has been the fifth-least pressured quarterback in the league this season.
"It feels amazing to get something from him on that holiday after putting our bodies on the line for him," left tackle Ronnie Stanley told ESPN. "He knows the sacrifice we make and we know the sacrifice he makes. It's a very nice gesture."
Terrell Suggs Doesn't Feel Like This Is His Last Game at M&T Bank Stadium
The guy is 35 years old, has overcome a pair of Achilles injuries and is still balling out by leading the defense with 11 sacks.
"It's at least possible that when Suggs leads the Ravens onto the field Sunday for their crucial season closer against the Cincinnati Bengals, he'll be playing his 110th and last game at M&T Bank Stadium," wrote The Sun's Childs Walker. "The Ravens could save $4 million in salary-cap space if they don't bring back the 35-year-old linebacker. He's watched them part, however painfully, with franchise stalwarts such as Reed and Haloti Ngata."
Walker is right. It's possible this is the last game for Suggs at the Ravens'* *stadium. But the 15-year veteran doesn't feel like it will be.
"Nah, I don't," Suggs told Walker. "I'll be surprised by nothing, but it doesn't feel like it. I'm not preparing for it like that."
Check out Walker's (excellent) full feature on Suggs here.
Four Things the Ravens Must Improve vs. Bengals
If the Ravens want to finish this season 10-6 (an admirable record after going 4-5 at the bye), there are a few areas they'll want to shore up after last week's scare against the Indianapolis Colts.
1) Red-zone scoring:The Ravens offense has moved the ball much better in recent weeks, but it's scored just three touchdowns in seven trips inside the red zone the last two weeks. It's capable of more; the offense was 4-for-4 against Pittsburgh.
"There are a few reasons the Ravens struggle in the red zone, and play-calling is one of them," wrote Zrebiec. "But many of the team's red-zone problems stem from the team's lack of a big and physical target who can go up and make a contested catch. Seriously, when is the last time you saw the Ravens score on a fade route?"
3) Fumbles:Overall, the Ravens offense has been much cleaner with the football, turning the ball over just twice in the last six games. However, Baltimore got a little lucky by recovering the ball twice last week when Collins and punt returner Michael Campanaro fumbled. "If I'm a Ravens official, I'd be far more worried that Collins has fumbled twice in the past three games — the Ravens recovered both — than the fact that he averaged 1.6 and 2.8 yards per carry over the past two contests, respectively," Zrebiec wrote.
"When covering the slot this year, cornerback Maurice Canady is allowing just 0.46 yards per cover snap," wrote Mark Chichester. "This is the second-best mark among cornerbacks with at least 100 slot coverage snaps this season." [Pro Football Focus]