Elvis Dumervil Finally Reveals His Mysterious Injury
The mysterious "foot area" injury that outside linebacker Elvis Dumervil has been working through all season has finally been revealed.
And, it's quite significant.
Dumervil, who turns 33 next month, had surgery to repair a torn Achilles, according to ESPN's Jamison Hensley. The motivation behind the secrecy was that Dumervil didn't want to become a distraction to the team.
"The injury I had to deal with and come back from is one of those injuries that it's career-ending for most people," Dumervil told Hensley. "I am thrilled that I was able to come back in the time I was able to and that I was able to finish healthier. I'm excited for the next offseason, so I can really get good offseason training and get ready for football."
Per the report, Dumervil started having issues with his Achilles at the end of the 2014 season, when he set a Ravens franchise record with 17 sacks. It lingered into 2015, but Dumervil gutted it out after fellow outside linebacker Terrell Suggs suffered a season-ending Achilles injury of his own in Week 1.
At the end of the 2015 season, Dumervil learned his Achilles was 60 percent torn. He underwent surgery in February, and was urged by some to wait and make his return in 2017.
"Some people in my personal corner said maybe you just wait for next year," Dumervil said. "But I knew we had a special team and I wanted to be a part of it. I did everything possible to make it. [The Achilles] is way better. I can perform. I'm happy with the decision I made. Now, I don't have that lingering, 'Is it going to pop or is something going to happen?' It was a good move. Now, I can go in[to] the offseason and be healthy. I'm excited about that."
The injury better explains why Dumervil seemed to lose a step when he first attempted a comeback in Week 4, just seven months after surgery. He took another five games off to regain his explosiveness, and after his second return, Dumervil helped seal a win against the Cincinnati Bengals with a strip sack of quarterback Andy Dalton on the final drive. He finished the season with eight tackles and two sacks in seven games.
Because of his down year, combined with his salary-cap figure, questions about Dumervil's future in Baltimore have surfaced among fans and media.
Per Hensley, Dumervil's $8.375 million salary-cap number will be the fourth highest on the Ravens roster in 2017, and the Ravens would save $6 million by releasing him. The only players scheduled to have higher cap hits next year are quarterback Joe Flacco, cornerback Jimmy Smith and guard Marshal Yanda.
Until he hears otherwise, Dumervil's plan is to attack the offseason as if he is coming back to finish the final year of his contract with the Ravens.
"Do I want to finish my contract here? Absolutely," Dumervil told Hensley. "But that's not my decision, nor is it something I think about. Until it's brought up, I'll be playing here and be excited playing.
"I know what I can do when I'm healthy. I didn't have real offseason training. It was kind of like camp and preseason types of games for me. I know the business part of it. I dealt with it in Denver. It's not personal. I know I have a lot in the tank, and it was probably a blessing in disguise that I didn't get a lot of mileage this year. I'm excited for next season in making sure that I'm in tip-top shape."
46 Analysts Split On Ravens-Bengals Predictions
Analysts are split on who will win Sunday's AFC North rivalry game, as neither team has much to play for after being eliminated from the playoffs.
The slight edge goes to the Ravens with 26 of 46 pundits picking the purple and black to finish the season strong with a 9-7 record.
There are a few things that favor the Ravens in this matchup. Head Coach John Harbaugh-led teams always plays hard, no matter what's at stake. That much was evident last season when the team went 5-11 and was still resilient. Baltimore is also the healthier team, as the Bengals have lost several key players, including wide receiver A.J. Green and tight end Tyler Eifert. And, of course, there is the Steve Smith Sr. retirement factor.
But, the Bengals are playing at home, where they have beaten the Ravens in four consecutive games at Paul Brown Stadium. There's also a little extra motivation for Head Coach Marvin Lewis, who announced yesterday that he'll be back next season, silencing swirling rumors about his future.
"This has to be a difficult game to get up for if you're a Raven," wrote The Baltimore Sun's Mark Selig. "It will take real professionalism to play in what figures to be rainy Cincinnati with little on the line. The Bengals defense has quietly been among the best during the second half of the year, so even if the Ravens were vying for a division title, this would be no gimme. But Steve Smith Sr., likely playing in his last game, will provide the spark to help the Ravens pull out a close but not-so-artistic game."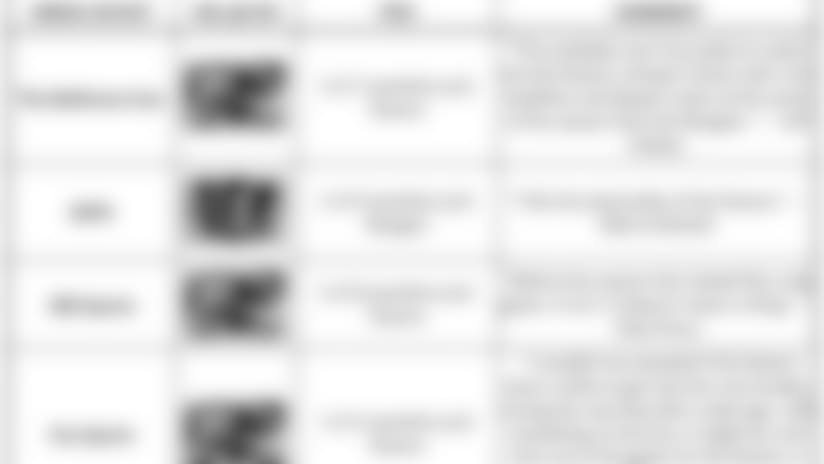 Which Non-Playoffs Teams Will Return To Postseason In 2017?
Baltimore made the list at No. 3, coming in behind the Denver Broncos (8-7) and Tennessee Titans (8-7).
"Barring the sort of injury stack that sunk them in 2015, the Ravens always will be in the postseason or within striking distance of a playoff spot under John Harbaugh," wrote Bill Barnwell. "They came within an Antonio Brown stretch of a likely postseason berth this season, and while they sport one of the oldest rosters in the league, GM Ozzie Newsome will get the draft right more often than not.
"The biggest obstacle standing in the way of a return trip to the playoffs remains the strength of the division. There's no reason to think the Steelers will suddenly fall off, and the Bengals are far more likely to return to their 2011-2015 level of play, when they averaged 10.5 wins per season, than they are to fall several games short of .500 again."
Stanley Graded As Top NFL Tackle Over Last Four Games
It's a shame that a foot injury derailed the start of rookie left tackle Ronnie Stanley's career, as it prevented him from showing what he can really do.
After never missing a game in his four-year college career at Notre Dame, Stanley sat out four games this season. After his return, he had to knock off some rust and still get acclimated to the NFL, but he slowly attained a level of play reflective of a No. 6-overall pick.
Stanley hasn't just been solid; he's been the best offensive tackle in the NFL over the last four weeks, according to Pro Football Focus (PFF).
"The Ravens have to feel good about the development of rookie first-round left tackle Ronnie Stanley," wrote The Baltimore Sun's Jeff Zrebiec. "Just as it was inappropriate to pan Stanley after he struggled for two weeks following his return from a foot injury, it's far too early to label him a Pro Bowl-caliber left tackle. However, it isn't premature to suggest he's on his way to becoming one.
"It's easy to lament what could have been had Joey Bosa, Ezekiel Elliott or Jalen Ramsey been available when the Ravens were on the clock, or how the Ravens could have had Ramsey if they were just willing to trade their first and third-round picks to the Dallas Cowboys to move up to No. 4. Bosa, Elliott and Ramsey have all been spectacular this year. However, the Ravens are feeling pretty good about Stanley, too, and another offseason in the weight room should do him so good."
Stanley discussed overcoming the foot injury and his overall performance this season on an episode of "The Lounge" podcast coming out later today.
Local Media Voted Tucker Ravens' MVP, Orr 'Media Good Guy'
That's right – the local media voted a *kicker *as the Ravens' Most Valuable Player this season. And, it was his second time.
It's uncommon for kickers to win such awards, but it's hard to argue anyone had a bigger impact on the Ravens than Justin Tucker.
He is one of four players to make the Pro Bowl, and accounted for nearly half (41 percent) of the team's points this season. He has made 37 of 38 field-goal attempts, with his only "miss" being a blocked kick. Ten of his field goals were from beyond 50 yards, tying an NFL record, and he* *became the most accurate kicker in NFL history.
"An MVP honor being given to a kicker is viewed by many as an indictment on the rest of the 53-man roster — especially when it happens twice in four years — but that sentiment shouldn't diminish Tucker's greatness in 2016," wrote WNST's Luke Jones.
"Despite being tied for 26th in touchdowns scored this season, the Ravens could thank their kicker's incredible consistency for keeping them in the playoff hunt until Pittsburgh eliminated them last Sunday."
The "Media Good Guy Award" is given to players who are readily available and accommodating for interviews and give insightful comments. Linebacker Zachary Orr won the award for the first time in his career.
Yanda, Suggs Proving Their Character By Playing In Meaningless Game
Nobody would bat an eye if Marshal Yanda and Terrell Suggs sat out the final game of the season. After all, the two have been playing through significant injuries.
Yanda missed three games with an injured shoulder, then moved from right to left guard just so he could play with the one good arm he had left. He still ranks as PFF's top-graded guard despite it all. Suggs has been playing through torn biceps, and still leads the team with eight sacks.
"No one would blame Suggs or Yanda if they sat out Sunday's game and started to get healthy for the 2017 season," wrote Hensley.
"More players are willing to endure the pain of injuries when their teams are heading to the postseason and making a championship run. That's why it's often said that teams learn the true character of their players when nothing is at stake. Suggs and Yanda proved theirs once again by gutting it out until the very end."
Should Ravens Bench Flacco?
While Suggs and Yanda are being praised by some for showing no quit, there are others who believe the Ravens should bench some of their most valuable starters in order to reduce the risk of potential injury.
Flacco is the player who people most want to protect. We saw the Ravens' fate after the quarterback went down last year with a season-ending ACL injury. To be clear, the intent is not to intentionally lose, but to minimize injury risk.
"I understand it's in a coach's fiber to do everything he can to win, but the organization should consider the dangers of exposing its most important players to injury in a meaningless road game against the Bengals," wrote Jones. "Does anyone sincerely care about finishing 9-7 compared to 8-8?"
The "Ravens Unscripted" panel debated this very topic in the video below.