Ravens Dubbed AFC's Biggest Dark Horse Playoff Threat
Harbaugh is listed at No. 19.
He knows that by beating the best, you become the best. And New England is certainly the best with the AFC's top record (tied with the Oakland Raiders) at 10-2. You could feel Harbaugh's excitement as he talked about the opportunity to play New England on Monday Night Football.
"They do a great job, obviously, year-in and year-out, because they're always at the top, and they've earned it," Harbaugh said at his weekly Monday afternoon presser. "That's something that we've been honored enough to be in some big games against them over the years. We feel like that's a place we want to be, and we're excited about the opportunity."
If you ask the pundits, Harbaugh certainly has a chance of climbing those villain rankings with an upset win.
When asked who is the biggest threat to AFC powerhouses like the Patriots and Raiders, NBC analyst and retired Patriots safety Rodney Harrison said on primetime national television that it was the Ravens.
He's not the only one who sees Baltimore as a potential spoiler.
"As limited as they seemed on offense, the more aesthetically pleasing side of the ball, the Baltimore Ravens always figured to be a problem in the AFC," wrote ESPN's Ian O'Connor. "They still have a defense that is no fun to play against, and they still have a coach and a quarterback who have proven they can win the Super Bowl."
If they can add a potent offense into the mix, like the one that carved up the Miami Dolphins, then the Ravens will become more than a "dark horse" or "gathering threat." They have the perfect opportunity this week to prove their nearly 500-yard offensive outing wasn't an aberration.
What better way to make a statement than in Foxboro, Mass., "the most likely site of the upcoming AFC championship game," per O'Connor?
The Ravens have won two playoff games at Gillette Stadium, and came close to stealing two more. Just like at Heinz Field, the Ravens relish the opportunity to walk into the lion's den.
While the Ravens are getting healthy and ascending at the right time, the Patriots are losing firepower after All-Pro tight end Rob Gronkowski suffered a season-ending back injury and now wide receiver Danny Amendola has reportedly suffered a high ankle sprain. Amendola is not expected to play against the Ravens, and the Patriots hope he'll be back for the playoffs.
Patriots Head Coach Bill Belichick proved to be creative once again, however, and still found a way to produce without Gronkowski last week. He's not going to use him or any other personnel loss as an excuse.
"But in the post-Gronk AFC, everybody is vulnerable and nobody with a defense, a coach, a kicker (Justin Tucker has made 35 consecutive field-goal attempts) and a quarterback can be counted out," wrote O'Connor.
"If nothing else, this Ravens team might be good enough to move [Harbaugh] up the [Patriots villain] charts."
Ravens Will Have To Beat Patriots At Least Once
As much as the Ravens would loooove to pull off the upset Monday (the Patriots opened as 7.5 favorites), this isn't a "must-win" game in order for Baltimore to win the AFC North.
As WNST's Luke Jones pointed out, the divisional rivals both started strong and then endured four-game losing streaks. Both knocked off teams Sunday that were on six-game winning streaks. And both improved upon previous weaknesses, as the Ravens offense exploded suddenly and the Steelers seemed to find their defense.
If the Ravens want to win the AFC North, the key is beating the Steelers on Christmas day, not necessarily the Patriots on Monday night.
"Considering the Ravens already have a win over Pittsburgh — and would thus own the head-to-head tiebreaker with a Week 16 victory — they simply need to be no worse than one game behind the Steelers when they arrive at Heinz Field on Dec. 25," wrote Jones. "A win over the Eagles in two weeks would ensure that, no matter what happens against the Patriots or in Pittsburgh's next two contests."
That said, a win in Foxboro would go a long way in keeping the Ravens in a good spot to win the division.
Plus, even if the Ravens lose to the Patriots Monday, they'll probably have to beat them eventually if they want to return to the Super Bowl.
Flacco Second-Best QB In Week 13 … Behind An AFC North Foe
As amazing as Flacco's 381-yard, four-touchdown day was against the Dolphins, it wasn't the best quarterback performance in the NFL.
It actually wasn't even the best in the AFC North. That honor goes to Cincinnati's Andy Dalton.
In ESPN Stats and Info's total QBR rankings, Dalton (97.6 QBR) scored slightly higher than Flacco (95.6). Dalton threw for slightly less yards (332), matched Flacco in touchdown passes, but didn't have any turnovers. Flacco threw one pick.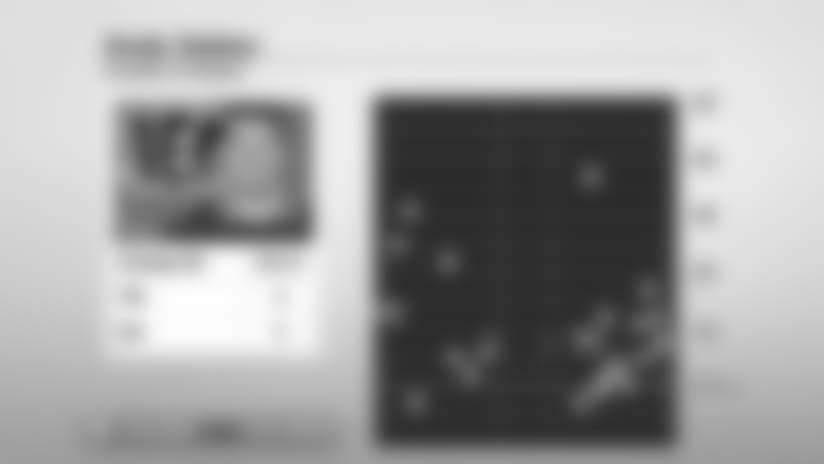 "It was a good day to be a quarterback in the AFC North, with Dalton, Flacco and Ben Roethlisberger posting Total QBRs above 75 in wins on Sunday," wrote ESPN's Sharon Katz & Jacob Nitzberg. "For Flacco, who posted his highest QBR in more than two years for the Baltimore Ravens, the key was high-volume, first-half efficiency."
Flacco has been on a steady incline over the last few weeks before exploding Sunday. Leave it to my colleagues Garrett Downing and Ryan Mink to try to take credit for Flacco's improved play.
Forsett Cut By Lions, But Claimed Off Waivers By Broncos
Forsett and the Ravens mutually parted ways in September when Forsett watched Terrance West and others climb ahead of him on the depth chart.
Forsett will reunite with Gary Kubiak, who was the Ravens offensive coordinator in 2014 when Forsett earned a Pro Bowl nod. Under Kubiak, Forsett rushed for 1,266 yards, a 5.4 yards-per-carry average, and eight touchdowns that season.
Just like the Forsett we came to know and love in Baltimore, the 31-year-old veteran was classy and had a sense of humor during the transition to his third team in three months.
Tight End Diagnosed With Leukemia Days After Being Cut By Ravens
Per the report, getting released by Baltimore may have saved his life.
"According to a source, the tight end from Western Kentucky began to experience pain in his shoulder a few days after he was cut [on] Nov. 10 by the Ravens, who told Henry they intended to re-sign him the following week," wrote Rob Demovsky. "The Ravens told Henry to stay in Baltimore after he was released, but he wanted to go home to spend the weekend hunting with his father and be with his wife, Madison.
"While in Kentucky, Henry, 24, went to a hospital where doctors found a mass in his chest. Henry is undergoing chemotherapy, the source said, and a match is being sought for a bone marrow transplant."
In addition to the Ravens, Henry also played for the Green Bay Packers and Denver Broncos during his two-year NFL career. Several teammates have reached out to Henry in support.