Mel Kiper: Ravens Will Need To Trade Up For Top Defensive Talent
If the Ravens want to bring premiere defensive talent to Baltimore in the 2016 NFL Draft, they may have to trade up to get it, and there's no sign that they would.
It would be wishful thinking to believe top pass rusher Joey Bosa or top defensive back Jalen Ramsey will still be on the board when the Ravens are on the clock at No. 6, says ESPN's Mel Kiper.
With Von Miller making the nation salivate over a wrecking-ball edge rusher, radio host Glenn Clark wanted to make absolutely sure. Is there any chance Bosa could fall to the Ravens?
"No," Kiper said, making it very clear. "He's arguably [the best overall player]. … If he doesn't go No. 1, he can't get past two or three. … Who's the pass rusher at that point? Really, nobody that would fit with the Ravens."
OK, what about Ramsey? Any chance he falls?
"I think Ramsey, the corner from Florida State whose played safety and played both positions very effectively, is intriguing if he's there. I don't think he will be," Kiper said. "Jacksonville picking at No. 5 is a distinct possibility for him."
What about other defenders like Florida cornerback Vernon Hargreaves or Notre Dame outside linebacker Jaylon Smith? Kiper says Hargreaves' stock has dropped a bit and wouldn't project him to Baltimore. Meanwhile, Smith's knee injury suffered in the Fiesta Bowl will force him to redshirt his rookie year, so he's not worth a top-10 pick.
Kiper also doesn't think there will be enough quarterbacks taken in the top 5 to push Ramsey or Bosa back. He sees California's Jared Goff at No. 2 to the Cleveland Browns and North Dakota St.'s Carson Wentz going to Dallas at No. 4. Some analysts, including ESPN's Adam Schefter, have suggested that three quarterbacks could be taken, but Kiper is not seeing it.
"I think it comes down to Ramsey or one of the offensive tackles [for Baltimore]," Kiper said.
The two offensive tackles Kiper is referring to are Mississippi's Laremy Tunsil and Notre Dame's Ronnie Stanley, who are his top-ranked tackles in this draft. In his latest mock draft, Kiper has the Ravens selecting Stanley with Tunsil off the board.
"Tunsil and Stanley, if you had to say between the two, Tunsil, to me, is the better player right now," Kiper said. "Could Stanley be the better player two years down the road? Possibly. But he's not there right now."
If the Ravens wanted a wide receiver, Kiper says they should trade down. He doesn't think even the highest-rated receivers in this year's draft class are worth a No. 6 pick. That includes Ole Miss' Laquon Treadwell, who Kiper says should go between 10-15.
"What I think it's going to come down to is speed – that's the only thing from people projecting him way, way up there," Kiper said of Treadwell.
Kiper doesn't think the Ravens need to spend an early selection on a receiver with last year's first-round pick, Breshad Perriman,* *returning from a knee injury. He says there's receiver talent in later rounds, rattling of five or six names.
"[Perriman is] a talented kid and he had shown well that first day," Kiper said. "Unfortunately he got hurt and never got back on the field, but he's got all the talent in the world."
Ravens Free Agency: Who Stays And Who Goes?
While Kiper's prediction of the Ravens selecting an offensive tackle isn't sexy, it's still one of their biggest needs, particularly with Kelechi Osemele potentially leaving via free agency.
"The left side of the offensive line is one huge question mark right now," wrote CSNMidatlantic.com's Bo Smolka. "Will the Ravens try to re-sign left guard Kelechi Osemele? Could they even afford it? And if so, would the Ravens cut ties with Eugene Monroe and move Osemele to left tackle?"
Staying in Baltimore:LB Albert McClellan (would surprise Zrebiec if Ravens can't keep him)
CB Shareece Wright (re-signing at a reasonable price makes sense)
K Justin Tucker (Ravens will keep him via long-term deal or franchise tag)
LS Morgan Cox (rewarded with contract for being one of NFL's best long snappers)
Maybe Stays:
QB Jimmy Clausen (could stay depending on how Ryan Mallett pans out during the offseason)
Leaving Baltimore:QB Matt Schaub (Clausen and Mallett rank ahead)
WR Chris Givens (too many receivers to make room)
TE Allen Reisner (too much up-and-coming talent at the position)
T Kelechi Osemele (Ravens want him, but could price himself out)
LB Courtney Upshaw (Zrebiec betting he finds a nicer contract elsewhere)
LB Chris Carter (more likely that Ravens use rookies to bolster special teams)
Way-Too-Early Power Rankings Has Ravens At No. 16
Considering the Ravens finished with the sixth-worst record in the NFL last year, the fact that ESPN placed Baltimore at No. 16 in their way-too-early rankings could be considered a compliment.
Twenty-one ESPN voters contributed to the rankings, and here's the explanation for why Baltimore was placed in the middle of the pack.
Why they're here: "Voters didn't completely forget that Baltimore won just five games, but they also didn't forget that this is a John Harbaugh-coached team that was simply decimated by injuries in 2015 and will have Joe Flacco back for training camp."
What could change: "Ozzie Newsome could be shopping (and drafting) secondary help after the Ravens picked off just six passes in 2015, a shockingly low figure even in an era when INTs are down. Not only is Flacco back, the wide receiving corps could look much different than the way they did in Week 17, as 2015 first-round pick Breshad Perriman will finally debut and Steve Smith, Sr. has vowed to be back as well, though he'll be coming back from an Achilles tear." 
Oher And Tucker Victims Of Levi's Field
Remember when kicker Justin Tucker's foot was eaten by a sink hole at Levi's Stadium? Here's photographic evidence.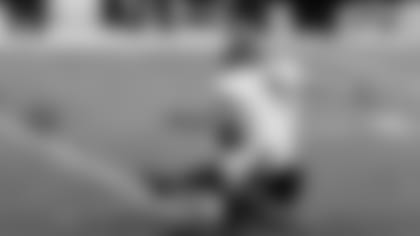 Turns out former Ravens tackle Michael Oher was also victimized by the field during Super Bowl 50, as seen in the video below. It's not easy to take on the field and Denver's ferocious pass rush at the same time.