Dennis Pitta Hasn't Given Up Yet
While tight end Dennis Pitta understands the decision to play football is partly in doctors' hands, he hasn't given up the fight on his end.
After suffering injuries to the same hip in consecutive years, Pitta has an uphill battle. He attempted his first comeback last October, but listened to doctors' advice after a three-week practice window and remained on the sideline.
He continues to work toward playing in 2016, but doesn't know what the future holds.
"Now, if it happens or not, I don't know yet, and as much as I want to be on the field, there's also an element of being smart and weighing the risks, which there certainly are big risks in my case," Pitta said. "I'm going to do everything on my end to get out there and play, but it's not all in my hands. Some of it will be involving the doctors and what they have to say also.
"We've got a couple months to get that all ironed out and figure out what we're going to do. I really couldn't tell you one way or the other right now."
If Pitta does return, many pundits, including The Baltimore Sun's Jeff Zrebiec, believe he'd have to do it under a new contract. Pitta is reportedly due $5 million in base salary and will count $7.2 million against the cap.
Pitta will be recognized next month at the Ed Block Courage Awards, an honor given to NFL players who exemplify courage and inspirational character. Pitta was selected via a vote from his teammates. While he's honored to be this year's recipient, he didn't necessarily want to be eligible because the award also signifies hardship.
Despite only playing in seven games the last two seasons, Pitta is well-liked in the locker room. Knowing he couldn't contribute as much as he would have liked on the field, the 30-year-old veteran tried to make an impact by serving as a mentor to a young tight end group.
He offered advice and guidance to second-year tight end Crockett Gillmore and rookies Nick Boyle and Maxx Williams.
"I've tried to add value to the team in any way that I could, and unfortunately this past year, it wasn't on the field," Pitta said. "I was kind of in more of a mentor role."
Pitta even served as a mentor to Joe Flacco after the quarterback suffered the first major injury of his career with ACL and MCL tears. The two have always been good friends, and that friendship stayed strong even though Pitta wasn't catching Flacco's passes on the field.
"This was all new territory for Joe," Pitta said. "He certainly asked me a bunch of questions early on. Unfortunately, I have a lot of experience in that department. We've talked quite a bit and he's done a great job. He's feeling good and is way ahead of schedule. He's handled the process really nicely."
Given his recent role as a mentor, Pitta was asked if he sees a future in coaching when his playing days are over. He wasn't very keen to the idea, saying coaches have to grind more hours than he's currently willing to put in.
Pitta and his wife, Mataya, have added three children to their family since he lifted the Lombardi Trophy three years ago. They had their son in May 2013 and the couple welcomed twin girls seven months ago.
He said the one "bonus" of being injured was spending more time with his growing family. That said, Pitta still maintains a desire to play football again.
"I'm certainly not ready to walk away," Pitta said. "That part of it would be tough. Not being a part of that locker room, not being a part of that organization will be hard. I think from an on-field perspective, I think I've accomplished a lot in this league up to this point. I certainly feel like I haven't done all that I could have done. But I felt like I proved to myself and to others that I can play in this league.
"It's certainly going to be tough if I do have to walk away and it's a decision that I'm not going to be able to make easily. But if I do have to walk away, I've certainly thought about that too and will be prepared if that happens."
Cool Pie Chart Shows Mock Draft Picks For Ravens
Here's a pretty cool graphic from SB Nation, who compiled all the prospects projected to the Ravens from "as many mock drafts as possible."
The result is a handy pie chart, illustrating the direction experts expect the Ravens to go when they are on the clock at No. 6. If a player has been projected to Baltimore just once, then he is listed in the "other" category.
The player that is easily projected the most to Baltimore is Notre Dame left tackle Ronnie Stanley (34.9 percent) with Mississippi wide receiver Laquon Treadwell a distant second (14 percent).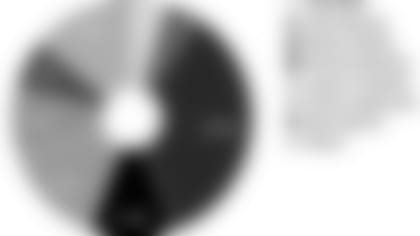 Most pundits believe top pass rusher Joey Bosa won't make it to the Ravens, as 25 percent of the Chargers' mock drafts say he'll land in San Diego and 23 percent of the Cowboys' mock drafts say he'll land in Dallas.
Meanwhile, a whopping 41 percent of mock drafts say top defensive back Jalen Ramsey will land in Jacksonville. Only four percent say he'll make it to the Ravens. NFL Network's Daniel Jeremiah is one of them.
Is Treadwell Really Top WR In 2016 Draft Class?
With Treadwell being the second-most popular player projected to the Ravens, you may want to get a scouting report on* *him.
He's often dubbed the top receiver in the 2016 draft class, but Pro Football Focus' Sam Monson isn't so sure.
The 6-foot-2, 210-pound junior has the right measurements and caught 82 passes for over 1,100 yards and 11 touchdowns last season. That said, he was graded as the No. 19 receiver in the nation by PFF.
"There is a lot to like about Treadwell, but there are also enough flaws in his game to keep him away from the very highest picks of this draft in my eyes," wrote Monson. "He is a talented receiver with the ability to win jump balls, make things happen after the catch and win subtle hand-fighting battles in routes and to gain small separation down field. He also blocks well, if not quite as well as some would have you believe.
"His issue though is that he won't separate regularly, and doesn't actually take advantage of his ability to win contested catches as much as he should do. Treadwell reminds some of Dez Bryant or Michael Irvin, but to me he looks far more like Kenny Britt. Britt has had success at times in the NFL and was a first-round pick himself, so that's not necessarily a disaster. He was taken with the 30th selection of the draft, in part because of exactly the same concerns over being able to separate. In my opinion, Treadwell is far closer to that area of the draft than a top-five pick."