Examining WR Pierre Garcon As A Free-Agent Fit For Ravens
We recently briefly reviewed the projected top-15 pending free-agent wide receivers, and also looked at seven potential salary-cap casualties.
But which of those expected receivers to hit the market would make the most sense for the Ravens to target?
"With the start of free agency still over a month away (March 9), Washington Redskins receiver Pierre Garcon is perhaps the best free-agent fit for Baltimore," wrote ESPN's Jamison Hensley.
"He's a hard-nosed possession receiver with dependable hands who would pair nicely with the speed of Mike Wallace and Breshad Perriman. He will fill the void of Smith in making the tough, contested catches and becoming the trusted go-to receiver for Flacco."
General Manager Ozzie Newsome said at the season-review press conference in January that he wants to "find a complementary receiver" and added that his staff has been successful at finding veterans that can play at a high level. He said the Ravens "definitely will be pursuing that this year."
After hearing Newsome's remarks, Hensley said the first receiver that came to mind to fit Newsome's description was Garcon.
The nine-year veteran led Washington with 79 catches and 1,041 yards last season. A repeat year like that in Baltimore would be an excellent start in replacing retired receiver Steve Smith Sr., who put up 242 fewer yards and nine fewer catches in 2016.
Garcon has been a model of durability and consistency over his career. You have to go back five seasons to find the last time he was sidelined for a game. That's 71 consecutive regular-season games played. Since 2013, he has the sixth-most catches in the NFL (332), per Hensley.
"This wouldn't be as big of a splash as signing Chicago's Alshon Jeffery, the top receiver available in free agency, or even the New York Jets' Brandon Marshall, who is a potential salary-cap cut," wrote Hensley. "But when have the Ravens made such a signing? Baltimore can't spend its limited cap space on one player when there are so many other needs to fill.
"Garcon likely represents a more trusted signing. … Marshall has a history of domestic violence issues (which would likely cross him off the Ravens' list), and Garcon has never been arrested or charged with a crime."
Despite presenting a more reliable signing, Garcon could come at a cheaper cost than Jeffrey or Marshall (if he's released by the New York Jets). For example, Spotrac.com used its projected market value formula to predict Jeffrey will command a contract in the neighborhood of five years for $61 million. Meanwhile, the website sees Garcon getting two years for $17.5 million.
Of course, all of this depends on whether the Redskins let Garcon hit the open market in March. And even if they do, they could still represent competition.
Several media outlets commented on Garcon's recent efforts on television and social media to seemingly communicate to his current team that he'd like to return.
How Eric Weddle Re-Proved Himself In 2016
Pro Football Focus (PFF) showed respect to safety Eric Weddle by placing him at No. 10 on its 2016 Top 101 NFL Players list.
Seeing Weddle, 32, thrive as much as he did after signing with the Ravens last season may have been surprising to some in San Diego (now Los Angeles), where he was cut after an injury-riddled 2015 season.
"A growing rift was apparent between Weddle and the Chargers organization stemming from an apparent desire to move on from the 30-year-old and rebuild," wrote PFF's Michael Renner.
"The safety was battling injuries and in the midst of his worst season since 2009, but even considering that, San Diego's actions were a head scratcher. The feud came to a head when Weddle was fined by the organization for watching his daughter perform during halftime of a meaningless game in late December. The next week he was put on IR even though he claimed he was healthy enough to play."
After the terse breakup, Weddle came into Baltimore like a man on a mission to re-prove he was still one of the best at his position.
His work ethic and leadership ability were apparent from the start, and so was his diverse skill set that PFF says the Ravens took advantage of by crafting a role that put him in as many playmaking positions as possible. 
"The role fit Weddle to a T and for a team desperate for playmakers in the secondary he was a godsend," Renner wrote. "Through the first nine weeks of the season he allowed five catches on 11 targets for 25 yards, zero touchdowns and one interception. 
"Weddle had completely returned to the form that made him PFF's top-graded safety in 2014 and 2012. His 92.4 overall grade was once again the best of any safety in the NFL. … No safety in the NFL could match that all-around consistency and it earned him a well-deserved spot in the top 10 of PFF's top 101 players for 2016."
Easiest Offseason Decision For Ravens? Picking Up Mosley's Contract Option
Will there be an easier decision for Ravens brass this offseason than to pick up linebacker C.J. Mosley's fifth-year option on his rookie contract?
The deadline to pick up the option that will keep Mosely through the 2018 season is May 3. It was already an expected move, but the decision was made even easier after fellow inside linebacker Zachary Orr was forced into retirement because of recently found congenital spine condition.
Since Mosley was drafted by the Ravens in the first round of the 2014 NFL Draft, he's earned two Pro Bowl honors in three seasons. He is one of four defenders (Carolina Panthers' Luke Kuechly and Thomas Davis, and Cleveland Browns' Jamie Collins) to record at least 300 tackles, five sacks and five interceptions since he came into the league, per Hensley.
"The Ravens would likely see this fifth-year option as the first step toward getting a long-term extension with Mosley," Hensley wrote. "This is what happened with cornerback Jimmy Smith, who saw his fifth-year option picked up in 2014 and then reached a long-term deal with Baltimore the next year.
"Mosley, 24, is scheduled to make $1.618 million in 2017, the final year of his four-year rookie deal. He has certainly outplayed that contract. … The option with Mosley will pay him somewhere over $8 million [in 2018], the average of the 25 highest-paid players at the position, with the top three excluded."
Ravens-Themed Soccer Uniform
Have you ever wondered what a Ravens-themed soccer uniform would look like?
But FoxSports.com knows that fans do get a kick out of (pun intended) seeing various uniform designs if they're provided. So the website created a soccer kit for all 32 NFL teams, which is an entertaining exercise to look through.
"The alternate kit with the Maryland flag as the shirt may seem a bit more outlandish, but those who follow soccer know that some alternate jerseys can be quite zany, especially for some of the bigger clubs like FC Barcelona or Manchester City for example."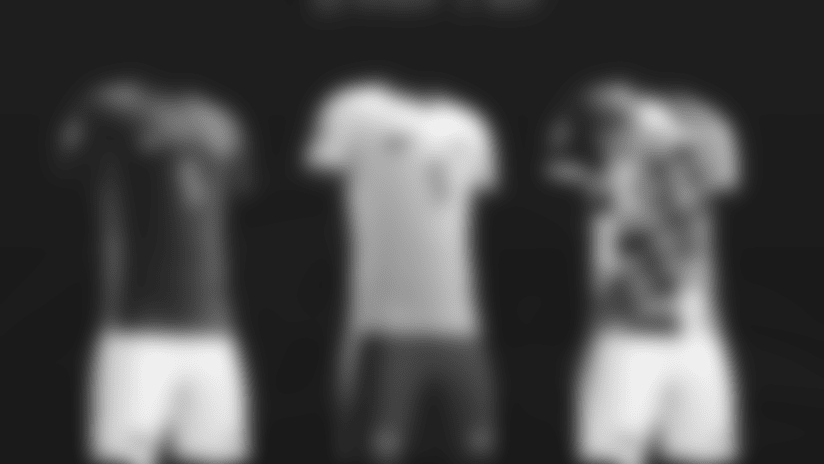 Browns Release QB Josh McCown
It may seem like a small move, but it is one that will affect the Ravens.
The Ravens have generally had the Browns' number over the years, but McCown definitely gave Baltimore fits along the way. He has a 2-3 record against Baltimore, and even in those losses, some of the games were too close for comfort.   
The Ravens were fortunate not drop a third loss to McCown on Nov. 30, 2015. The team needed Will Hill to return a blocked field goal 64 yards for the game-winning score in a 33-27 victory at FirstEnergy Stadium in Cleveland. In an Oct. 11 performance earlier that year, McCown threw for 457 passing yards and scored three total touchdowns (two passing) to steal a victory at M&T Bank Stadium.