Is Dez Bryant Still a No. 1 WR? Evidence Suggests He's Got Plenty Still to OfferA debate that has raged nationwide, especially in Dallas, has picked up in Baltimore as the Ravens are reportedly pursuing free-agent wide receiver Dez Bryant.
Is he still a No. 1 receiver?
Bryant is only 29, but how much juice is left in those legs is already being questioned. After combing through in-depth data, Pro Football Focus' (PFF) Aaron Bloch put together a compelling case that Bryant can still carry the load.
It's no secret that Bryant's production has decreased over the last three years.
You can mostly throw out 2015 because he missed half the season with a broken foot. But he's failed to notch a 1,000-yard season in three years after posting more than 1,200 receiving yards in the three previous seasons (2012-2014). He's notched 17 touchdowns the last three years, which is only one more than his 2014 output alone.
"Clearly, something isn't right," Bloch wrote. "Just because Bryant is putting up fewer fantasy football points or lower box score outputs every week, doesn't mean he isn't still playing like one of the best wide receivers in the NFL."
Receivers are essentially asked to do three things: Get open, catch the ball and run with it. Let's see how Bryant stacks up:
Bryant has never been a burner, and as he gets older, he certainly won't get any faster. Word is he's working on his route-running to help his ability to get open. Like quarterback said yesterday, even though Bryant doesn't create much separation, he can still come down with balls because of his physicality. Flacco said Bryant reminds him of Anquan Boldin that way, and Flacco learned to trust throwing to Boldin even when he didn't appear open.
In terms of catching the ball, the stat that's often passed around is Bryant's 12 drops last year, per PFF, which was the most in the league. "But I'm not as concerned with him," wrote PFF's Scott Barrett.
That's because he only dropped 13 passes over the previous three seasons. Barrett did a study on drop rate and found little correlation year-over-year. "This means drops are, for the most part, fairly random," Barrett wrote.
Perhaps more eye-popping is the decrease in "catchable" balls Bryant has seen come his way the last three years, the same time Tony Romo stopped throwing to him. Romo was injured for most of 2015, and Dak Prescott took over the starting job the next year.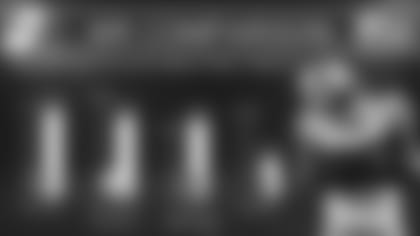 Between 2012-2014,* *with Romo throwing the ball, 70 percent of the passes targeting Bryant were deemed catchable. Bryant took full advantage. He scored 41 touchdowns and tallied nearly 4,000 yards.
From 2015-17, the percentage of catchable balls plummeted to 59.6 percent (155 of 260 pass attempts). That's the second-worst percentage among 51 wide receivers with a minimum of 200 targets during that time.
Once Bryant gets the ball in his hands, he's not easy to bring down.
He forced 12 missed tackled by the start of December, which was the third-best mark among receivers behind Golden Tate and Jarvis Landry.
"Bryant remains one of the most dangerous players in the league with the ball in his hands," Bloch wrote. "[He] fights for every receiving yard he gains and few at the position are better at making them miss."
Chances Ravens Draft Wide Receiver, Quarterback and/or Running Back in First Three Rounds
The Baltimore Sun's Jeff Zrebiec is previewing each position leading up to the NFL Draft, which is now just eight days away, and predicting the chances the Ravens will use one of their top three draft picks on said position.
Chances of drafting receiver in first three rounds: HighZrebiec: "[Smokey] Brown is on a one-year deal and [Michael] Crabtree essentially is as well. Perriman is in the final year of his rookie contract. The Ravens need to add some young building blocks so they don't have to overhaul their receiving group every year. This year's receiver draft class is lacking in elite options, but it has a lot of depth. Rounds two through four should be fertile turf for the Ravens to grab a receiver or two."
Chances of drafting quarterback in first three rounds: Decent *Zrebiec: "Sam Darnold, Josh Rosen, Josh Allen and Baker Mayfield are expected to be long gone before the Ravens are on the clock at No. 16 and it's not out of the question that Lamar Jackson will be as well. What appears more likely is the Ravens looking for a young developmental quarterback between the third and fifth rounds. They've done their homework on all the second-tier options in what is touted as a pretty deep quarterback class."**
Chances of drafting running back in first three rounds: Moderate* **Zrebiec: "[The Ravens] believe there is definitely room to add a dynamic running back who can create big plays and factor into the passing game. They have several bigger needs, though, so this is a piece they'll probably look for either late on Day 2 or early on Day 3. The Ravens haven't taken a running back earlier than the third round since 2008, when they used a second-round pick on Ray Rice. Another deep running back class means quality ball carriers will be available in the middle rounds."
Daniel Jeremiah Has Ravens Trading Back for Hayden Hurst; Albert Breer Predicts Lamar Jackson at 16
Two high-profile mock drafts were released yesterday, and both have intriguing options.
Sports Illustrated's Albert Breer continues a quarterback narrative that has picked up steam recently. He sees Louisville quarterback Lamar Jackson making it to No. 16 and the Ravens plucking him.
"Surprise! Baltimore has an aging QB with a bad back who hasn't played very well as of late. Time to look to the future," Breer wrote.
Flacco was asked yesterday about all the rumors swirling that the Ravens could possibly take a first-round quarterback. He said he figures Baltimore will have to do that at some point, and isn't worried about it.
Meanwhile, NFL Network's Daniel Jeremiah, who really got the quarterback buzz rolling with his last mock draft by saying the Ravens would pick Baker Mayfield, now sees Baltimore going a different direction.
He envisions the Ravens picking up perhaps the best tight end in the draft with Hayden Hurst.
Best Undrafted Player in Ravens History: Kicker Justin Tucker
There's running back Priest Homes, linebackers Bart Scott and Jameel McClain, safety Will Demps and center Mike Flynn. But Justin Tucker takes the cake.
"The nod goes to the most accurate kicker in NFL history," the website wrote.
"Tucker, who has made 202 of 224 field goals (90.2 percent) in his career, has reached two Pro Bowls and is a two-time first-team All-Pro. He also became the fastest pure kicker in league history to reach 800 career points, doing so in his 95th regular-season game. This is an incredible amount of success for someone who wasn't one of the four kickers drafted in 2012 and didn't receive a signing bonus as a rookie because he was initially a tryout player."