Did Ravens 'Color Rush' Uniform Get Leaked?
When the Ravens host the AFC North rival Cleveland Browns in November, will they be completely draped from head to toe in the Maryland flag?
That's what a possible leak of all 32 teams' NFL "Color Rush" uniform suggests.
After testing a soft launch with eight teams last year, it was announced in March by Lions President Rod Wood that all 32 teams would participate in the NFL's Color Rush campaign in 2016. That means every team will wear new alternate uniforms during its Thursday night games.
"The rollout of the Color Rush uniforms for all teams will occur when they announce the schedule," Wood said at the time.
Well, that didn't happen. But the leak was revealed just two days later.
In the tweeted picture above, you'll note a few disclaimers. At the top, it says "all designs are subject to change." And under the Ravens design, it says, "flag colors to be decided." So maybe there could be a purple, gold and black version? Eh?
Since the leak has two disclaimers, we really can't be certain if this outside-the-box design is actually in the works. And if you're wondering whether I can confirm or deny the design since I work for the team, nice try. There were zero signs that the Ravens would use the gold uniforms last season until they were hung in the lockers when the team suited up against the Kansas City Chiefs.
Uniform designs are kept just about as secret as the Ravens draft board, which I also don't have access to. If I saw it, I might have to be terminated.
Now, if Baltimore does end up unveiling its own version of a Maryland Pride uniform, I would be all for it … if executed properly. In theory, I wouldn't have been against gold pants either.  But pairing a mustard yellow pant with a purple jersey wasn't a hit, including for quarterback .
Head Coach John Harbaugh and the team got the message from fans loud and clear.
But if Nike can pull off a Ravenized version of the Maryland flag, perhaps inspired by what Under Armour has done for the Maryland Terrapins football team (see below), then it could be well received.
"If the leaked image turns out to be completely wrong, well, we can still argue in the comments section about who has the best Color Rush jersey," wrote CBSSports.com's John Breech. "Right now, I vote Baltimore."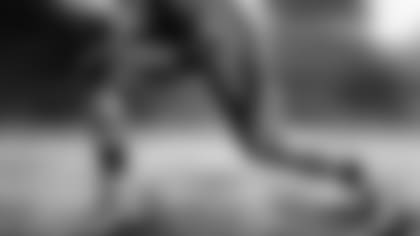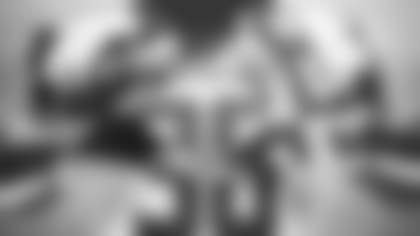 Good First Step For Breshad Perriman
Twitter was in shock and awe yesterday when the Ravens released video of 2015 first-round pick Breshad Perriman running at the team's first day of offseason workouts.
There has been a running joke in the Twitterverse that Perriman might not exist (kind of like Bigfoot) since a large majority of fans have never seen him in a Ravens uniform. He missed the entire season after injuring his knee on the first day of training camp last year.
But, indeed, he does exist and seemed to be running just fine with his teammates yesterday, showing no signs of an ailing knee in the few seconds of footage that were released.
The media sees it as a solid first step for Perriman, but there is still a ways to go.
"The video showed Perriman running without a brace, which was a good sign for a player who could be crucial to the Ravens' offense," wrote CSNMidAtlantic.com's Clifton Brown.
"We will learn far more about Perriman's readiness when the Ravens begin OTA's in May, and when Perriman tests his speed and lateral movement running routes. But the Ravens continue to hope that their first-round pick in 2015 will be an important player, not a spectator, in 2016."
Last Chance For Trent Richardson?
After weeks of waiting, former first-round running back Trent Richardson officially signed his contract with the Ravens yesterday, launching him into a brutal competition for a 53-man roster spot with Justin Forsett, Buck Allen, Lorenzo Taliaferro, Terrance West and Terrence Magee.
There's no guarantee that Richardson will still be on the team come September.
"Let's be clear, the Ravens have given him an opportunity," ESPN's Jamison Hensley wrote. "They have not given him a guaranteed spot on the team."
"T]his [has the feel of one last chance to prove he can hit the right holes, break tackles and become an impact runner. … The Ravens really have nothing to lose in signing Richardson this offseason. But, for Richardson, if he doesn't make the most of this opportunity, he could lose out on his last chance to make it back in the NFL."
Controversy Over Myles Jack's Knee
Just more than a week away from the NFL Draft, a report from Les Bowen of the Philadelphia Daily News quoted an unnamed source calling potential top-10 pick Myles Jack's knee a "time bomb."
This report will be of particular interest to the Ravens, who could select Jack with their sixth-overall pick to play linebacker next to C.J. Mosley.
Jack's agent was quick to reply, refuting the report and posting video of Jack doing agility drills.
"I wish these doctors/trainers would have shared concussion info like they are sharing 'alleged' Myles Jack knee info," agent John Thornton wrote.
What should we make of all this?
"This could be nothing more than a source hoping Jack will fall in the draft, so that he becomes available to a team that covets him," wrote Brown. "I don't think enough teams will pass on Jack for him to fall out of the top 10. But if he's still there at No. 6, the Ravens will have to trust their medical information and their judgment, and decide whether to take Jack or someone else. "
John Urschel Elated After Being Asked To Give Penn State Commencement Speech
Good for you, John Urschel.
The Ravens offensive lineman was invited to give a commencement speech at the Penn State Eberly College of Science. That's quite the honor.
Urschel has been busy this offseason working on a Ph.D at MIT and still competing for a starting job. Urschel participated in the offseason workouts yesterday.