What Ravens Draft Board Might Look Like
Who wouldn't want to take a peek at the Ravens' draft board to see how one of the league's most respected brain trusts rank this year's crop of college prospects?
Alas, it's guarded like Fort Knox.
So, instead, let's take a look at what the folks at Pro Football Focus (PFF) predict it will look like. They ranked 150 prospects based on their own draft grades and how each player might fit with the team.
You can check out all 150 here, but below I only included the top 36 prospects to give an idea of who Baltimore might find worthy of its top two pick.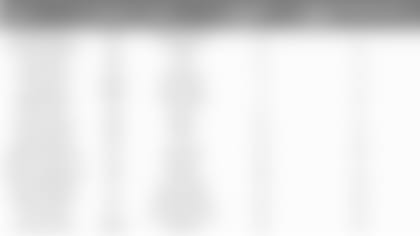 PFF thinks three "ideal" picks for the Ravens at the No. 6 slot would be pass rusher Joey Bosa, offensive tackle Laremy Tunsil and running back Ezekiel Elliott.
While Bosa would have to transition to Baltimore's 3-4 scheme, the Ravens believe he could do so seamlessly. Bosa is PFF's highest-graded edge defender in each of the past two seasons. Tunsil only allowed five hurries in 351 pass-blocking situations last year. And Elliott would be a "luxury," but a dang nice one as a major threat out of the backfield.
Ravens Doing Homework On QB Paxton Lynch
The Ravens are reportedly doing their homework on Memphis quarterback Paxton Lynch, who is generally believed to be the third-ranked signal caller behind Jared Goff and Carson Wentz.
"The Ravens obviously aren't in the market for a quarterback with their sixth overall pick, but they could take one for insurance," wrote The Baltimore Sun's Jeff Zrebiec.
It makes sense with Joe Flacco recovering from a torn ACL and MCL and backup Ryan Mallett is only signed through this season. Assistant General Manager Eric DeCosta acknowledged at the pre-draft presser earlier this month that the Ravens could select a quarterback in the draft.
That said, nobody thought that meant the Ravens would potentially take a quarterback this early. Lynch is expected to go between the middle of the first round and early second round. Grabbing another developmental player like they did with Tyrod Taylor in the sixth round of the 2011 draft seems more up the Ravens' alley.
Eric Weddle Loves Julian Edelman And Danny Amendola's 'Cops' Spoof
OK, even though the New England Patriots are hated in Baltimore just about as much as the Pittsburgh Steelers, the most ardent Ravens fan would have to chuckle at this.
New Ravens safety Eric Weddle sure did.
Patriots wide receivers Julian Edelman and Danny Amendola teamed up this offseason as Boston police officers in a "Cops" spoof that is simply hilarious. Well done, guys.
One Idea For Maryland-Flag Themed Ravens Uniform
There are a lot of talented designers out there, and just about every time news, or even rumors, begin about alternate Ravens uniforms, somebody comes up with something great.
With the Ravens Color Rush theme potentially leaked as a Maryland flag design, @ProSportsEdits14 came up this one, which I personally enjoy. (Hat tip Russell Street Report.)