Eight Draft Prospects Most Often Mocked To Ravens
If you're like me, you're on mock draft overload.
It seems like everyone and their dog pump out projections, and the list of possibilities for the Ravens seems longer than ever, considering 1) how many needs they have, 2) how far back they're drafting with the 16th pick and 3) how volatile this year's draft is.
Even Assistant General Manager Eric DeCosta, who can usually predict the players that will fall to him, told "The Lounge" podcast yesterday that he doesn't have a strong grasp on what could happen with the 15 picks ahead of him.
To help bring clarity to the mock situation, the folks at SB Nation surveyed and compiled "as many mock drafts as possible" to get a better idea of what experts think teams will do. You can check out the top projections for all 32 teams here, and I break down the Ravens' below.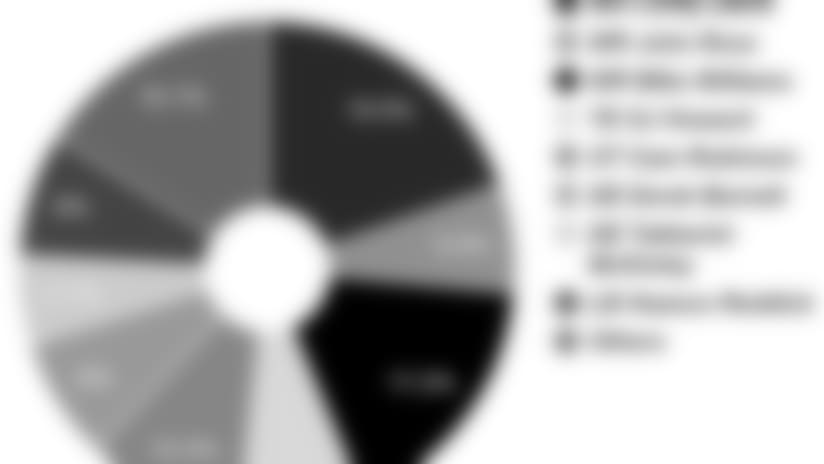 The two players most often projected to the Ravens are receivers: Western Michigan's Corey Davis and Clemson's Mike Williams. It's important to note that in more recent mocks Williams doesn't come close to falling to the Ravens.
There was a surge in pass-rusher predictions to the Ravens earlier this month, and now there seems to be a slew of recent projections for Alabama tackle Cam Robinson.
Below are the eight players most often mocked to the Ravens, along with a recent writeup of an analyst's thinking behind the pick. (Note: the list goes up to nine because of the "other" category.)
1) WR Corey Davis, Western Michigan: 19.5 percent of all mock drafts surveyedSenior, 6-3, 213; 2016 stats: 97 catches, 1,500 receiving yards, 19 touchdowns
NFL.com's Bucky Brooks: "The Ravens need a WR1 to anchor the passing game after the retirement of Steve Smith."
2) WR Mike Williams, Clemson: 17.2 percentSenior, 6-3, 225; 2016 stats: 98 catches, 1,361 yards, 11 touchdownsCBSSports.com's Dane Brugler: "The Ravens have plenty of speed at receiver, but only average size. Williams has only average speed, but his body control, catch radius and overall size are where he shines."
3) Others: 16.1 percent
Players selected less than five percent of the time fall in SB Nation's "others" category.
4) OT Cam Robinson, Alabama: 10.3 percentJunior, 6-6, 322NFL.com's Chad Reuter: "If Buffalo takes this physically dominant tackle from Alabama at 10, then Ozzie Newsome will find another bargain here."
5T) TE O.J. Howard, Alabama: 8 percentSenior, 6-6, 251; 45 receptions, 595 yards, three touchdownsNFL.com's Charley Casserly: "The draft could not fall any better than this for Ozzie Newsome."
5T) DE Derek Barnett, Tennessee: 8 percentJunior, 6-5, 259; 2016 stats: 56 tackles, 19 tackles for loss, 13 sacks, 1 interception, 2 forced fumbles* CBSSports.com's Rob Rang: "Barnett lacks the length and pure explosiveness scouts would prefer, which could lead to his slipping a bit on draft day. Barnett's instincts, use of hands and production (33 sacks over the past three years), however, could have him ultimately outplay his draft slot."* 5T) LB Haasan Reddick, Temple: 8 percent Senior, 6-1, 230; 2016 stats: 65 tackles, 22.5 tackles for loss, 9.5 sacks, 1 interception, 3 forced fumbles FoxSports.com's Dieter Kurtenbach: "Baltimore lands the inside linebacker and edge rusher they're looking for with one pick. Reddick is as pliable a defensive talent as this draft will provide."
8) WR John Ross, Washington: 6.9 percentRedshirt junior, 5-11, 190; 81 catches, 1,150 yards, 17 touchdowns, eight carries, 102 yards, 1 touchdownCBSSports.com's Will Brinson:"This would be a steal for Ozzie Newsome, and it would give Joe Flacco a deadly deep threat once the team moves on from Mike Wallace."
9) DE Takkarist McKinley, UCLA: 5.7 percent*Junior, 6-foot-2, 250 pounds; 2016 stats: 61 tackles, 18 for loss, 10 sacks, 3 forced fumbles
*ESPN's Mel Kiper: "Baltimore needs pass rushers. Terrell Suggs, 34, was the only Raven to have more than five sacks last season (he had eight). McKinley is a speed rusher who could play outside linebacker in the Ravens' 3-4. He broke out in 2016 with 10 sacks and three forced fumbles for the Bruins."
Best Ravens Draft Picks By Position
With just two days remaining until Newsome starts to announce his 2017 picks, now would be a good time to look back at the best selections he's made at each position over the years.
Offense
QB: Joe Flacco (2008), first round
RB: Jamal Lewis (2000), first round
WR: Torrey Smith (2011), second round
TE: Todd Heap (2001), first round
OT: Jonathan Ogden (1996), first round
G: Marshal Yanda (2007), third round
C: Jeff Mitchell (1997), fifth round
DefenseOLB/DE: Terrell Suggs (2003), first round
DT: Haloti Ngata (2006), first round
LB: Ray Lewis (1996), first round
CB: Chris McAlister (1999), first round
S: Ed Reed (2002), first roundSpecial Teams:K: Justin Tucker (2013), undrafted
P: Sam Koch (2006), sixth round
Jabrill Peppers' Diluted Drug Test Could Drop Him Out Of First Round
Michigan's* *versatile defensive standout Jabrill Peppers tested positive for a diluted sample at the NFL Scouting Combine, according to ESPN's Adam Schefter. The news comes just a few days after the same test result came back for Alabama linebacker Reuben Foster.
Teams have been notified of Peppers' test result, which could knock him out of the first round, wrote FoxSports.com's Cameron DaSilva. Peppers' stock was already sliding a bit because it's unknown whether he fits better at linebacker or safety in the NFL.
"Peppers performed extremely well at the combine, working out with both linebackers and defensive backs," wrote DaSilva. "It's unclear where Peppers will play in the NFL, which is partly the reason for his falling draft stock. This added layer of concern just makes things even worse for the Michigan product."
Just like Foster, the explanation for Peppers' diluted sample was due to an illness he was dealing with entering the combine.
"Peppers went to the combine. He was sick after flying there from San Diego. He has a history of cramping," a spokesman from the agency that represents Peppers told Schefter. "Peppers was being pumped with fluids, drinking 8-10 bottles of water before he went to bed, because he was the first guy to work out two days for the LBs and DBs. He had to go through that first day, come back on second day, and that was the fear. So Peppers was pounding water and under the weather. He never failed a drug test in his life, nor tested positive before for any substance."
Pass Rusher May Not Be Best Value At No. 16
If you ask media around Baltimore, many will tell you the Ravens are likely to draft a pass rusher with their first-round pick.
The Baltimore Sun's Jeff Zrebiec has been a big proponent of such a pick, but after studying the draft board more, he isn't so sure that's how things will fall.
"I've been among those banging the drum for the Ravens to take a pass rusher in the first round of the NFL draft Thursday, but it's very possible that at No. 16, they're in a spot where an edge rusher might not represent the best value," wrote Zrebiec.
He says the top prospects – Texas A&M's Myles Garrett, Stanford's Solomon Thomas, Tennessee's Derek Barnett and Temple's Haason Reddick – could all be gone by the time Newsome is on the clock.
"So whom does that leave?" asks Zrebiec. "No. 16 is probably a little too early for UCLA's Takkarist McKinley, who is explosive but raw, and it's certainly too early for Taco Charlton, who didn't become a starter until his senior year at Michigan. Off-the-field questions probably have pushed Alabama's Tim Williams to either the late first or early second round. Missouri's Charles Harris might make the most sense at No. 16 among the edge rushers, but that still seems a bit early for him. It's tough to find anybody who considers him one of the top 16 players in the draft.
"So unless the Ravens trade back into the 20s or Barnett falls, it might make sense for the Ravens to use their second-round pick (47th overall) on an edge rusher."