HAPPY DRAFT DAY, EVERYONE! IT'S FINALLY HERE!!!!!
I feel like a kid on Christmas morning, except we have to wait until 8 p.m. to unwrap presents when the 2018 NFL Draft officially gets underway.
I'll get to last-minute Ravens-related draft rumors and speculation soon, but first the biggest news from yesterday …
Details Behind the Ravens' Offer Declined by Dez Bryant
Free-agent wide receiver Dez Bryant declined a multi-year offer from the Ravens because he wanted a one-year contract to prove he's worth a bigger multi-year offer, former ESPN reporter and Doomsday Podcast's Ed Werder first reported.
It's not often we see a receiver with waning production, and turning 30, reject a long-term deal in favor of a short-term deal, but Bryant is betting on himself.
"Bryant is banking on a bounce-back year to rehabilitate his league-wide value," wrote NFL.com's Chris Wesseling. "That's a high-risk approach for a player attempting to reverse the decline phase of his career."
Bryant was released from the Dallas Cowboys when the market was quiet just a few weeks before the draft, and he believes he can produce more than the 800-ish yards he's tallied in each of the last two years.
The Ravens offered "a little more" than the three-year, $21 million deal signed by receiver Michael Crabtree, according to NFL Network's Ian Rapoport. Bryant apparently feels* *he's worth more, so Rapoport says he'll take his chances after this weekend's draft, banking on a receiver-needy team (or two) not landing a plug-and-play target.
Knowing that Bryant is looking for a one-year deal, why didn't the Ravens put together a shorter offer?
The Ravens needed a long-term contract in order to push bigger cap hits down the road and absorb a smaller hit this year, per Rapoport. Once they saw an agreement couldn't be reached, the Ravens moved on to restricted free agent Willie Snead, who will only cost $2 million against the cap in 2018.
"Bryant, meanwhile, has been left to twist in the wind, hoping the New York Giants have a change of heart in the coming weeks," wrote Wesseling.
Lamar Jackson Rumors and Speculation Increase on Draft Day Eve
Frankly, I'm a little surprised the buzz surrounding Baltimore potentially picking quarterback Lamar Jackson with its 16th pick hasn't died down.
Instead, NFL Network's Mike Mayock turned it up a notch with yesterday's release of his first, and only, mock draft for the 2018 class.
"I think they're going to change the entire direction of the franchise. They roll out a bold new era. It's Lamar Jackson time," Mayock wrote. "The key is you have to commit schematically, philosophically and the whole building has to be in for this to be the right move."
The high number of "plugged in" reporters and draft analysts suggesting a first-round quarterback for the Ravens is enough to make one believe it's a real possibility.
Daniel Jeremiah projected Baker Mayfield at No. 16 in early March, and with Mayfield's value soaring, the Jackson rumors quickly followed … and they haven't stopped.
Rapoport called the Ravens a "sneaky" team for Jackson. Bucky Brooks mocked Jackson to Baltimore. ESPN's Todd McShay wrote Monday that he's hearing Baltimore is one of six potential landing spots for him. Now there's Mayock, and what Sports Illustrated's Albert Breer wrote early this morning:
"The Ravens have done extensive tire-kicking on Louisville's Lamar Jackson, and I believe he'd be a consideration at 16. But moreso, I think the Ravens like the defensive talent at the top of this year's class, and sure wouldn't mind if a [defensive tackle Vita] Vea, [pass rusher Marcus] Davenport or [safety Derwin] James fell into their laps, even with their offensive needs."
The reporters that aren't buying into the Jackson-Ravens hype are local, particularly WNST's Luke Jones and The Baltimore Sun's Jeff Zrebiec.
Jones argues that one of the benefits of having a rookie quarterback is he saves you cap space, and the Ravens would waste a whole year of that opportunity because they'd keep Flacco at least through 2018.
Also, the Ravens haven't invested many assets in the offense to surround Flacco. In fact, they're ranked last in the league with non-QB invested money on offense. And they've only used four of 17 picks from the first three rounds of the last five drafts on offense. Jones says the team can't be trusted to suddenly invest more for Jackson.
Jones says the Ravens "owe it" to themselves and Flacco to put their best foot forward in surrounding him with capable weapons and protection before they usher in a new era.
"Coach John Harbaugh and so many other members of the organization, whose jobs could be in jeopardy if the team doesn't return to the postseason this year, probably aren't concerned about who the team's quarterback of the future is. … [G]iven that their entire offseason has been about building as strong of a roster as possible for 2018, it's hard to believe they'd use their top asset in the draft on a player who will start the season on the sideline."
Zrebiec's Five First-Round Candidates for Ravens
OK, so if Zrebiec isn't buying the Jackson-Baltimore sell, who does he think is a realistic option?
His "ideal" scenario is trading back for an extra Day 2 pick, then drafting a receiving weapon or plug-and-play offensive lineman in the low- or mid-20s.
OLB Marcus Davenport (Texas San-Antonio)Davenport is expected to go in the top 15, and the Ravens have already invested in young pass rushers such as Matt Judon, Za'Darius Smith, Tyus Bowser and Tim Williams. Baltimore needs more offensive weapons, but if Davenport falls, he'd be awfully tough to pass up.
Zrebiec: "The Ravens are always looking for pass rushers and Davenport is considered the second best one in the draft behind North Carolina State's Bradley Chubb."
TE Hayden Hurst (South Carolina)Even though Hurst is believed by many to be the top tight end in the draft, they also say he may not be worth the No. 16 pick. Instead, he is valued closer to the end of the first round. But Flacco could sure use a target like him right now.* *Zrebiec: "Hurst is also a solid blocker, which sets him apart from many of the draft's other top tight ends."
DB Derwin James (Florida St.)The Ravens are solid in the defensive backfield and James is considered a top-10 pick, but if he falls …
Zrebiec: "Like Davenport, James could be the best player available when the Ravens are on the clock. He's freakish with his athleticism and his versatility would be a great fit in Don 'Wink' Martindale's attacking defense."
T Mike McGlinchey (Notre Dame)The Ravens re-signed James Hurst and Head Coach John Harbaugh has him penciled in as the starting right tackle.*If McGlinchey is available at 16, however, he could represent an upgrade and/or more depth. *Zrebiec: "The Ravens should have plenty of intel on McGlinchey after picking his former teammate, Ronnie Stanley, two years ago. McGlinchey would be a safe pick with little bust potential."
WR Calvin Ridley (Alabama)Ridley's stock has dropped a bit since the NFL Scouting Combine, where he didn't perform poorly but didn't stand out either. The Ravens certainly have a need here, but do they value him at 16?
Zrebiec: "The Ravens need to add a young and talented receiver in the mix and Ridley is considered one of the best available."
How Have Ravens' Last Five Draft Classes Stacked Up League-Wide?
Pro Football Focus (PFF) is using its Wins Above Replacement (WAR) metric to measure how effective all 32 teams' last five draft classes have been. In this case, WAR roughly measures the number of wins a team gets from replacing an off-the-street player with a draft pick.
"Former first-round selections Breshad Perriman and Matt Elam have been their least valuable players since 2013, each costing the team over 2.0 wins the last two seasons," wrote PFF's Jordan Plocher and Eric Eager.
"However, a good sign of things possibly turning around, Marlon Humphrey was worth 0.5 WAR last season and Brandon Williams and C.J. Mosley were worth about 4.0 total wins between the two of them on defense."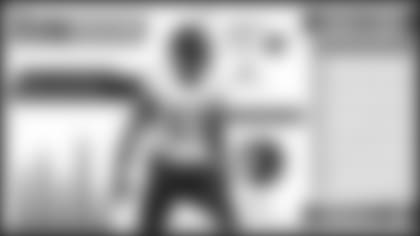 2017 Draft Re-Do Has Ravens Selecting JuJu Smith-Schuster Instead of Marlon Humphrey
NFL.com's Adam Rank conducted a 2017 draft re-do now that one year is in the book for the class.
With hindsight, Rank now believes the Ravens should've taken Pittsburgh Steelers wide receiver JuJu Smith-Schuster instead of cornerback Marlon Humphrey at No. 16.
The Steelers selected Smith-Schuster in the second round at No. 62 overall, but he now appears worthy of first-round value. With Baltimore selecting the wide receiver in this fake draft, Humphrey dropped to No. 24 to the Oakland Raiders.
"If you watched the Raiders attempt to play defense last year, you know corner was a screaming need. Humphrey was one of the best rookie CBs last year," Rank wrote.
Even though the Ravens are in need of a young receiver like Smith-Schuster, would you trade Humphrey for him?
"It is still premature to consider JuJu the better option after one season, there is no guarantee he would have produced the same rookie impact in the Ravens offense," wrote Baltimore Beatdown's Vasilis Lericos. "Furthermore, it is difficult to argue against selecting a player with Pro Bowl potential at a premium position."