What to Expect from Each Ravens Draft Pick Now and Later
I've been wanting to feature WNST's Luke Jones' short- and long-term projections for each of the Ravens' 12 draft picks from a couple weeks ago, and with a slower news weekend, I finally have a chance to circle back around.
Round 1 (No. 25): TE Hayden Hurst
Combine an advanced age (24) for a rookie with the Ravens' need for a pass-catching tight end, and that means Hurst will have a chance to become "the primary guy" this year. He could eventually become the "best all-around" tight end since Todd Heap.
Round 1 (No. 32): QB Lamar Jackson
The Ravens could take advantage of Jackson's athleticism in the offense here and there this season, but a year of development is in the cards. "The hope is he ushers in a new era for the organization, but there is much work to be done," writes Jones.
Round 3 (No. 83): OT Orlando Brown Jr. 
He'll compete for the 2018 starting right tackle job with James Hurst. Long-term, Jones says Brown will need to ease questions about his weight, strength and foot speed.
Round 3 (No. 86): TE Mark Andrews
As a "wide receiver trapped in a tight end's body," Andrews will likely see time as a situational slot receiver and red-zone target this season. In a "perfect world," he becomes the next Dennis Pitta.
Round 4 (No. 118): CB Anthony Averett
Given the depth at cornerback, Averett's best shot at contributing as rookie is on special teams, and eventually becoming a No. 2 starting cornerback "isn't out of the question," says Jones.
Round 4 (No. 122): LB Kenny Young
In addition to contributing on special teams, Young will compete for the starting weak-side inside linebacker spot next to C.J. Mosley this summer. His coverage skills "could add a dimension the Baltimore defense sorely needs."
Round 4 (No. 132): WR Jaleel Scott
At 6-foot-5, and with an ability to make acrobatic catches, Scott's most obvious chance to contribute immediately is in the red zone. "[He] is the kind of raw prospect the Ravens have rarely had success developing into anything of consequence," writes Jones. "Baltimore has lacked a jump-ball threat for years, so Scott has a chance to be just that."
Round 5 (No. 162): WR Jordan Lasley
"He's the proverbial boom-or-bust prospect, making him a decent gamble in the fifth round," writes Jones. He'll compete for a roster spot this summer.
Round 6 (No. 190): S DeShon Elliott
Special teams is his likely route to securing a roster spot this year, says Jones, and he could develop into a hybrid option long-term.
Round 6 (No. 212) OT Greg Senat
Like fellow sixth-rounder Ryan Jensen (2013), Senat could grab a practice squad spot or provide depth on the active roster as he develops.
Round 6 (No. 215): C Bradley Bozeman
There's no obvious long-term answer at center, which gives Bozeman a shot to provide depth on the 53. Otherwise, he could land on the practice squad. "You like the pedigree of someone who made 31 career starts for the Crimson Tide, but Bozeman's lack of athleticism and strength explain him lasting until the sixth round," writes Jones. "His instincts and success in the SEC make him a decent developmental option with limited upside."
Round 7 (No. 238): DE Zach Sieler
It'd be a nice story for General Manager Ozzie Newsome's last ever draft pick to develop into a starter long-term. "With Brent Urban and Carl Davis not signed beyond 2018, Sieler is at least worth keeping an eye on," writes Jones.
When Will Remaining Draft Picks Sign Rookie Deals?
We already know that eight of the 12 draft picks have signed their rookie deals: Averett, Young, Scott, Lasley, Elliott, Senat, Bozeman and Sieler.
That leaves all the first- and third-round picks to ink their contracts, which is only a matter of time as there is little room for contract negotiations under the CBA's rookie pay scale.
League Inside Names Lamar Jackson One of the Biggest Steals from Round 1
ESPN's Mike Sando asked "league insiders," meaning general managers, former GMs and prominent evaluators, who the biggest steal of each round was in the 2018 NFL Draft.
One insider named Jackson as the biggest steal of the first round, along with the Los Angeles Chargers' pick of safety Derwin James at No. 17. Assistant General Manager Eric DeCosta said the Ravens were also seriously considering taking James at No. 16.
Jackson is frequently compared to Michael Vick (even by Vick himself), except the Atlanta Falcons used the first-overall pick in 2001 on him, and Jackson was No. 32.
"Vick was such an explosive athlete, and that is what Lamar can be," one of the insiders said. "If you could pick any coach to be in the building with him, it would be [Assistant Head Coach/Tight Ends Coach] Greg Roman. The combination of Roman and [Marty] Mornhinweg could be pretty powerful in this situation."
Cleveland Browns Most Improved; Pittsburgh Steelers Among Most Vulnerable
As the Ravens look to return to the playoffs for the first time since 2014, their first goal will be to win the AFC North.
The division landscape has changed this offseason as all four teams have made moves in hopes of outplaying the other, and the Cleveland Browns are especially of note after they made some of the NFL's most expensive free-agency investments and added two first-round picks.
"The Browns brought in four different players who had a grade of 80.0-plus in the NFL a season ago as well as four of the top 35 picks in the 2018 NFL Draft," wrote PFF's Michael Renner. "The Browns arguably had a greater influx of talent than any team in the NFL this offseason. The cherry on the top is the addition of the No. 1 player on PFF's big board – and owner of the two highest graded seasons we've ever given to a college quarterback – Baker Mayfield."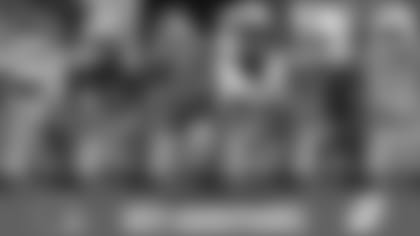 On the other end of the spectrum is the Pittsburgh Steelers, who won the division title in three of the past four years.
NFL.com's Gil Brandt named the Steelers as the fourth-most "vulnerable" division winner, but that doesn't mean they'll automatically fall. The Ravens or one of the other AFC North rivals have to raise their game to knock Pittsburgh off its perch.
"This is an interesting team. Pittsburgh will field a roster that is in many ways very similar to the group that went 13-3 in 2017, with Ben Roethlisberger, Antonio Brown and Le'Veon Bell serving as the powerhouse headliners," wrote Brandt.
"But Bell's ongoing contract situation could become an issue. The key players are getting older. Former offensive coordinator Todd Haley is in Cleveland. And I have questions about their defense. Losing Ryan Shazier is huge -- he was a vocal leader who made plays all over. I'm kind of shocked that the Steelers used their first-round pick on safety Terrell Edmunds."