Ravens Withdraw Proposal To Expand Replay
The Ravens have withdrawn their proposal to overhaul the NFL replay system and won't advocate for it next week at the owners meetings in Charlotte, N.C., according to multiple reports. Judy Battista of the NFL Network was the first to report the news.
It's not entirely clear, but the competition committee is reportedly preparing its own version of a replay proposal, which is "more moderate" than the Ravens'. Instead of adding to the list of 33 plays that can be reviewed, Baltimore proposed a list of only eight "judgement call" plays that can't be reviewed.
"The plan, which the Ravens had modified in recent weeks, garnered plenty of support around the league," wrote The Baltimore Sun's Jeff Zrebiec. "However, it still faced opposition from a few significant NFL officials and competition committee members."
While the proposal is no longer in the works, Head Coach John Harbaugh seems to have made a big enough impact for the competition committee to seriously consider the replay system. He doesn't have to travel far to share his opinion, as General Manager Ozzie Newsome is a member of the committee.
"The Ravens caught the attention of many league officials," wrote ESPN's Kevin Seifert. "Owners tabled the proposal during meetings in March, and the competition committee has spent the past two months reviewing it."
Perhaps Baltimore is being a good team member by moving out of the way for owners to focus on and seriously consider the competition committee's proposal. At this point, we don't know what that proposal looks like because officials are still finalizing the details, according to Seifert.
"Ultimately, however, the NFL considers replay to be a supplement to in-game officiating rather than a fundamental part of it," Seifert wrote.
For Harbaugh, his ultimate goal is to bring more credibility to the game because fans at home often have a better HD view than some of the officials on the field. It doesn't sit right with viewers to see blown calls stand when it's within the league's power to correct them.
"We can't fix it because we decide not to be able to fix it," Harbaugh said in March. "We can fix it. Just make it reviewable.
"We're adding one or two more reviewable things this year, then a couple more next year, and then it's 33 and then it's 36 and then 41 and then 50 things that are reviewable. At some point in time, it's going to shift, and everything is going to be reviewable except certain categories. That's what our proposal says. So it's either going to be now or it's going to be soon."
Jalen Ramsey, Who Ravens Tried To Trade For, Injures Knee
Oh, Jaguars. We feel your pain.
Well, maybe we don't, because it's happened to you guys twice.
Jacksonville confirmed yesterday that fifth-overall pick Jalen Ramsey, who the Ravens tried to trade up in the draft to select last month, tore his meniscus in his right knee during a Jaguars' on-field workout earlier this week.
This marks the second consecutive year that the Jaguars' top draft pick was hurt before training camp. Defensive end and last year's third-overall pick, Dante Fowler, tore his ACL during the first hour of a rookie minicamp practice last year and missed the entire season.
Ravens fans can more than sympathize. They can empathize.
Baltimore lost last year's first-round pick Breshad Perriman on the first day of training camp after he suffered a torn PCL. It was originally thought to be a bruise and he'd return quickly, but a setback in late September ended any hopes of a comeback in his rookie year.
Right now, the hope is for Ramsey to return for training camp, per NFL Network's Ian Rapoport. The team is awaiting a second opinion and a verdict on whether he'll need surgery. Let's hope his recovery doesn't linger like Perriman's.
Reports like this make me sick. Ramsey might be on another team, but you never want to see a young man with so much potential to start his NFL career on a bad note. And, one can't help but wonder whether an injury still would have occurred had the Ravens been successful in trading up and drafting him.
The Jaguars scaled back their offseason workouts after losing Fowler last year, yet this still happened. What a cruel twist of fate. The tear occurred in the same knee that underwent microfracture surgery when Ramsey was in high school.
Wasn't it Jags second-round pick Myles Jack's knee that was supposed to be the long-term concern?
Of course, Ramsey successfully started all 41 games of his three-year college career, so it seems unlikely that the two injuries are linked. That isn't stopping the speculation, however.
PFF Grades Ravens' Offseason Moves, Projects Starting Lineup
I personally am not a big fan of grading teams' offseason moves before a game is even played. But, fans seem to consume it, so outlets continue to produce them.
As such, here's a very brief overview of Pro Football Focus' (PFF) grades for the AFC North, and then I'll move on to some projections that might be a little more interesting.
Bengals: B
Browns: B+
Ravens: B+
Steelers: C
"The Ravens head into 2016 with a similar quality of team to the one they had in 2015," wrote PFF's Gordon McGuinness. "That might seem like a bad thing coming off a 5-11 season, but given how injury-riddled the Ravens roster was last year, it's not all doom and gloom. They've added key pieces for the future through the draft, as well as two pass catchers for Joe Flacco in free agency in Wallace and tight end Ben Watson. Really, the keys for the Ravens this season will be staying healthy, and hopefully finally getting some production from 2015 first-round draft pick Breshad Perriman. If they can, they should be able to compete in a tough AFC North in 2016."
PFF also projected the starters for the Ravens' base offense and defense with the website's 2015 grades for each player in the images below.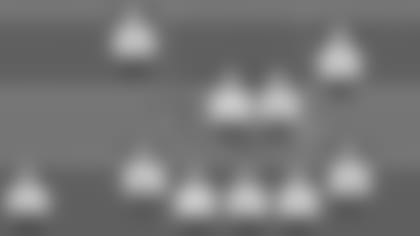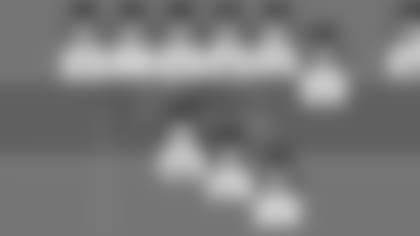 The starting offensive line is interesting, as PFF predicts the Ravens will stick with Eugene Monroe at left tackle and get first-round pick Ronnie Stanley's feet wet at left guard.
Wide receiver Kamar Aiken holds onto his starting role despite the addition of Mike Wallace and return of Perriman.
I absolutely don't understand starting Maxx Williams over newly-signed Benjamin Watson and Crockett Gillmore. Williams has great potential, but it's hard to see him overcoming the vets for the starting role.
Zachary Orr wins the starting inside linebacker role next to C.J. Mosley. That's certainly possible as Orr was the player who came in on third downs for Daryl Smith last year.
Cornerback Shareece Wright holds onto the starting job alongside Jimmy Smith. Wright had a very strong conclusion to last season, and he fends off newcomers Jerraud Powers and Tavon Young (both may be best suited as a nickel) and Will Davis, who is returning from an ACL injury.
Lawrence Guy takes over the defensive end role vacated by Chris Canty. That is probably Guy's job to lose, but he will certainly share snaps with fourth-round pick Bronson Kaufusi and Brent Urban.
Three Super Bowl Coaches Come Together For A Night Of Heroes
Congratulations to WNST's Nestor Aparicio for successfully organizing "An Evening of Heroes: Champions and Survivors."
Thursday night's event celebrated the lives of people who have overcome cancer, and also encouraged guests to sign up for the bone marrow donor registry. Aparicio's wife, Jenn, has overcome Leukemia twice.
His hope is to pay forward "the incredible generosity of my wife's 22-year old donor from Germany. We're still a few months away from being able to meet the man who has saved Jenn's life twice since June 2014, but we're already generating the warmth and pride that comes with doing our part to help others in the future."
My colleague Garrett Downing was at the event and we'll have content for you later today, but here's a sneak peek of three Super Bowl coaches and Governor Larry Hogan coming together via WNST's tweets last night.