First off, I am pumped to be back from maternity leave and writing LFW again. A special shout-out and thank you to Garrett Downing and Ryan Mink for filling in while I was away. You guys are the best!
Alright, let's get to it …
Who Is Joe Flacco's Best Receiver Ever?
With the Ravens adding a complete receiver in Jeremy Maclin, who can run every route in the tree AND has the speed to go deep, an interesting debate popped up.
Will Maclin become the best receiver that quarterback Joe Flacco has ever had in his nine seasons with the Ravens?
Time will tell whether Maclin deserves to be a serious contender with the likes of Steve Smith Sr., Anquan Boldin and Derrick Mason. The former Kansas City Chief just turned 29 years old this offseason, and when healthy in 2014 and '15, he amassed 172 catches for 2,406 yards and 18 touchdowns.
Maclin certainly fits the blueprint in terms of being a productive veteran signed through free agency, but it's simply too early to put him on the level of the three aforementioned receivers. The potential is there.
To me, if we're judging the receivers' time with Flacco alone (not their entire careers), I hands down go with Boldin simply because he was a major cog in the Ravens' Super Bowl XLVII run. But, there's certainly solid arguments for the others.
Nine analysts from NFL.com weighed in on the topic, and I highlight four below:
Bucky Brooks: Maclin could be the Ravens' WR1 in 2017, but he isn't Flacco's all-time WR1"No disrespect to the veteran pass catcher or his list of accomplishments to this point, but he's just not on the same level as Steve Smith Sr., Anquan Boldin or even Torrey Smith during their prime years in Baltimore. While he will certainly make a number of plays in the Ravens' version of the West Coast offense, he is not someone who'll force opposing defensive coordinators to create special game plans or defenses in order to slow him down. That doesn't mean he won't be a major factor for the Ravens offense, but he isn't a game changer to the level of the aforementioned trio (Steve Smith as a WR1; Boldin as a red-zone weapon/third-down specialist; Torrey Smith as a vertical playmaker). I applaud the Ravens for making the move to acquire Maclin, but let's keep his potential impact on the team in perspective."
Willie McGinest: Steve Smith Sr. was THE MAN for Flacco when healthy"I'm not looking at just one or two good seasons – like Maclin has enjoyed. I'm looking at an entire body of work, so I have to go with Steve Smith Sr. From the time Smith entered the league in 2001, he brought attitude, no fear and the ability to consistently make big plays. He was an exceptional route runner, always put up an aggressive fight for the ball and stepped up when needed. This is the kind of player who really impacts an offense for a long time. I don't know if Maclin will have that long-term impact."
Ike Taylor: Anquan Boldin was a beast in Ravens' Super Bowl run
"No disrespect to Maclin, but if he's your pick for Flacco's best, you're trippin'. When the Ravens went on their Super Bowl run in 2012 – and Flacco had an 11:0 touchdown-to-interception ratio in the playoffs –  Anquan Boldin was his top target. The receiver hauled in 22 catches for 380 yards (17.3 yards per catch) and four touchdowns during that postseason. The man can do it all, and he was tough as hell to cover."
Steve Wyche: A lot of people would say No. 89, but I'm going with the other Smith"I'm going to say the best pass catcher Joe Flacco's played with is Dennis Pitta, and it's too bad he's had those hip injuries, because he was a perennial Pro Bowl-type player. He had a great relationship with Flacco and was fantastic in the Ravens offense. If we're talking about somebody out wide, though, I'm going to say Torrey Smith. A lot of folks complained about Smith's consistency, but he was a great fit in the offense and allowed Flacco to show off that big arm."
Tucker: Not Much Difference in Kicking 75-yard FG and PAT
It's no surprise that Justin Tucker, who is arguably the best kicker in the game today, wants to make league history by nailing the longest field goal.
Right now, Matt Prater holds the record by converting from 64 yards in 2013 as a Denver Bronco.
"I think it would be cool to have that record that Prater currently holds," Tucker told Alex Marvez and Gil Brandt on SiriusXM NFL Radio. "That's definitely another notch in the belt, so to speak, that I'd like to have attached to my name one day.
Tucker's career long is 61 yards, which he hit in 2013. He's confident he can top 64 yards; it's a matter of getting the opportunity. He's already converted from 75 yards out in practice, and he said kicking from that far out isn't all that different from attempting an extra point.
"I've never attempted a 75-yarder in a game, but should the opportunity arise, not a whole lot would be different between a 75-yard attempt and a PAT," Tucker said.
"And I know a lot of people will probably be scratching their heads, [because] I think it's drilled into every football fan's mind that a longer kick requires lower trajectory. We make these analogies to golf, how it's like you're driving a ball off a tee box when you're trying to kick a ball from farther away, but the difference in the trajectory, I think, is manageable if you're hitting a good ball. Those first six to eight yards are the most important. That's where a potential blocker could get his hand on the ball, six to eight yards out. I don't think the trajectory is significant enough."
Ravens Offensive Line Ranked No. 17 In NFL
"Marshal Yanda has probably been the game's best guard for a half-decade," wrote Nate Davis. "LT Ronnie Stanley looks like a keeper. But with RT Ricky Wagner and C Jeremy Zuttah gone, there's work to do."
Three of the five known starters – Yanda, Stanley and Alex Lewis – make the line solid. But without known commodities at center and right tackle, it's easy to see why Baltimore got an average ranking … at this point. That doesn't mean this line can't turn out to be a strength.
The front runners at the two positions – Ryan Jensen/John Urschel  at center and James Hurst at right tackle – have been developing since coming to the Ravens as rookies in 2013 and '14. They could be ready to take over the starting roles, or the team could still sign a veteran or two during training camp.
Which 'Game of Thrones' Character is the Ravens?
I admit I don't watch it, but if you were on social media last night, you couldn't miss people talking about the "Game of Thrones" season premiere.
We even did a fun little trailer.
"Sam is one of the smartest characters on the show, but he's also capable of surprising in a fight, like when he killed a White Walker (hello, 2013 AFC Championship) with dragonglass," wrote R.J. White. "John Harbaugh uses his brain to win, like with his everyone-holds safety last year. Also, guard John Urschel, who's pursuing a Ph.D. in mathematics, might very well be the NFL's smartest player."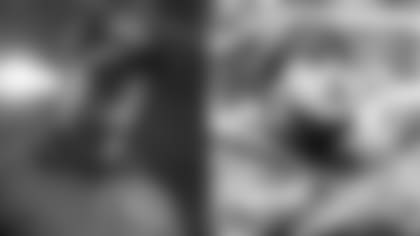 Luke Jones gives 12 Ravens thoughts, in 50 words or less, as the countdown to training camp continues. Here's one of the 12: "The addition of Jeremy Maclin certainly helps, but it's still tough to feel dramatically better about this offense than last year's group. Despite the efforts of some to skew the narrative, the defensive struggles late in 2016 shouldn't mask how inadequate the offense was all year." [WNST]
The hope is second-year linebacker Kamalei Correa's increased comfort in Baltimore's defense, after a year of study, will help him become the player the Ravens envisioned when they drafted him in the second round last year. Jonas Shaffer looks back when Correa went through a similar process as a college player at Boise State. Coaches remember having to pull him from practice because he was so comfortable with the game plan that he was blowing people up. [The Baltimore Sun]