BOLD Prediction – Joe Flacco Throws For More Yards Than Any AFC Quarterback
You want a bold prediction for the 2017 season?
"Joe Flacco throws for more yards than any quarterback in the AFC," wrote NFL.com's Elliot Harrison.
When I first read this, I thought it was a seriously BOLD prognostication. After all, that was Harrison's task in this article – to make a bold prediction for all 32 teams.
But looking more closely, it's not really all that daring.
That's because Flacco nearly led AFC quarterbacks in yards thrown last year with 4,317. That was enough for second place, just 69 yards shy of what San Diego Chargers quarterback Philip Rivers amassed.
Harrison explains why he thinks Flacco will take over the top spot this season:
"I can hear you now: Uh ... to whom? The Ravens lost Kamar Aiken and Steve Smith, Sr., the latter of whom now works with me, and Dennis Pitta is also gone. But the thing is, at its zenith, the Ravens' ground game is mediocre (28th in the NFL last year). So Flacco's right arm will generate the majority of the buzz in this offense.
" … With Marshawn Lynch in Oakland, Derek Carr might throw less. Ditto Philip Rivers with Melvin Gordon's ascension with the Chargers. It's becoming increasingly difficult for Ben Roethlisberger and Andrew Luck to play 16 games. As far as Tom Brady is concerned, it's reasonable to assume Flacco will be trailing in more games and attempting more throws. Thus, Flacco could be your passing leader. Really."
So basically, Harrison doesn't think the rushing attack will compete with the rest of the conference, so by default, Flacco will have to throw more than other AFC signal callers, leading to more passing yards.
I suppose that's fair based off last year's results. The Ravens threw the ball more than any team (679 attempts) and finished with a franchise-low 367 rushing attempts.
But that's part of the reason why Baltimore added Greg Roman, who has an excellent rushing track record, to the coaching staff this offseason. The team is keenly aware of the lopsided offense, and from Owner Steve Bisciotti to Head Coach John Harbaugh, the Ravens have vowed to find an equilibrium.
"We're all in agreement that you need a more balanced offense," Bisciotti said after the season ended in January. "I think that our success still goes back to good defense and balance, and that means a strong running game.
"I think that the end result and the disparity speaks for itself, and I don't think that we're going to be successful putting the ball in the air 600-some times. It's just not our identity, and I don't know how we got that far away from it."
If the Ravens accomplish their goal and realize Bisciotti's vision, Harrison's prediction could suffer a slow death along with all the other prophecies we in the media (and I include myself) make in July.
USA Today Ranks Ravens Run Game No. 18
Man, it wouldn't be surprising if Terrance West and his fellow running backs have a chip on their collective shoulder. There's plenty of reason for it.
In addition to Harrison calling the group "mediocre," USA Today's Nate Davis ranked the group as the 18th best in the league. Davis thinks it will be predictable too.
"If Terrance West is in the game, Baltimore will likely be running," he wrote. "When Danny Woodhead enters, the Ravens will likely throw — and Woodhead could snare 75 balls. Slightly predictable but not necessarily ineffective. Kenneth Dixon will join the fray following a four-game suspension."
It will be interesting to see how this unit performs in 2017. I'd like to see what the backs can do with a consistent dose of rushing attempts.
At the same time, the presence of Woodhead will impact the number of those attempts as he's the Ravens' best pass-catching running back since Ray Rice, according to Flacco. Woodhead seems to have developed instant chemistry with Flacco based on how many times they connected in practice during Organized Team Activities.
Brandon Williams: Defense Has 2000 Potential
The Ravens defense was already pretty dang good last year (No. 7 overall), and then General Manager Ozzie Newsome beefed it up with big-time resources in free agency and the draft.
One big piece to the puzzle is defensive tackle Brandon Williams, who signed a reported $54 million contract extension in March. He thinks this year's unit will compare to the greatest of all-time in 2000, when linebacker Ray Lewis led the group to a Super Bowl victory.
"The defense that is being built in Baltimore is one of the best," Williams told The Reynolds Report, via Gridiron Magazine. "We're going to do something really special this year, I can feel it. Our defense is amazing.
"The bar set by our defense is already very high and our goal is to notch it up even more. The defense that helped us win that 2000 Super Bowl is the standard and every year we're trying to reach and surpass that standard. We're never satisfied and we always want to get better."
One area the Ravens especially targeted was the secondary, signing safety Tony Jefferson and cornerback Brandon Carr in March. They also used their first-round draft pick on Marlon Humphrey. The trio will join safety Eric Weddle and cornerback Jimmy Smith.
The secondary has been the Achilles heel in the past, especially when Smith has gone down with injury, but it could be a strength of the team this year. The folks at Pro Football Focus are especially impressed, ranking Baltimore's secondary as the seventh best in the league.
Did Ravens Dodge A Bullet?
Despite a history of neck/back problems, the cries in Baltimore to draft imposing wide receiver Mike Williams were loud in April. But he never made it close to the Ravens' No. 16 overall pick. The San Diego Chargers nabbed him at No. 7.
Now, there is doubt about how much he will play in his rookie season.
That's tough news for the rookie. You don't wish that upon anyone starting out their NFL career. Ravens receiver Breshad Perriman can empathize with Williams after an injury forced him to miss his entire rookie season.
Williams was diagnosed with a herniated disk after his first practice at rookie minicamp. According to ESPN, the Chargers aren't sure if he initially injured it during the NFL Combine or his pro day and was able to mask it to keep his draft stock high. Williams also missed nearly the entire 2015 season in college because of a back injury.
It makes you wonder whether the Ravens dodged a bullet. Could you imagine if they used another first-round pick on a receiver in three years, and both started their careers with injuries?
Terrible Ravens Logo Has Become Hottest Meme
Sometimes I scratch my head at what picks up steam on the internet, and this is one of those times. But I'm simultaneously laughing and soaking it up.
You may have seen a seriously terrible (and lovable) version of the Ravens logo photoshopped into various memes on social media yesterday. Well, it apparently started when a Rams fan shared a photo of their brother's wedding cake in a Ravens subreddit.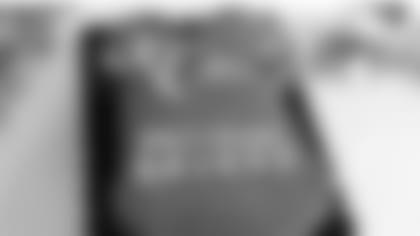 Steelers running back Le'Veon Bell will play on the franchise tag this season because he feels he's worth more than the annual $12 million Pittsburgh offered. Bell told the NFL Network that he wants No. 1 running back AND No. 2 receiver money because he notched the second-most catches on the team last year (75). "The running back market definitely took a hit, and I can't be the guy who continues to let it take a hit," Bell told ESPN earlier this week. "We do everything: We block, we run, we catch the ball. Our value isn't where it needs to be. I'm taking it upon myself to open up some eyes and show the position is more valuable." If he's eventually successful in changing the market, it will affect all 32 teams, including the Ravens.
[NFL.com/ESPN]