Why Colin Kaepernick Makes Sense in Baltimore
1) Baltimore may represent Kaepernick's best shot at getting back into the NFL, says Hensley.
2) Schefter believes the Ravens organization is strong enough to provide the support needed for a polarizing figure like Kaepernick, who created controversy last season for kneeling during pregame national anthems. Kaepernick will not do that next year.
3) Head Coach John Harbaugh's brother, Jim, drafted Kaepernick and helped develop him into a Super Bowl XLVII quarterback. Jim also recruited Kaepernick coming out of high school.
4) Kaepernick would have a head coach who understands him and has been publicly supportive.
5) Ravens assistant coach Greg Roman was Kaepernick's offensive coordinator in San Francisco from 2011-14 when Kaepernick was at the top of his game. With Roman calling the plays, Kaepernick went 25-14 as a starter and had a passer rating of 90.6.
6) If Flacco's back injury were to linger beyond the one-week projection, the Ravens may want to add competition to Ryan Mallett for the backup quarterback position. That way they ensure the best possible insurance at the position.
"I just think it makes a lot of sense if you look at all the pieces together and you connect the dots," Schefter said in the video below.
As Harbaugh said Monday, a lot of this depends on Kaepernick and what he wants to do. He may have different priorities and passions. Perhaps they're outside of football. Or, on the other end of the spectrum, maybe Kaepernick wants to hold out to see if a quarterback injury occurs somewhere else so he can have a shot at more playing time. Also, do the Ravens have enough salary cap space to lure him?
"What are the chances that the Ravens sign Kaepernick? It depends on whether the Ravens feel the need to improve their insurance behind quarterback Joe Flacco," wrote Hensley. "Ryan Mallett is the team's current No. 2 quarterback, but he has been inconsistent.
"… It's legitimate to question whether Kaepernick is better than Mallett, or at the very least, whether the team should sign Kaepernick and let them compete to determine it on the field. The Ravens' commitment to Mallett is a $1 million signing bonus."
It's unknown how much Kaepernick is demanding in salary, but it would likely be more than $1 million. He made more than $14 million last season in San Francisco.
Some have voiced concern on social media about bringing such a controversial figure to Baltimore. The Baltimore Sun featured some fans who are upset about the very idea, and offered ultimatums to withdraw support of the team. There are others who cited his right to free speech, put his politics aside, and think his football skills would make the team better.
"[The controversy] isn't seen as an obstacle to Baltimore," wrote Hensley.
"Last year, Ravens Senior Vice President of Public Relations Kevin Byrne addressed in a lengthy piece how the team would handle Kaepernick's situation. He wrote that the Ravens wouldn't be happy with his game-day protest, but the team would encourage him to express himself at a press event that Baltimore would set up."
Will Ravens Sign an Offensive Lineman?
There was chatter about signing another offensive lineman, maybe two, before John Urschel abruptly retired. With the genius mathematician gone, questions are flying even more about a potential addition to the line.
Will the Ravens sign a center and/or tackle?
"Yes, but likely only one," Hensley wrote. "The Ravens lost two three-year starters (right tackle Ricky Wagner and center Jeremy Zuttah) and are currently replacing them with backups who couldn't beat out Wagner or Zuttah last season.
"Baltimore would be inclined to sign a center and right tackle, but the team doesn't have enough salary-cap room to do so. If Nick Mangold would lower his asking price, the Ravens would probably sign the free-agent center to take over for either John Urschel or Ryan Jensen. Baltimore also could look to upgrade over James Hurst at right tackle."
Baltimore Signs Arena Football League Quarterback
With only two healthy quarterbacks in practice Thursday, the offense had to use assistant coach Matt Weiss to throw passes during drills.
Thus, Harbaugh said at podium the team needed to add another arm. The Ravens signed one last night.
The Ravens added former Clemson quarterback David Olson, who most recently played in the Arena Football League.
Harbaugh also noted Kaepernick was more than an arm, so the Olson signing likely wouldn't preclude the former 49er as an option.
Putting Recent Injuries Into Perspective; Don't Overlook Who Returned
Losing five significant players in 57 days is an unusual amount of bad luck, says Hensley, but there isn't a need to panic.
"T]he cumulative loss [should be put in perspective," he wrote. "The only player who was penciled in as a starter was Pitta. Young would've played a lot of snaps as the third cornerback, Dixon would've shared snaps with Terrance West, and Urschel might have been able to beat out Ryan Jensen and Matt Skura at starting center."
But those losses shouldn't overshadow the good news the Ravens received in terms of other significant players that returned from injury.
WNST's Luke Jones was one of few reporters who had a headline featuring the return of two Pro Bowlers to practice: guard Marshal Yanda and linebacker C.J. Mosley.
"The Ravens had to be excited to see two star players back on the field Thursday," wrote Jones. "Both underwent offseason shoulder surgeries, and it hadn't been clear when they would be ready to return this summer."
Additionally, the tight ends group has been knocked all offseason for not having enough healthy options, but the entire eligible unit was on the field for the start of training camp, including Benjamin Watson (Achilles), Crocket Gillmore (hamstring) and Maxx Williams (knee).
Ravens Attempted To Claim Lucky Whitehead
The Ravens were reportedly close to bringing in a certain return specialist that's been all over the news lately, but the New York Jets beat them to it.
Wide receiver Lucky Whitehead was cut by the Dallas Cowboys this week after news broke that he had been charged with shoplifting in Virginia. Whitehead proclaimed his innocence but was released anyway, only for the police department to later confirm it indeed had the wrong guy.
Whitehead hit the waiver wire, and the Ravens reportedly tried to get him.
"For Baltimore, Whitehead would have been the leading return man if he had been claimed," wrote Baltimore Beatdown's Kyle Andrews. "The waiver claim process is a tricky one. Teams who had a lower record the previous season are awarded with a higher chance of landing their claim. Due to the Jets finishing with a 5-11 record and the Ravens finishing 8-8, New York was able to claim Whitehead."
M&T Bank Stadium is getting brighter and modern signs. The bank wanted to install new signs that better matched the bank's current logo. [Baltimore Business Journal]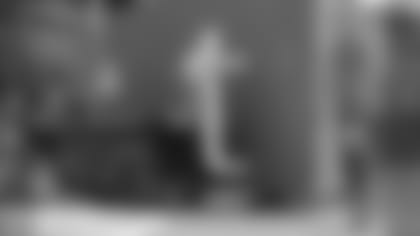 Bengals cornerback Adam Jones will not appeal his one game suspension for violating the League's conduct policy. That means he will not play in the season opener against the Ravens in September. [Baltimore Beatdown]
Ryan Jensen, who was in competition with Urschel for the starting center job, says his approach won't change with Urschel's retirement. "I haven't heard anything about me being the starting center yet," Jensen told Edward Lee. "So I'm going to come out here and still work my butt off and push myself. I'm in a competition with Matt Skura still. So it's not like this is just getting handed to me on a silver platter." [The Baltimore Sun]