What Marc Trestman's Gameplan Should Be This Year: Feed. Dem. Backs.
After watching not one, not two, but three young running backs ball out in Thursday night's preseason-opening win over the Carolina Panthers, some advice is already being offered to Offensive Coordinator Marc Trestman (not that he needs it).* *
"Ravens should feed the backs," wrote The Baltimore Sun's Mark Selig.
"Joe Flacco's rookie year, 2008, is the last season the Ravens offense handed the ball off more times than it passed. Obviously, passing has trended upward in the NFL since then. So much so that last year was the first time in the Ravens' 20-year history that their offense had fewer run plays than completed passes. With Flacco returning from knee surgery and the running game this deep, perhaps the Ravens will fly in the face of the league trend and emphasize the run again. As of now, they appear to have the stable to do it."
To be more exact, they have a stable of playmakers.
As ESPN's Jamison Hensley pointed out, Terrance West proved he is a powerful and effective red-zone threat after scoring two touchdowns. Buck Allen showed once again that he's a receiving threat and used his elusiveness in the open field to score a 19-yard touchdown. Rookie Kenneth Dixon showed burst and explosion when he found a hole for a 19-yard gain.
And that's all with starter Justin Forsett resting with a number of other starters on the sideline.
While the potential of the rushing game was on full display, the Ravens have yet to unveil their full arsenal of passing weapons, which, if healthy, could be the best group of targets Flacco has ever had during his nine-year NFL career.
Head Coach John Harbaugh expects Steve Smith Sr. and Breshad Perriman to be back on the field in time for Week 1 against the Bills on Sept. 11. Dennis Pitta's finger should be healed by then.  Maybe Crockett Gillmore will be ready too. Harbaugh also held out Kamar Aiken, Mike Wallace and Benjamin Watson during last night's contest to play it safe.
So while the Ravens aren't going to abandon the potentially-potent passing game, Selig's point is well taken. Feed. Dem. Backs.
Photo Of The Night: Cam Newton's Goes Nuts For Michael Phelps During Ravens Game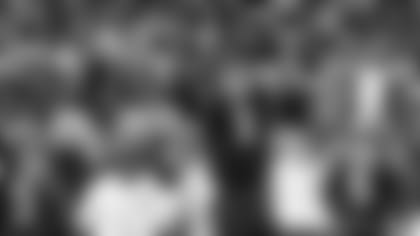 It's amazing how the NFL's reigning MVP essentially transformed into the thousands of 12-year-old boys who idolize him on Sundays while watching Olympic swimmer Michael Phelps win his 22nd gold medal.
The Ravens played a delayed version of Phelps' 200 IM on the RavensVision video boards during a commercial break of their preseason opener, but Carolina quarterback Cam Newton didn't know the results until he watched it from the sideline.
A photographer captured his raw reaction throughout the race, and he only got more animated as Phelps' lead widened. He was literarily jumping up and down with his arms waving. After the huge finish, Newton celebrated with "the swim."
"You won't see too many athletes who would stop playing their game to watch another athlete compete," Newton said. "That just shows how highly everyone thinks of Michael Phelps. It is unbelievable for him to be such a phenomenon for so long. It was really cool to watch his race tonight. I have so much respect for him."
Newton wasn't the only player to get excited; athletes from both teams were glued to the boards. And for just those few moments, the athletic superstars on the field became just like any other fan in the stadium in awe of greatness.
"How sick is that?" safety Eric Weddle asked after the game. "In 10, 15, 20 years from now, when I'm sitting with my kids, I'll be able to say that I'm sitting in the Ravens stadium in a preseason game and I'm watching one of the best swimmers ever win gold for the U.S. As you get older, you cherish those kinds of moments."
And how sick are these Phelps tweets from the Panthers and Ravens Twitter accounts after the game? Both teams used clever Phelps memes to demonstrate their feelings after the 22-19 result.
Ravens Still Looking For Returners
Baltimore doesn't appear any closer to finding a punt returner.* *
Nobody really stood out as the person that could handle the job as Keenan Reynolds was interfered with and lost the ball, and then Kaelin Clay muffed a punt, which set up a Panthers field goal in the third quarter.
"We have to find a punt returner who can catch the ball." Harbaugh said after the game.
"Yeah, that would be a good characteristic to find in someone sooner rather than later," added Selig.
That means the search will continue when the Ravens return to practice Saturday. Michael Campanaro would be another punt return candidate once he returns from his strains.
The Ravens experimented with Dixon and West on kickoff returns last night. Harbaugh said earlier in training camp that he'd prefer a running back to fill that role.
Secondary Still An Area of Concern
The Ravens invested quite a bit into its secondary this offseason, recruiting free agents Weddle and Jerraud Powers, re-signing Shareece Wright and hiring Leslie Frazier to lead the group.
The sample size was very small, but in the defensive backs' only series against the Panthers' starting offense, they didn't inspire a ton of confidence. On the drive, Newton went 5-of-6 for 36 yards. The group stiffened in the red zone, but the Panthers were rolling with ease.
"Nickelback Jerraud Powers was beat twice for big plays, extending an unimpressive summer that included failing the team's conditioning test. It could be time to give rookie Tavon Young more time with the first-team defense. Shareece Wright was beat for a 10-yard touchdown by Devin Funchess, who got position in the end zone on Baltimore's starting corner." 
No Word On Tavon Young Injury
Speaking of the secondary, Young was taken to the locker room in the fourth quarter to get his knee examined.
Despite his 5-foot-9, 177-pound frame, Young has already proven that the NFL stage is not too big for him and has been playing well in training camp. There was no specific update on Young's status after the game, but Harbaugh said his team suffered no serious injuries.* *
Why Didn't Joe Flacco Play?
It was slightly surprising when Harbaugh was asked after the game why he didn't play Flacco. It's kind of obvious, right?* *
"There's really nothing to say about not going with Joe," Harbaugh replied. "I just didn't feel like there was any reason to go with Joe tonight. In the big picture, I don't think that's hard to understand. It makes sense, I think."
Here's another way to put it …
Harbaugh did say that Flacco could play in either the second or third preseason games, but hasn't made a final decision. Until he gets back on the field, Flacco can continue to show off his elite sunflower seed chewing skills.
Four Defenders That We Can't Overlook
Before we close things out, we need to give props to a really impressive pass-rushing trio Thursday night in Za'Darius Smith, Matt Judon and Chris Carter.
"Two names to watch are fifth-round defensive end Matt Judon and free agent linebacker Chris Carter,"* *wrote CSNMidAtlantic.com's Clifton Brown. "Judon looked much better on the field than he had during training camp practices.
"He was a sack artist in college, and Judon's athleticism gave the Panthers' offensive line problems. Judon could find a role as a situational pass rusher. Carter has already been with the Steelers, Colts and Bengals, and he's a longshot to make the team. But Carter's quickness as an edge rusher jumped out.  He did play in two games for the Ravens last season."
Smith, who is a candidate for a breakout year in his second season, started his night off strong with a strip on Panthers quarterback Derek Anderson. The Ravens have put a major emphasis on turnovers this offseason, and Smiths' forced fumble was a good sign.
Another person that impressed on the defensive side of the ball was Zachary Orr, who is competing with rookie Kamalei Correa for the starting inside linebacker job. Correa lined up inside and outside throughout the game.
"Maybe that player could start: Inside linebacker Zachary Orr," wrote Hensley. "He tied C.J. Mosley with a team-leading four tackles in the first half. His best stop was when he blasted through a gap for a 4-yard loss. Orr replaced second-round pick Kamalei Correa in the starting lineup in the second week of training camp and will continue to hold onto the job if he remains this physical against the run."* *