The Wait Is Finally Over … Joe Flacco Will Make His Game Debut Saturday
Exactly 278 days later, quarterback Joe Flacco will return to the very field where he tore the ACL and MCL in his left knee, and start a new beginning with his first game action of the 2016 season.
Flacco told Adam Schein of SiriusXM's Mad Dog Sports Radio in the interview below that he will make his debut at M&T Bank Stadium against the Detroit Lions Saturday night after sitting out the first two preseason games.
Flacco didn't specify how many series he would play, but said he will treat it like any other third preseason contest, which is considered the starters' dress rehearsal for the regular season. Starters typically play about a half.
"You need to get back out there, [and] you need to get your mind used to getting ready for a game," Flacco said. "And then, yeah, I need to get over that last hurdle, which is going out there and being a live target for guys to hit and see how I react to it."
Heaven bless the two rookies on the left side of the line, Ronnie Stanley and Alex Lewis, who will protect Flacco's blindside as he sheds the red jersey for the first time, signifying that he's now an open target for defenders to deliver hits. But something tells me he's in good hands with Stanley.
Flacco hasn't taken a single rep off in practice, and hasn't shown any lingering effects from the injury outside of wearing a knee brace and red jersey. The nine-year veteran has run smoothly and even made some impressive scrambles with pressure bearing down.
"I could have played in the first two preseason games," Flacco said. "But you just kind of think: Is it worth it to get a total of three series when you're putting yourself at risk? Is that really worth it? We just have decided that practice would be a really, really good measure of how I feel, and once I was ready to get used to some game reps that the third preseason game would do that. I'm excited to get out there finally."
Saturday will mark the first time outsiders will get a clearer look at how the 2016 offense is shaping up. Newly-signed tight end Benjamin Watson and wide receiver Mike Wallace will get their first opportunity to snag bullets from Flacco in a game atmosphere.
However, it's still unknown whether Steve Smith Sr. and Breshad Perriman will also make their preseason debuts along with Flacco. Smith doesn't necessarily need the game reps as a 16-year veteran, and it may be too soon for Perriman because he just returned to practice for individual work Monday.
Even if the two receivers aren't out there, one thing's for sure, the offense will be greatly improved by Flacco's return, and the targets that will be on the field are looking forward to playing with him again.
Receivers Reach 100 Percent Attendance
Go ahead, it's OK to cheer for a minute.
As The Baltimore Sun's Don Markus pointed out, the Ravens reached 100 percent attendance among their wide receiver corps Tuesday, which means Smith, Perriman and Campanaro were all on the field, at the same time, along with the rest of their counterparts. It was a sight to see.
Alright, now that you've briefly celebrated, you can join Head Coach John Harbaugh in "holding your breath" and former Ravens wide receiver Qadry Ismail in crossing every body part possible in hopes that the group stays healthy.
If they accomplish that feat, Flacco will have a bounty of weapons at his disposal. It also creates more competition between the group, as each receiver wants to prove he's worthy of Flacco's limited targets. Wallace can already see that he'll have to elevate his play to get Flacco's attention.
"That just means you have to go out and work every day," Wallace said. "I think it's great, just because we have so many guys that can play. I don't think there's one [receiver] on our team who isn't capable of making the roster, but we all know that isn't possible.
"You have to go out and make sure you're not the last guy [in drills] every day. You can't drop passes. You can't be running the wrong routes. You have to be in tune. You're not going to get too many chances to make mistakes."
Breshad Perriman Shows Off Speed In First Practice
By all accounts, in the portion of practice open to media, Perriman didn't look limited in his route running and he even pulled in a few passes with one hand. The second-year receiver says he hasn't lost any of that lightning speed he's known for, and joked he might even be a little faster after dropping about four pounds by cutting off his long dreads.
"The hard work has paid off as well for Perriman," wrote ESPN's Jamison Hensley. "While there were questions about his long recovery last year, coaches and teammates have been impressed with his rehab this time around.
"In his first practice back Tuesday, Perriman showed little effect from the knee injury, running routes and making cuts. He caught passes from Joe Flacco for the first time since last training camp, and he doesn't believe it will take too long to get his timing down with the starting quarterback".
Garrett Downing gave an inside look at the first-round pick's first practice back in action.
Pittsburgh Columnist: There Go The Steelers' Chances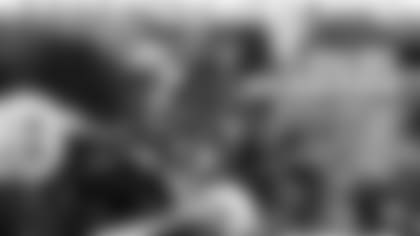 Sports Illustrated delivered the kiss of death to the Pittsburgh Steelers Tuesday.
The magazine picked the Steelers over the Denver Broncos in the AFC championship to represent the conference in Super Bowl LI against the Arizona Cardinals. The Cardinals are ultimately predicted to beat the Steelers, 40-37.
"In an Arizona-Pittsburgh rematch of Super Bowl XLIII, the Cardinals' dangerous running game and stifling secondary will slow down the Steelers enough to grab a dramatic victory," wrote Greg A. Bedard. "How about a Larry Fitzgerald toe-touch TD in the back-right corner of the NRG Stadium end zone to match Santonio Holmes's heroics eight years earlier, in Tampa? Sounds good to me."
You may remember about this time last year that Sports Illustrated picked the Ravens to lift the Lombardi Trophy in Super Bowl 50, and then Baltimore went on to have a 5-11 season from hell with nearly half the starters landing on injured reserve and losing nine games by just one score.
Add that on top of the magazine's other past misses, and Pittsburgh Post-Gazette columnist Ed Bouchette equates this with bad news for the Steelers.
In a more specific AFC North preview, the magazine said it is a "coin flip" between the Steelers and Cincinnati Bengals to win the division crown, but the "dark horse" is the Ravens.
"The Ravens were decimated by injuries with a capital D last season … so it's not hard to imagine a return to health will equate to playoff contention," wrote Don Banks.
"If things fall into place and new stars emerge for the Ravens, they still have the pedigree and the veteran difference-makers to win the division and return to their playoff perennial status. But last year's horrible injury luck has to turn around, because Baltimore isn't deep enough to survive another onslaught of IR trips."