The Ravens survived a fourth-quarter turnover-fest in Jacksonville with a blocked kick and a Justin Tucker 54-yard field goal, leading to a 19-17 win and an undefeated record.
Here are nine takeaways from the day …
1) Jalen Ramsey Fires Shots At Steve Smith Sr.
Jaguars rookie cornerback Jalen Ramsey fired shots at wide receiver Steve Smith Sr. in the post-game locker room.
So Smith pulled out a bazooka.
Ramsey's quotes came in the post-game locker room, and a Jacksonville reporter shared them in three Twitter video installments …
The feud appeared to begin when the two drew matching unsportsmanlike conduct penalties for a scuffle following linebacker Paul Posluszny's interception of quarterback Joe Flacco late in the fourth quarter. Smith said there was some pushing and shoving.
"I came in pushing and shoving a little bit, and all of a sudden – bang! – I got hit in the back," Smith said on ESPN's "Mike and Mike" this morning. "I kind of fell. As they say, old man fell over. I didn't have a hard time getting up, but I got up and he said, 'I'm not scared of you.'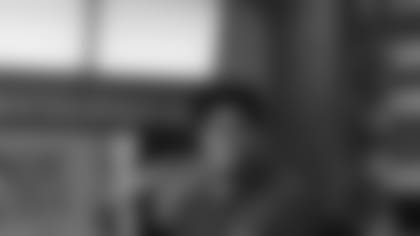 "I said, 'Ok, cool. I'll see you after the game.' I went to public school, s-k-o-o-l, so that means you understand what I'm talking about. So after the game, had a little chit chat with him. He didn't have anything to say. Get into the locker room, he's talking."
The 21-year-old rookie felt that wasn't conduct becoming a 37-year-old veteran.
"Ya'll tell me who got in whose head," Ramsey said. "He came up to me after the game, you feel me? Y'all tell me who got in whose head. He's an old man acting like that. Ain't nobody worried about him. He came up to me, you know what I'm saying, on some disrespectful stuff. The game's over with. You still mad 'cause I was locking you up? All right, go sleep on that.
" … It is what it is. As a player, he's still a good player. I'll say that about him. But I don't respect him as a man."
It didn't take long for Smith, who had eight catches for 87 yards in the win, to hear about Ramsey's words and respond via social media.
"I gave U every opportunity to speak face to face. But you found your voice safely behind closed doors. Young man I don't need ur respect!
Smith wasn't done. // <![CDATA[ Sqor.embed("sqor-embeddable-3983c0ec-6e0e-4299-b586-fafbb58c125f"); // ]]>
Smith also decided to give Ramsey a few tips on how to deal with the media after games.
"Let's do media 101. First, put your clothes on," Smith said. "Second, that was the sassiest head-nodding I've seen from a young man that I want to see as a professional football player."
Ramsey told reporters that he noticed Smith wasn't lined up across from him later in the game so he could find more openings in the passing game. Smith simply explained he lines up all over the field, and goes where coaches tell him to go.
"There are four spots that you can line up at: X, Z, Y and Zebra," Smith said. "I lined up in all four. It's not my fault that my ability to retain information [allows me to] line up in multiple positions. I guess I'm learning what I need to do. … They lined me up at different positions because that's what they called and that's what I was told to do. If you're a – the word you used – superstar, follow me. Come on and follow me."
Smith is expected to retire after the season, so unless both the Ravens and Jaguars advance to the playoffs, it's unlikely that the two will ever meet again on the field. But, as Smith pointed out, it probably won't be the last time they talk about each other.
"He doesn't respect me as a man. Hey, that's cool," Smith said. "You're not the first or the last. I've actually hung out with a lot better, savvier and well-throned DBs than him. So, I'll be OK. It'll work out for me. But, guess what? Sixteen years, I'm done playing football, sit behind a mic, I'm going to have a lot of Sundays to evaluate a lot of players. And he will be a player that I will be wearing my glasses with to make sure I don't miss anything."
*2) Ravens In Sole Position of AFC North Lead, 5-0 Start Not Out Of Question  *
Here is your AFC North scoreboard at the end of Week 3:
Ravens 19, Jaguars 17
Eagles 34, Steelers 3
Broncos 29, Bengals 17
Dolphins 30, Browns 24
It adds up to the Ravens being in sole possession of the AFC North lead, followed by the Pittsburgh Steelers (2-1), Cincinnati Bengals (1-2) and Cleveland Browns (0-3).
It's the Ravens' best start since 2009 and the third time they've started 3-0 in franchise history. But critics will rightfully point out that the Ravens' undefeated start comes against teams with a combined 1-8 record. Even Flacco admitted after the game that Baltimore won't get away with so many mistakes in close games in January.
Did you notice something, though? He talked about playing in January.
"The mere fact that Flacco could mention January says it all, however," wrote WNST's Luke Jones. "That possibility was already looking bleak after an 0-3 start last year. The Ravens may not be a great team, but they're in a great position with a perfect record through the first three weeks. Since 1990, teams starting 3-0 have made the playoffs 75.6 percent of the time."
The schedule will only get more difficult with more playoff contenders down the road, but the Ravens still have an excellent opportunity to extend their undefeated streak over the next two weeks.
"The odds look even better with the Ravens now playing consecutive home games against Oakland and Washington. A 5-0 start hardly appears out of the question," wrote Jones.
3) Credit Ravens' 'Great' Defense For Best Start In Seven Years
If you're looking to pinpoint how the Ravens have notched their best start in seven years without looking pretty, ESPN's Jamison Hensley has the answer for you.
Give credit to the defense.
"The Ravens might not be a great team yet. But they already know they have a great defense," Hensley wrote. "Returning to its old, dominant form, the defense is the reason Baltimore [is 3-0]."
Baltimore's defense is the NFL's No. 2 overall ranked unit through three weeks of the season, allowing just 254.3 yards per game. The unit is also tied for second in the league with five interceptions, just one shy of the team's total in all of 2015. It has given up just 10 second-half points.
Every time the team needed a big play Sunday, the defense delivered.
Returner Devin Hester muffed a punt, giving the ball to the Jaguars at the 39-yard line in Ravens' territory. No problem, the defense holds Jacksonville to a field goal.
Flacco throws a fourth-quarter interception. No problem, defensive tackle Timmy Jernigan tips the ball at the line of scrimmage and cornerback Tavon Young gets the pick. A second fourth-quarter Flacco interception is remedied again with a Lawrence Guy sack and a blocked field goal by defensive end Brent Urban.
"The Ravens are undefeated but far from perfect," wrote Hensley. "Flacco is streaky. The running game is nonexistent. The special teams allowed a big return. Hester muffed a return. But the Ravens are able to overcome all of those mistakes with a fast and dominant defense."
4) Ravens Have An Identity: They Know How To Win
Probably the biggest thing plaguing Baltimore right now is its inconsistent play. Just ask The Baltimore Sun's Jeff Zrebiec.
"T]his team [absolutely has to figure out a way to be more consistent," he wrote. "The pass rush is nonexistent for three quarters and then takes over the game late. Joe Flacco was on fire, completing 21 straight pass attempts. Then, he goes cold and tosses two interceptions and put numerous other balls in harm's way. Even the special teams unit, which figured prominently in the end result, gave the Jaguars some momentum by allowing the long punt return." 
The good news is the Ravens are winning while they work out their inconsistent ways. And if you're looking for a team identity at this point, the Associated Press says that's exactly it: winning.
It's the exact opposite recipe that doomed the Ravens last year when they lost nine games by one possession or less.
"Style points have never been Baltimore's calling card, but they're finding ways to gut out a win every week," wrote NFL.com's Don Banks.
"Baltimore has won its three games by a combined 13 points, and there's never a moment in their games where they're in a comfortable position. But there's something to be said for being able to live on the razor's edge, and not only survive but thrive."
5) Justin Tucker Worth Every Penny Of Contract Extension
Ravens kicker Justin Tucker now has 12 career game-winning field goals, with eight on the road, and he did it again Sunday in Jacksonville like it was nothing.
Tuck acts like it's no big deal when he kicks four field goals, including a 54-yard game-winner.
The Ravens signed Tucker to a four-year contract extension reportedly worth $16.8 million this offseason.
6) Good Sign Terrell Suggs Getting Back Into Form
Outside linebacker and defensive leader Terrell Suggs seems to be slowly but surely regaining his form after returning from Achilles surgery.
"This seems like a pretty good sign: On a humid 88-degree afternoon in Jacksonville, old man Raven Terrell Suggs, coming off his second rehab for a torn Achilles, sacked Blake Bortles twice in the last 12 minutes of the game," wrote The MMQB.com's Peter King.
The Ravens pass rush has managed to get things done without their sack leader of the last two years in Elvis Dumervil. The defense is seventh in the league with nine sacks and it wouldn't be a surprise if Dumervil joins his partner in crime when the Raiders come to town next week.
7) Ravens Signed Devin Hester To Prevent This Very Type Of Turnover
One of the reasons the Ravens made a last-minute signing before the season for veteran return man Devin Hester was because Michael Campanaro was injured and Keenan Reynolds wasn't reliable in securing punts and kickoffs.
Even if Hester didn't show the breakaway ability that defined his career, the bet was that he'd secure the football. Unfortunately, he muffed a punt that turned into a lead-changing field goal for the Jaguars late in the fourth quarter.
8) C.J. Mosley Headed For Another Pro Bowl Season?
The most athletic play of the game probably came from linebacker C.J. Mosley when he reeled in a one-handed interception while falling backwards. It's the second pick in as many games for the third-year linebacker.
"He also had a batted pass in the fourth quarter that stopped another Jaguars drive," wrote CSNMidAtlantic.com's Clifton Brown.
9) Something Wrong With Ravens Run Game
When your quarterback coming off knee surgery is your leading rusher at halftime, that's not a good sign for your ground attack.
"There is something wrong with the Ravens' rushing attack," wrote Brown. "For the third [straight] week, the Ravens couldn't move the ball consistently on the ground."