How Many More Injuries Can Ravens Sustain and Still Legitimately Compete?
It's good to see the optimistic outlook defensive end Brent Urban has after suffering a Lisfranc injury during Sunday's loss that will require surgery. Urban has overcome ACL and biceps tears, so he knows he'll bounce back from this too.
His return, however, isn't expected until next season (he will be an unrestricted free agent this offseason) as Urban will likely become the 17th Raven to land on injured reserve (IR), including practice squad running back Jeremy Langford. That number doesn't account for Dennis Pitta (hip) or Zachary Orr (back/neck).
"This is an astonishing number considering it's the start of Week 4," writes ESPN. "Baltimore has two more players on IR than anyone else in the league.
"It's getting to the point where it's legitimate to wonder how many more injuries the Ravens can sustain and still compete for the AFC North title."
Well, the Ravens are 2-0 in the division so far and tied for the top spot. We'll find out Sunday whether Baltimore has reached its tipping point when the Pittsburgh Steelers visit M&T Bank Stadium.
With a win, the Ravens could extend their perfect division mark. With a loss, the Steelers would move to 2-0 in the AFC North, but the Ravens would still be nipping at their heels at 2-1.
Football games are won in the trenches, and that's where Baltimore has been particularly hit hard.
The good news is the defensive line is one of deepest positions on the Ravens roster and Brandon Williams is expected back this season, although it's unclear when.
"We have some depth there," Head Coach John Harbaugh said Monday. "That is the good news about that particular situation. We have a lot of depth in our defensive line; I have been saying it all along."
The offensive line isn't in as good of a situation as it's been hit harder and the Ravens have already had to make trades and bring people up from the practice squad to help replace Marshal Yanda (ankle), Alex Lewis (shoulder), Nico Siragusa (knee) and John Urschel (sudden retirement).
"The Ravens offensive line, weakened by injuries and the retirement of John Urschel, was worrisome even with Yanda on the field," wrote The Baltimore Sun's Childs Walker. "Without him, the unit's lack of high-end talent is a problem that could undermine the offense all season. The Ravens have scrambled to add fresh bodies but to no avail. Tony Bergstrom, who was expected to replace Yanda, apparently impressed the coaches so little that he was a healthy scratch Sunday.
"Offensive line play is a problem for many teams around the league, so don't expect Ozzie Newsome to conjure a savior from some unseen corner."
It's tough to judge the offensive line play in London as the entire team turned in a horrible performance. As Harbaugh said, "I didn't recognize our team out there." The line had the fourth-best graded outing in Week 2 when Yanda left at the start of the second half.
It seems every week the Ravens have had to preach the "next man up" philosophy.
"We have had a lot of practice this year of guys stepping up. We are getting good at it now," Harbaugh said with a smile.
Ravens Restructure Contracts Over Weekend
The Ravens continue to restructure contracts this season as they are tight against the salary cap and injuries pile up.
Tucker and Jefferson's restructures come just two weeks after the Ravens restructured Jimmy Smith and Brandon Williams' contracts. Williams and Jefferson signed their new deals in March.
Each time Baltimore places somebody on injured reserve, they need to sign another player either to the practice squad or active roster. While the additions aren't big-money signings, they continue to add up.
"The Ravens are currently carrying 81 players on their Cap (53-man roster, 16 on IR, 10 on PS) after only the 3rd week of the season," wrote Russell Street Report's Brian McFarland. "That number is five more than the next closest team and 10 above the league average for IR'd players. As a comparison, the Ravens ended the 2016 season with 'only' 80 players counting against the Cap. They've now already surpassed that."
Ravens' Playoff Chances Remain Solid Despite Blowout Loss
Want a little perspective on the Ravens' loss Sunday?
While the Ravens missed the opportunity to move to a perfect 3-0 record, so did the majority of other previously undefeated NFL teams.
Six of the eight 2-0 teams lost their Week 3 matchup. Joining the Ravens were the Denver Broncos, Detroit Lions, Carolina Panthers, Oakland Raiders and Pittsburgh Steelers. The only two remaining undefeated teams are the Atlanta Falcons and Kansas City Chiefs.
That leaves all the 2-1 teams with still solid odds of making the playoffs, according to ESPN, as depicted in the graphic below.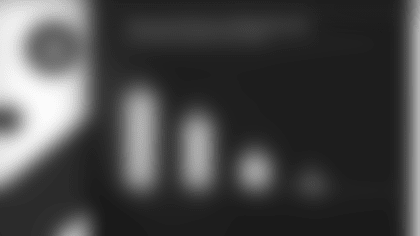 "Historically, that would leave their playoff odds around a coin flip instead of near 75 percent," the website wrote. "ESPN's FPI is still bullish on the Steelers (81.7 percent odds), but it pegs the rest of these teams at 50.5 percent or below, with the Panthers all the way down at 27.7 percent."
In a Sports Nation poll, fans were asked to vote on the most surprising result from Week 3, and the Ravens' 44-7 loss to the Jags topped the list with 32 percent of the nearly 38,000 votes.
Guess which game came in second? Yup, the Steelers' overtime loss to the Chicago Bears. It garnered 25 percent of votes.
"Sunday saw six underdogs pull off upsets and several others put a scare in their heavily favored opponents," the Sports Nation staff wrote. "It also saw four games decided on the last play."
Pittsburgh Opens As 2.5-Point Favorites Against Baltimore
After seeing all the results from last week, I don't know why anyone would bet on an NFL game, but I'm sure plenty still will.
As such, Vegas has the Steelers opening as 2.5-point favorites for a game at M&T Bank Stadium that will decide which team gets the early lead in the division.
"This game matches up two previously undefeated teams that suffered the most inexplicable losses of Week 3," wrote CBSSports.com's John Breech. "The good news for the Steelers is that they're getting a Ravens team that they've gone 6-2 against over their past eight meetings. The bad news for the Steelers is that they're getting a Ravens that almost always covers the spread against divisional opponents."
By the way, after trouncing the Ravens in London, the Jaguars opened as 4.5-point favorites over the New York Jets. It marks the first time in six years that Jacksonville opened as road favorites.
While the Jaguars seemed to have figured out London, Harbaugh would be perfectly happy to never return.
"To be honest with you -- and maybe I'll get into trouble for saying this -- don't plan on going over there any time soon to play again," Harbaugh said. "So, somebody else can have that job."
Rookie Marlon Humphrey Standing Out With Confident Style
With the way rookie cornerback Marlon Humphrey is playing, it may not be long before he starts for the Ravens. While so many things went wrong for Baltimore in London, Humphrey was one of the few things to go right.
"He's a gifted athlete for sure, but I've been more struck by how fun Humphrey is to watch," Walker wrote. "He gets right up on his man at the line of scrimmage and doesn't let the opponent breathe as he stays locked on him step for step.
"It's a brash approach we haven't seen from Ravens cornerbacks, even the smoother Jimmy Smith, in recent seasons."
The one knock on Humphrey's performance was a 29-yard pass interference call, but the penalty was suspect.
"Such mistakes are inevitable given his hyper-aggressive style," Walker wrote. "He'll probably also get beaten on a few deep balls. But I can't imagine the Ravens tamping down Humphrey's combative instincts. They make him special."
Wide receiver Mike Wallace promised the Ravens won't produce another dud. "We'll be ready," Wallace said. "You will not see this again on Sunday. I can promise you that. … "I don't care who we play. It's not about Pittsburgh. It's about our team and rebounding because we lost [Sunday] and we want to get better for the next week. They just happen to be the next people up on the schedule." The Ravens are 7-2 in games following losses by 20 or more points during the Harbaugh era. [ESPN]