42 Analyst Predictions In Ravens' 'Toughest Matchup Yet'
The Ravens are starting to turn pundits into believers.
Despite several analysts saying the Oakland Raiders (2-1) present Baltimore (3-0) with its toughest matchup so far this season, a majority is predicting a 4-0 start for the black and purple. Of the 42 experts below, 31 (74 percent) envision a Baltimore victory.
The Raiders are traveling cross country for the second consecutive week, which isn't easy for West Coast teams to do with an especially early start time of 10 a.m. PST. Baltimore is 6-1 all-time against the Raiders, with its first loss coming last year in Oakland.
This will be a major test for both teams as Oakland's No. 2 offense will clash with Baltimore's No. 2 defense. Something has to give. The Ravens hope their unit, led by safety Eric Weddle, linebacker C.J. Mosley and defensive tackle Timmy Jernigan, can contain up-and-coming Raiders quarterback Derek Carr, his pair of dangerous wide receivers in Amari Cooper and Michael Crabtree and a strong run game.
More analysts believe the Ravens defense will hold strong, while an inconsistent Baltimore offense will finally put together its most complete game yet.
"The Raiders are the toughest team the undefeated Ravens will have played thus far, but they will be coming across the country for the second week in a row after winning a one-possession game against the Tennessee Titans last week," wrote The Baltimore Sun's Peter Schmuck. "The Ravens usually get it done at home, and they figure to have a really fired-up crowd after two straight road wins."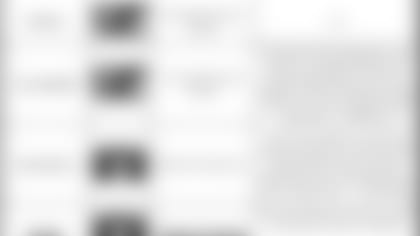 Roster Changes Expected With Darren Waller's Return Next Week
The Ravens will have some decisions to make shortly after their Raiders matchup concludes.
Not only is rookie running back Kenneth Dixon expected to be healthy enough for game action, forcing the Ravens to make decisions at the position, but tight end Darren Waller will return from a four-game suspension.
The Ravens are high on Waller, but did he play well enough during training camp and the preseason to supplant Dennis Pitta, Crockett Gillmore or Maxx Williams? He is also a good special teams player, which could be enough to earn him a roster spot.
Either way, somebody is going to be cut next week, whether it's Waller himself or another player making room for his return.
Khalil Mack Coming To Town As Ronnie Stanley Misses Second Consecutive Practice
The good news first: ESPN spotted starting left tackle Ronnie Stanley without the walking boot that reporters saw him wearing Wednesday.
Now the bad news: Stanley missed his second consecutive practice this week.
Now the worse news: All-Pro defensive end/outside linebacker Khalil Mack is coming to town. Mack hasn't notched a sack in three games this season, but don't let that lull you into a false sense of security. After notching 15 sacks last year, Mack is still a madman who will be on the hunt for quarterback Joe Flacco.
That wouldn't be surprising against a banged-up Stanley or, if the sixth-overall pick is sidelined, against backup James Hurst. Plus, there's uncertainty at left guard with Alex Lewis not practicing so far this week while he goes through the NFL concussion protocol.
"It's looking like the Baltimore Ravens will start a new left side of the offensive line for Sunday's game," wrote ESPN.
Hurst is preparing like he'll play Sunday and practiced with the starters this week. The 2014 undrafted free agent has notched 13 regular-season starts during his career, as previous starter Eugene Monroe was often on the sideline.
"Being the backup, you've got to be ready to go anywhere," Hurst told The Sun's Edward Lee. "So this week, I've been lucky enough to get reps in with the ones in practice, which is good. Obviously, they play the guys that are in, but also just getting into the game plan and being involved and everything like that, I'm excited about it. I'm going to go out there and I'm preparing like I'm the starter."
Drew Bledsoe Appreciates Nod From Terrell Suggs
Terrell Suggs was asked this week about facing another mobile quarterback in Carr, and the outside linebacker wanted to make something clear about all NFL quarterbacks these days.
"Every week, you get a mobile quarterback," he said. "There aren't any more Drew Bledsoes who just stood there and take it like a man; God bless him. All these quarterbacks are looking to make plays with their feet to extend plays and make plays downfield.
"Drew Bledsoe, he took it like a man. He just liked to sit in there, and he waited for his guys to get open, which gave us a lot more time. We are thankful for Drew Bledsoe."
The backhanded compliment got back to Bledsoe, who gave Suggs a shout out on social media.
Joe Flacco To Be Inducted Into Delaware Hall Of Fame
The University of Delaware announced its 20th induction class, and Flacco headlined the 10-person list of honorees. Flacco starred for the Blue Hens in 2006-07, earning All-American honors in 2007 when he led Delaware to an 11-4 record and a berth in the NCAA FCS title game.
"One of the most famous athletes in University of Delaware history, Joe Flacco enjoyed a record-breaking two-year tenure at quarterback for the Blue Hens followed by an even more impressive career in the National Football League," the Blue Hens website wrote.
Per the website, Flacco set a whopping 20 school records, including completions in a game (40) and season (331), consecutive passes without an interception (174), passing yards in a season (4,263), 300-yard passing games (11), and career completion percentage (.634). He also ranks No. 2 all-time at Delaware with 7,046 career passing yards.
Flacco will be recognized at halftime of the Delaware vs. Towson football game on Oct. 29.