43 Experts Make Bills vs. Ravens Predictions
Few experts think the Ravens will punch a playoff ticket, but a large majority of them think they'll start the season with a victory.
The folks at The Baltimore Sun scoured the web for playoff and division predictions, and of nearly 60 "expert" projections, not a single one believes the Ravens will win the AFC North. Only four predicted the Ravens to advance to the postseason via the wild card.
Remember when the Ravens were predicted to advance to the Super Bowl last year? That should tell you how much stock to put in season predictions (but we all love to look at them anyway).
I looked around the web for more specific Ravens-Bills picks, and 34 of 43 analysts (79 percent) believe the Ravens will take down the Rex Ryan, Tyrod Taylor and Ed Reed-led Bills. Take a look ...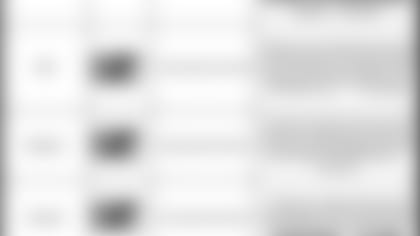 Terrell Suggs Loves Brutality Of Football, But Hates Hines Ward
Ravens outside linebacker Terrell Suggs has two "problems," says MMQB's Peter King: his age (33) and his second Achilles tear. Suggs has missed 23 games over the last four seasons, making it "easy for the critics (realists?) to figure the glory days are over."
Suggs hears the chirping.
"I actually love the doubters," he said. "The doubters help me."
Suggs sat down with King during Ravens training camp for a Q&A, and it was filled with classic Suggs' awesomeness, including how he loves the brutality of football, but will always remember the hatred he had for Steelers receiver Hines Ward. I've pulled out five of the questions, and you can read all 16 here.
On tearing his Achilles twice:
"My first reaction was disbelief. Absolute disbelief that I did it again. Man, how is this possible? After the first one, the doctor told me there's a 98, 99 percent chance it won't happen again. This time, the doctor, that day last September it happened, said, 'No, Sizzle, you popped it again.' Imagine you work so hard to get back the first time, and you're OK, and then, in the first game of a season, you do it again, and you know what hell you're going to have to go through. Maybe I shouldn't be this way now, but I've got faith it'll be fine."
On the Steelers:
"It's like I am a whole other person during Steeler week. It doesn't matter what kind of season both teams are having, it's f---ing Steeler week. This is the Super Bowl. If you only win one, you better win this one."
On the brutality of Steelers-Ravens:"We're modern-day gladiators. People don't understand the Roman Coliseum … you didn't just fight man on man, you fought whatever came out that f---ing tunnel. They fought bears and lions and s---. People don't know that, people think it was just man on man and they fought to the death. No, sometimes they had to fight a lion or a bear with whatever they gave you! The first time you play in these stadiums, it's intimidating. You're a little 21- or 22-year-old kid and everybody hates you. Always feel that the most in Pittsburgh."
On Hines Ward:
"At one time, to me, there was not a bigger villain than Hines Ward. I hated this Hines Ward! I never even really went up against him. I hated him, because he was bringing it. I don't remember a Steelers game where everybody didn't have a little bit of a tight ass until that sh-- started flying."
On his case for the Hall of Fame:
"There isn't one yet. I think the only way I can solidify that is if I get another ring. If I get another ring, we can talk about it, but until then I think there is work to be done. I still have a lot of things that I want to do. Everybody forgets that I was 20 years old when I walked in here. Usually people come in and they are 23, 22 and now they are 36, 37, 38. I'm 33 years old, you know what I'm saying? I feel good. I don't feel like I'm 33."
Graham Gano's Last-Second Miss Cost Panthers vs. Broncos
Football is officially back with last night's season kickoff game between the Carolina Panthers and Denver Broncos. The Super Bowl 50 rematch lived up to the hype as the game came down to the final seconds.
Panthers kicker and former Raven Graham Gano lined up for a 50-yard field goal attempt with only seconds remaining. Gano originally kicked the ball through the uprights, but the Broncos smartly iced him by calling a timeout, and the kick didn't count.
The oft-used NFL tactic doesn't always work, but it did last night. On his second-attempt, Gano hooked the ball wide left, and the Broncos won 21-20.
Want Ed Reed To Come Out Of Retirement? Got $300 Million?
Former Ravens safety Ed Reed says he could still play in the NFL another two or three years. But, he's not going to. He likes* *working as the assistant defensive backs coach in Buffalo.
"I got two or three years in me," Reed told reporters Thursday, per ESPN. "But I'm not giving it to the league. I already decided not to. Things could happen, but I don't think there's enough finances to get me in those cleats anymore, man. They tend not to want to play the vets."
What kind of "finances" would it take to get him back on the field?
"What's the lottery?" Reed responded. "It's like $308 [million]? $306? Something like that, right? I got to hit the lottery."
Better get used to seeing Reed in those street clothes.
Ronnie Stanley A Rookie Of Year Candidate, But Will Never Win
The race for the NFL Rookie of the Year officially begins this week, and Pro Football Focus named 10 rookies the website sees as candidates for the award.
Ravens No. 6 overall pick Ronnie Stanley was listed at No. 5, but does he really have a chance, even if he is a complete stud all season?
"This is the first name on the list that has virtually no chance of winning the NFL's Rookie of the Year award, but a reasonable chance of deserving to," wrote PFF's Sam Monson.* *
Monson didn't really explain why Stanley has no chance, but my guess is because he plays left tackle. Offensive linemen almost never win awards like this. Cowboys running back Ezekiel Elliott, Texans wide receiver Will Fuller, Buccaneers cornerback Vernon Hargreaves III and Titans wide receiver Tajae Sharpe were all listed ahead of Stanley
"Stanley looks significantly ahead of the [rookie tackle] curve," wrote Monson. "He allowed just two pressures over his 81 snaps of action, and didn't allow his QB to hit the ground once, nor was he penalized. If Stanley can carry that forward into the regular season and play at that kind of level all season long, it will be a performance thoroughly deserving of the award, given the expected struggles of rookies at that position."