As a Ravens season ticket holder since the team's inception in 1996, Lt. Col. Charles Wetzelberger loves attending games at M&T Bank Stadium. However, he is spending time at the stadium in a different capacity this month. Wetzelberger is a supervisor on the Maryland Air National Guard team that helped transform the stadium into a COVID-19 vaccination site.
Vaccinations at the stadium began Thursday, and Wetzelberger loves being part of a project that is helping people fight the pandemic.
"We're really excited to make a difference in this community right now," Wetzelberger said. "As soon we got the notion that this mission was coming, my hand was raised immediately. I wanted to be part of it. We went 18 days, boots on the ground, to opening this clinic. Working here at M&T Bank Stadium with this project has been pretty freaking amazing."
Wetzelberger's normal seat for Ravens games is section 147, row 28, seat 11. But this year, he watched his favorite team from the basement of his home in Catonsville, unable to attend games due to pandemic protocols. He sorely missed the excitement of watching the Ravens in person, something that has become such a big part of his life. Some of his favorite memories have taken place at Ravens games with his family.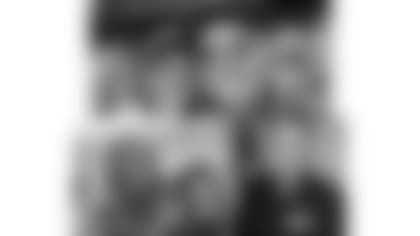 When Wetzelberger walked into M&T Bank Stadium a few weeks ago, he had not been inside the building for more than a year, and he had never been inside the stadium without fans in attendance. He was struck by how different the atmosphere felt, and it made him even more determined to help people gain access to the COVID-19 vaccine.
"When you walked into the 200 section, it was barren, it was sad," Wetzelberger said. "I had never been in the stadium without fans. It was surreal. No pulse.
"When I walk through the stadium now, seeing people coming for vaccinations, it reminds you how great it would be to see fans back in here next season. We want to get back to normal. This is the beginning of getting the stadium back for Ravens fans, as far as I'm concerned."
Wetzelberger has been in the Maryland Air National guard for 35 years, and he is also a long-time passenger conductor for Amtrak. He's a people person, and he's encouraging everyone he speaks with to get vaccinated.
"I think it's instrumental in getting us back to normal," Wetzelberger said. "I think this location and the (Baltimore) Convention Center site, as long as they provide us with the vaccine, it's going to make an incredible difference to the community.
"We didn't really have a normal opening day this past season with the Ravens because of this virus. I'm looking at this project as opening day."