Tom De Leonardo died trying to save another man's life. When John Harbaugh learned about it, he offered: "Who does that? That's a true hero."
We all saw athletic heroes last night when the Ravens hosted the NFC champion Carolina Panthers at M&T Bank Stadium. We may have seen the start of new Ravens' standouts like running backs Terrance West and Kenneth Dixon.
But Tom De Leonardo was the real deal.
His daughter, Jessica, described what happened on Jan. 16, 2016: "Dad had a used car lot, and he was letting somebody work on his car there. A fire broke out, and my dad rushed to help his friend. My dad tripped, was burned all over and never recovered. My mom and my brother were both at the lot and saw what happened."
Tom was a huge Ravens' fan. "He was diehard. For the last Super Bowl, when the Ravens were on offense, he wore an offensive jersey. When they were on defense, he switched to a defensive jersey. He ended up doing that for every game since then."
Tom's family was also filled with Ravens fanatics, including his wife Debbie, who makes stained glass windows.
"The last few years, Dad was trying to find a way for Mom to meet Coach Harbaugh. Mom had made a special stained glass of the Raven head. My dad suggested she make it."
Jessica and her brother John wanted to fulfill their dad's wish of having their mom meet our head coach. "I decided to email every Raven employee I could find. Within two hours, I heard back," Jessica said on Tuesday.
She wrote: "Many people have told our family that our dad reminded them of Coach Harbaugh because of passion for things like football, being a family man and how he always looks like he is having a good time. At his funeral, our deacon referenced Coach Harbaugh and how he treats his players like family, and he compared him to our dad."
Chad Steele, our vice president of public relations, responded to the May 2nd email. "We'll find a way to make this work."
Jessica, John and Debbie came to last Tuesday morning's practice, making the one and a half hour drive from Charles Town, West Virginia where they now reside after living in Pasadena, Md.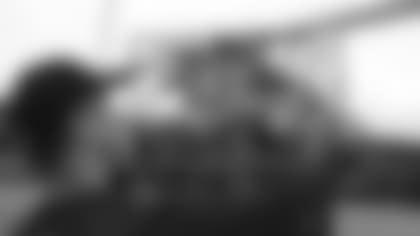 Mom Debbie presented the stained glass pictured above to the head coach. "That is beautiful. I've got just the place in our house for that. I know exactly where it is going. Thank you so much," Harbs said.
"I'm so happy you have this. It was my husband's idea to do one for you."
Son John bragged about his Dad: "He always put people before him. He was unselfish to the end. He took care of everybody – family, friends, just strangers in general. It didn't matter who it was."
The family could not have been more thankful and respectful. Harbs was most gracious and kind.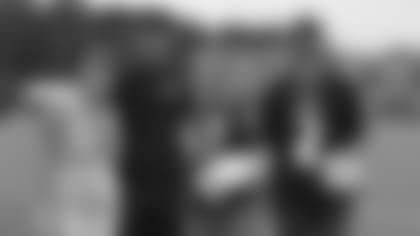 "It meant the world to our mom to be here today," Jessica reflected. "She obviously wanted my dad to be here. She – and us – feel so honored to be here."
Debbie was nervous about meeting the head coach. (You couldn't tell. She handled the meeting with grace and dignity.) She wasn't sure the right words would come out, so, when she presented the glass to Harbs, she handed him a note. "At the funeral mass the Deacon talked about your priorities with church and family. He compared you with Tom and talked about the love Tom had for the Ravens. ... Our family is so honored to meet you in person and let you know about a very special fan who will be watching from heaven."
Jessica wrote: "We know our father would be truly honored and appreciate that you did this for his family."
No, Jessica, it was our honor. As we walked away from the family three days ago, Harbs looked at me and said, "How lucky are we to meet great people like that. It's a privilege, an honor. We are so fortunate."
Some Good Observations From Last Night
It's easy to notice running backs when they do well. We can all see that, and West and Dixon certainly served notice that they can compete.
Remember when Crockett Gillmore proclaimed during OTAs that "the Ravens have the best set of tight ends in the NFL." Well, Gillmore, Benjamin Watson and Dennis Pitta didn't play last night, but second-year tight end Maxx Williams looked strong, as did Nick Boyle, who is suspended for the first 10 games of the season. Darren Waller, another second-year player, caught five for 48 yards, but he did have a ball bounce off his chest for an interception. No doubt, we have a ton of talent at the position.
There was a lot of juggling on the offensive line, but every group protected our QBs well, always a key to life in the NFL.
He's supposed to be good – he made the Pro Bowl as a rookie in 2014 – but C.J. Mosley looked fast and explosive.
We put a lot of pressure on the Panthers' QBs, much provided by yet another second-year guy, rush linebacker Za'Darius Smith, linebacker Chris Carter and rookie (fifth-round draft pick) linebacker Matthew Judon.
And, here's a shoutout to Matt Elam. He has taken some criticism, justified at times. But, he's coming on and looked sharp in a couple of series last night.
Quoting O.J. Brigance who delivered a message through his voice machine to Harbs after the game – and then John repeated it to the team: "Winning is always good."