I'm out here in San Francisco right now. People are everywhere and there are tons of Super Bowl events going on. Of course it's a lot of fun and I'm grateful to be here.
But between an event I participated in yesterday and the work we are doing to help Flint, I've been reminded what this NFL shield is all about a lot lately.
After speaking to kids and their parents (and throwing the football around a little bit) at an All-Pro Dads event yesterday, I thought to myself, 'Now THIS is what it's all about.' What this NFL shield gives us as players is a platform to reach and encourage a lot of people that are hurting and need assistance.
And so while I am here, I continue to focus my efforts on helping Flint, where I will be heading on Tuesday.
Let's rewind for a second. A little while back, I spoke to a friend in Flint who told me all about the water issue they were dealing with there. But it was before the crisis made the news, so, at that point, I didn't realize the severity of the situation.
A couple days later, everything hit the news. I began hearing about the color of the water, how people were bathing with bottled water and wet wipes, kids with lead in their bodies. I started putting faces to the crisis that was happening and decided that I needed to do something.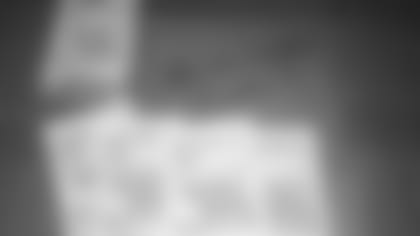 Since my company, ShowerPill, produces antibacterial body wipes, it was a perfect way for us to really help. I didn't want to give random stuff; I wanted to give something they could use. I spoke to my business partners and talked to my friends around the league to see if we could get something going in Flint. I reached out to people who have hearts to serve and give.
I didn't have any expectations, but the response and support was unbelievable. From Mark Ingram (who is from Flint) to Torrey Smith to Marshawn Lynch to the practice squad guys who were willing to give whatever they could to show love, the support was truly overwhelming. As soon as I told them what I was trying to do, all I heard was, "No problem. I'm willing to do whatever I can." It was tremendous.
And that's when I realized that this is bigger than me; this is bigger than just a couple of guys getting together to help out a little bit. With this platform that we have, we can really make a huge impact on this community.
That's when I started working the phones. By the way, I had a short stint working in community relations, so I have a lot of respect for the Ravens community relations department. Putting together a project like this is a lot of work! I knew I had guys who wanted to help and serve, and I needed to make sure we found a legit way to do it.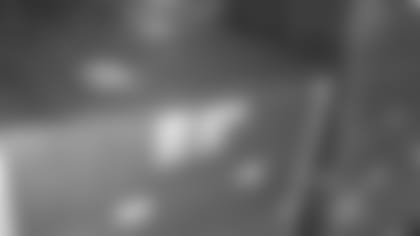 So I made lots of phone calls (plenty of which were not returned!), and with the help of a friend, was able to speak to the President of the School Board there. They knew I had the wipe company and said they'd really be able to use the product in their schools.
Then I spoke to some of the senior homes that were struggling, and they said they could use bottled water and body wipes. Many of these older people can't go out to get what they need, so we wanted to make sure they were taken care of. We really zoomed in on the elderly and the sports programs in the high schools. It was definitely a whirlwind, but we got it done.
With the support of about 20 NFL players, I am proud to say that about $100,000 worth of body wipes and water has landed in Flint. We've teamed up with the United Way to help us distribute to the schools and senior homes. And Mark Ingram's mother works at a local high school there, so she is helping us pass out the product.
This coming Tuesday, Torrey and I (and tentatively Marshawn) are heading down to connect with the people of Flint in-person. We are not trying to just put a Band-Aid on the situation, but are looking to make a real impact and hopefully work on long-term solutions.
One thing I learned from interacting with those involved with the Baltimore riots is that people just want to be heard. When we spoke to the kids there, so many of them said they felt like they didn't have a voice and that nobody cared about them. Giving them an ear meant a lot. So we are planning to go out to Flint and listen.
Our hope is that by spending quality time in the community and letting the residents know that we love and support them, we can make a real impact. It's not like talking to a huge auditorium of people. Even if we impact one person's life, it will be worth the trip.
Many guys in the NFL came from difficult upbringings (including the three of us) and were still able to make it out and do positive stuff in this world. We are coming to deliver that message, encourage them and hopefully be a light for the people there.
With our NFL shield on us, and as guys that people look up to, we are able to go to out and make a difference. Whether it's in Flint or Baltimore or wherever, we are blessed with this opportunity for a little bit of time. It's up to us to use it in the right way so we can have a positive effect on the world around us.
Truth is, in 30 years from now, we probably won't remember much of what happens this coming Super Bowl weekend (other than maybe the winner). But the things that last are relationships and the impact you make on people's lives.
So while we are having fun and celebrating Super Bowl Weekend, it's important to remember the responsibility that comes along with the blessing of playing in the NFL. And it's not just a football thing. I have a platform, you have a platform. You have a platform as soon as there's a person looking up to you, and that can be anybody. I believe that we all have the responsibility to serve.
*If you are looking to support ShowerPill's initiative in Flint, please e-mail giveback@showerpill.com for more information.
*