Cover Story: Patrick Mekari Is the Ravens' 'Invaluable' Sixth Man
In the NBA, the sixth man is revered. The first player off the bench is so important that the Sixth Man of the Year Award is seen as one of the league's top honors.
If there was such an award in the NFL, the Ravens' nomination would be a slam dunk: offensive lineman Patrick Mekari.
In his fifth NFL season, Mekari has started a game at all five positions on the Ravens' offensive line. Last Sunday in Cincinnati, he started at arguably the most challenging: left tackle.
Stepping in for Ronnie Stanley, Mekari was up against one of the NFL's top defensive ends in Trey Hendrickson – a man that's given the Ravens trouble since coming to the AFC North three years ago. Lined up over Mekari for much of the game, Hendrickson didn't have a single quarterback pressure.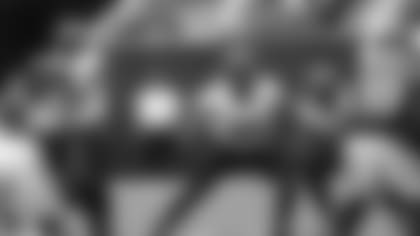 Maybe the rest of the NFL doesn't hold backup offensive linemen in such esteem, but that's not the case in Baltimore, and Sunday's win proved why.
Mekari carries the Ravens' sixth-highest salary cap number this season, per OvertheCap.com. That's the second-highest amount for any Ravens offensive lineman, trailing only Ronnie Stanley, who has the team's biggest cap number. Yet Mekari isn't a full-time starter.
But if any Ravens starting offensive lineman goes down with an injury, for any amount of time, Mekari is first in line to replace him. How essential is that?
"It's invaluable," right guard Kevin Zeitler said. "Injuries are inevitable in this league and on the O-line, there are a lot of bodies flying everywhere, so more than likely that's the position that's going to have someone go down.
"Having Pat, a true unicorn who can play every position and do it with the best of them in the world, is truly spectacular. We have to keep him around at all costs."
It wasn't just Mekari who filled in so well Sunday in Cincinnati. Sam Mustipher stepped in for injured center Tyler Linderbaum. Still, Lamar Jackson was pressured on a career-low 9.3 percent of his dropbacks and the Ravens finished off the win behind a power running game.
During his Monday press conference, Head Coach John Harbaugh went through a checklist of praise for his offensive line.
"Obviously, Pat, he's done that so many times before," Harbaugh said. "Nobody should be surprised by that."
Harbaugh is right. It's not surprising. But it should be.
The tale of the tape foretells an unfair fight. At 6-foot-4, Mekari was the same height as Hendrickson, the man he was trying to block. At 305 pounds, he's the lightest offensive lineman on the Ravens' roster, tied with Linderbaum, who is two inches shorter. With a wingspan of 78 1/8 inches, Mekari's arms are more than six inches shorter than right tackle Morgan Moses.
"I know I'm not the biggest guy. I know I'm not the strongest or the fastest," Mekari said. "But technique wins. If I just focus on technique, I set myself up to have a good chance."
Fullback Patrick Ricard knows how challenging it is to switch positions. "Project" Pat went from defensive lineman to fullback. But when Ricard tried his hand at playing guard this offseason, he was incredibly impressed with what Mekari can do playing every offensive line spot.
"I know tackles who always play one side and if we go unbalanced and they have to go play the other side, they feel super uncomfortable," Ricard said. "For him, it's natural. It's very easy for him to pick up. It's definitely unique, and that's what makes him so valuable."
How is Mekari able to do it? Like some other teammates, Ricard pointed to Mekari's intelligence.
"He's a genius. He is super technical and he's super smart. Those things together create a beast," left guard John Simpson said added. "I'm playing next to two centers when I'm playing next to Pat. He can see things before they happen."
The fact that Mekari started his NFL career mostly at center gave him a broader understanding of offenses, calls, and the "why" behind every position on the line. He knows how all the pieces are supposed to fit together.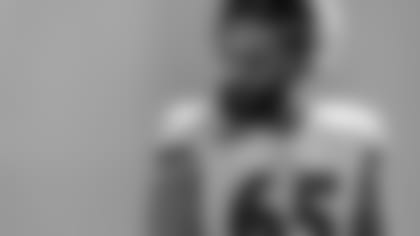 But what people, and Mekari himself, pointed to most adamantly when explaining Mekari's success is his maniacal focus on technique.
"He's constantly practicing his technique," Ricard said. "Even in the walk-throughs, he always has a really good base, he's always working his footwork."
"A lot of people say technique can win in almost any situation," Zeitler said. "I think he's the living proof."
That's Mekari's simple mantra. "Technique wins."
"I find that a lot of the mistakes that happen in the NFL have nothing to do with what the other guy did. It's something that you did," he said. "If I can just eliminate a lot of that, I set myself up pretty well."
Mekari has set himself up well in his NFL career. Undrafted out of Cal in 2019, he signed a three-year contract extension with the Ravens near the end of the 2021 season. Mekari inked it while wearing a blue mechanic's shirt.
When the Ravens had an opening at starting left guard this summer, they knew Mekari could do the job. But they wanted to give Simpson and rookie Sala Aumavae-Laulu a chance to step up first, and Simpson took it over. That left Mekari, one of the team's best blockers, on the bench in Week 1.
Harbaugh said he's had conversations with Mekari about his versatile role and the value that provides the team.
"It's probably his greatest blessing and probably for him somewhat of a curse," Harbaugh said. "It ends up being the right thing, because he goes in there and does so well."
Teammates stay in Mekari's ear too.
"I tell him all the time, 'You're well appreciated,'" Moses said. "Even when people don't say it to him, I always tell him, 'You're a rarity, bro, just know that your time is coming. You'll be a starter.' He'll be a starter at some point. He'll get the opportunity. And I know 100 percent that he'll flourish in it."
Mekari could wear his "sixth man" role like a badge of honor, but he doesn't.
"I don't take much pride in anything like that," Mekari said. "When it's time to play, it's time play. Sub or not sub, starter or not starter, when it's gameday I have a job to do, and I expect myself to play at a high level."
For as serious-minded as Mekari is on the field, there are rare moments when you can see how much he enjoys the job. The end of the Ravens' win in Cincinnati was one of those moments.
With the Ravens looking to run out the clock, and needing one more first down to do it, they called a run to the left side. Mekari locked up his assignment and Edwards ran just inside his right shoulder to seal the game. Mekari let out a fist pump and skipped down the field next to Moses, thumping him on the chest in excitement.
"The great time, best time ever. I can't even explain it in words," Mekari said. "That feeling right there, finishing it off in the four-minute [offense], getting the first down and knowing you're taking a knee and getting on the bus and going home with a win, it's a great feeling. And to celebrate it with your teammates. The best time."