For me, being a Baltimore Ravens fan is more than just being a fan of a sports team. It is part of who I am.
I come from a football family, but when Sunday's come around, I'm on my own. I am the only Ravens fan in my family.
My dad is a Broncos fan, my step-mom is a Cowboys fan, my uncle is a Vikings fan, my sister, grandpa, and my other uncles are Packers fans, and my little brother is a Seahawks fan. Sundays are crazy in my family.
I became a fan of the Ravens when I was in elementary school. My best friend was a fan, so I copied him. The rest is history.
I have been going to every Ravens training camp, event and game possible. I went to almost all the home games last season (even when we went 5-11, I was out there supporting my team), which put a dent in my credit card but was well worth it. I work 30-40 hours a week while juggling 18 credits in college to afford all these Ravens events. Well worth it.
I was at Ray Lewis's final home game against the Colts in the 2012 playoffs. I was at the Ravens-Patriots AFC championship game in Foxborough (it was 9 degrees), I was at the Ravens-Steelers playoff game in Pittsburgh in 2014 and many more big games. I unfortunately couldn't go to the Super Bowl due to family problems.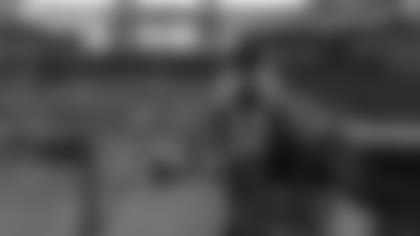 One time, I injured my foot the day before a game in Cincinnati and hobbled from the hotel to the stadium (about two miles) in excruciating pain. When we got back home, I went to the doctor and found out I broke my foot (yes, I asked for a purple cast and put some Ravens stickers on it).
I try to get friends to go to games and events with me, but none are Ravens fans. I get friends that are fans of the away team to go to most of the games with me.
One of my best memories as a kid was meeting Ray Lewis and Joe Flacco. I met Joe in his second year in the league in 2010 when I was 12 years old. I recently went to an autograph show and was able to meet him for a second time. I was 18 (I am currently 19 years old), and told him that I met him before, but, of course, he didn't remember. I have met countless Ravens players and every time I walk up to them I get speechless. The next player on my list that I'm dying to meet is Eric Weddle. He seems like the coolest guy ever and a great player.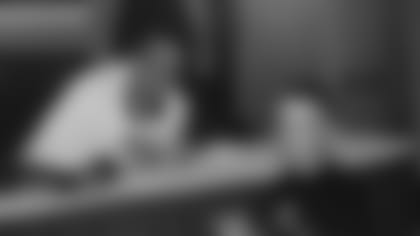 I own more jerseys than I do underwear, and I'm not sure if I have any clothes that aren't purple. I have put in writing that I am to be buried in my autographed Ray Lewis jersey when I die. I have a piece of M&T Bank Stadium's turf on the floor in my room which is one of my most prized possessions. My mom hates it because no matter how much I sprayed it down, rubber still shows up in my room.
Guess she should just root for the Ravens, huh?