Matt Andrews, a.k.a. Fan Man, will be in full character for the final time this Sunday at M&T Bank Stadium. After 40 years working in environmental health engineering at the Army Public Health Center at the Aberdeen Proving Ground, he is retiring to spend more time with his wife, Linda. That, unfortunately, means letting go of Fan Man. Since the team's arrival in 1996, he has been one of the most ardent supporters. His daughter, Tressa, writes about why her father is a Flockstar.
There is a man known as the Fan Man.
Fan Man truly loves his Baltimore Ravens (and the Orioles too)! His passion began with his uncle "Willy the Rooter," who was the ultimate fan of the Baltimore Colts, so you can say this is in Fan Man's blood.
In 1999, Fan Man was honored by the Pro Football Hall of Fame and Ravens ownership when he was inducted into the Hall of Fans through the Visa Hall of Fans Award.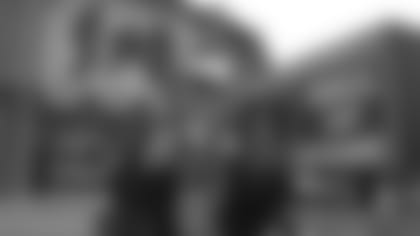 For over 20 years, Fan Man has demonstrated that the 12th man is one of the most important members of the team. He supported his team through the good, the bad* *and the ugly. He's welcomed other fans to The Bank and has given back to his community.
He loves his Ravens, but even more so, he loves his fellow neighbor. He is a big supporter of the Special Olympics, as well as many other charities when he is called to duty. This is a side most do not get to witness all the time.
I am blessed and honored to witness Fan Man's character and love for others on a daily basis. He has influenced so many lives, especially his former students. Anyone that knows him, or has the opportunity to meet him, will understand the passion he has for others beyond the sport.
I know this because Fan Man is my father, my biggest fan, my hero and truly one of a kind. Fan Man is more than he appears to be on gameday.  He is a man of integrity, selfless acts of kindness* *and he made me the person I am today. If it wasn't for my father, his partners in crime, The Bus Boys wouldn't even exist. He then opened his heart and wings even more by recognizing the female fan base with the introduction of da RavHons, who I am honored to be a part of.  We would not be who we are as a group and more importantly life-long friends if not for my dad.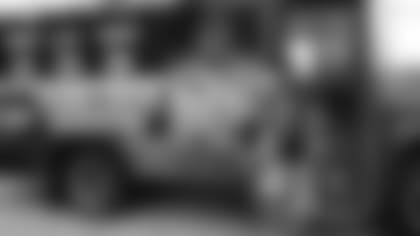 Members of these groups say Fan Man has been an inspiration to those around him and has represented Ravens Nation with class and dignity. He's encouraged both groups to get involved in charity work and taught us we reap the rewards by helping others.  We have been extremely fortunate to have him in our lives.  Being around Fan Man is like being around a superstar and there will never be anyone like him.
While we will miss seeing Fan Man at the end of Ravens Walk on gamedays, greeting our fans, making the day fun and exciting, bringing smiles to kids, adults and rival fans alike, rest assured, he is not leaving the team. He will still be in the stands cheering as Matt Andrews, the 12th Man, the ultimate fan, showing his love for the sport and his team. 
Tressa Andrews
Aka Da RavHon Mary "Spicy" McCormick