I am submitting this Flockstar story on behalf of my boyfriend's sister, Grace Clements.
Grace is 16 and has special needs. She lives daily with Autism, along with a handful of other diagnoses, and is a light in the life of everybody she meets. I have never met somebody so full of energy and passion in everything she does – especially towards football.
Grace is a HUGE professional football fan, always telling us the latest stats after each game and smack talking rival teams' fans. Most recently, when meeting a Steelers fan, she asked "How could you?!"
Grace carries a list of the entire updated Ravens roster with her wherever she goes. She also carries a list of every NFL quarterback broken out by team.
She has an amazing memory and knowledge of team details and memorizes the depth chart and roster very well. She knows where players attended college, their draft positions and every NFL team each player has ever played on. Her brother works with the Clemson University football program and will bring her practice scripts and roster breakdowns to keep her knowledge sharp.
Grace was born on April 8th, 2000 in Columbia, Md., where her family lived for the first half of her life. The family moved to follow her father's career and now live in Clemson,SC where she is able to exercise her love of football regularly through her beloved Tiger. However, it's the Ravens she puts at the top of her list of favorite teams, beyond any others.
On November 9, 2014, Grace's family took her to attend her very first Ravens game. She watched the Ravens defeat the Tennessee Titans, 21-7. It was a very emotional experience for her, as the Ravens have been the love of her life since she could speak.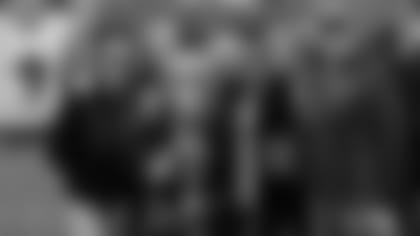 When she lived in Maryland, she was too young and her disabilities made it difficult for her to attend a game. Then, when she moved to West Virginia, she was not able to attend any games due to busy weekends during the season with her family. This game was a long time coming, and she cried happy tears during player introductions!
This girl is an amazing example of a dedicated Flockstar. I'm not sure there is a grown man out there with the passion and dedication to the team like amazing Grace. She puts many Ravens fans to shame with her knowledge, and lights up game time at home with her cheers and jeers.