My fan story begins in 2000-2001 when I began watching Polynesian guard Edwin Mulitalo. Each week during NFL season, the news focused on Polynesians and players from Hawaii. I once saw them focus on Mulitalo because the Ravens were in the Super Bowl, so I started following the Ravens. Once I saw the 2000 Super Bowl game and the Ravens defense, I was a fan.
However, being in the middle of the Pacific Ocean, the closest to watching a live game with Ravens players is the Pro Bowl.
After getting a career started, my girlfriend, Lauren, and I decided we would save $100 from every paycheck for one year to go see a live Ravens game.
We ended saving up enough money in 2013 and flew to Baltimore. It was long overdue, but definitely worth the wait. We went to the Ravens vs. Vikings game on Dec. 8, 2013. We wanted to have the best seats possible because we didn't know if we could do another trip like this again, so we purchased tickets in Section 126, Row 14, Seats 8 and 9.
When we walked to the stadium, it began to snow. It was the first time I had experienced it snowing (on the Big Island it snows a couple times a year in the mountains, but I had never experienced snow falling). We thought we had enough layers of clothes on, but, boy, were we wrong.
The one thing I'll always remember was Asa Jackson warming up in just shorts and no shirt while it was snowing. The game started and so did the hot chocolates and buying the hand warmers in the team store. It was so exciting because it was like playing during a blizzard.
In the fourth quarter, things got crazy. We were winning and then the Vikings did a reverse with Cordarrelle Patterson to score a go-ahead touchdown, and the stadium went silent. Then Jacoby Jones ran the kickoff back for a touchdown and the stadium erupted. Once again, the Vikings scored on a running play and took the lead with under a minute left. But with time expiring, Joe Flacco threw a pass to Marlon Brown in the back of the end zone to win the game! What a rollercoaster of emotions we went through in those last two minutes! Lauren and I couldn't have been a better first game!
After that experience, Lauren and I decided to make it a point to put away money every paycheck so we can attend a Ravens game every year, whether it be in Baltimore or an away game. But a few weeks after arriving back in Maui, Lauren and I were T-boned by a drunk driver, which left her in the ICU and with a lot of medical bills, which prevented us from attending a game in 2014 in Baltimore. After she recovered, we began to save again, and in 2015 were able to go to the Ravens-49ers game in Santa Clara to watch Steve Smith Sr. play before he was going to retire (he ended up playing another year).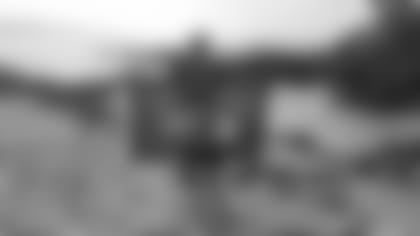 After we attended that game, we decided there is nothing like seeing a Ravens game at home in M&T Bank Stadium. In the 2016 draft, the Ravens drafted three Polynesians with their first three picks of the draft, and second-round pick – linebacker Kamalei Correa – hit close to home since he's from Hawaii. So this year, Lauren and I have saved enough money to attend two games (Steelers and Browns) in November to cheer on our "Hometown Hero."
I can't wait to be back in Baltimore cheering on the Ravens. Working in the hotel industry, I talk with guests from all around the world and see how happy they are to be in Hawaii. To me, Baltimore is my Hawaii!
Who says some of the biggest Ravens fans have to be from, or live in, Baltimore?