I met my wife, Jodie, over nine years ago while she was visiting her family in my hometown of Elizabethtown, K.Y.
When I saw her, I knew it was love at first sight. After getting to know her, I didn't think she could be any more perfect than she was … until I found out the love she had for football.
Kentucky is known for college basketball, and I was a football fan, but never had a team to root for. That was all about to change.
We started watching every Ravens game together that we could catch on the local channels, and her best friend even bought me my first Ed Reed jersey. I was hooked, and had developed a hate for Pittsburgh immediately after we lost to them in the AFC championship game in 2008. 
Jodie and I eventually decided to move to Baltimore after we found out that we were pregnant with our first son, Ethyn, because the economy was crashing in Kentucky. The move was hard on me, but the excitement of living in a sports town was a huge plus. One of our first stops was to see M&T Bank Stadium, and I couldn't wait to go to a game together.
After being together for years and having our second child, we found out that we were pregnant with our third son, Tyler. I decided it was time that I pop the question.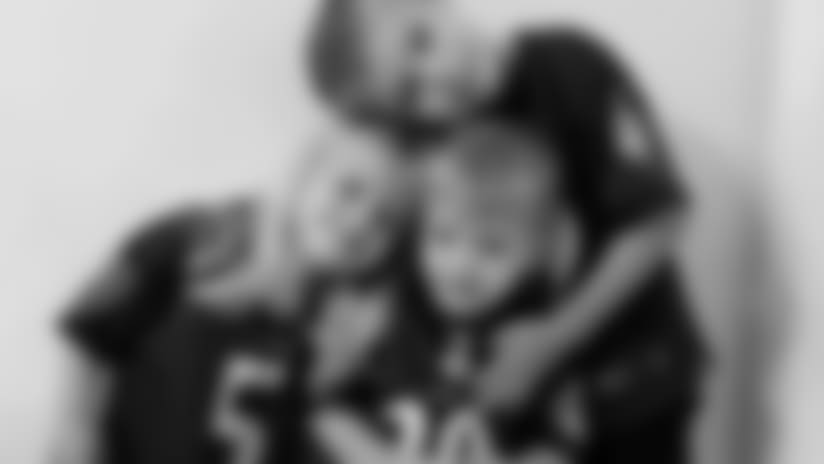 I didn't really have a date set to ask Jodie and decided that it would be a spur-of-the-moment kind of proposal. Thanks to the Ravens, it became a memorable one.
On Jan. 12, 2013, we were playing the Broncos and I decided to go outside and write "Will You Marry Me?'' on the lawn with Christmas lights. The plan was to have our son lead Jodie upstairs by saying that he saw someone in our yard, then she would see me on one knee with the ring.
Only problem was the Christmas lights were completely tangled. I only had halftime to pull it off, and it turned out to be a complete fail.
I came back in the house and the game had us on the edge of our couch. After Corey Graham picked off Peyton Manning and we drove down the field, we knew we had the game won. After Justin Tucker's game-winning field goal, we were all jumping around the living room and I heard Jodie say to her mom that there is no way this night could get any better. Bingo! I dropped to one knee.
The 2012 season is one I will never forget, not only as a fan getting to see the best team in football win a Super Bowl, but asking my best friend to become my wife. The Ravens brought me and my wife closer together and have played a role in some important moments in our lives. I'm looking forward to seeing what the future holds for us and the Ravens!