The Ravens made a strong statement in a 48-3 defeat of the Detroit Lions, keeping their playoff hopes alive with an all-encompassing victory.
In a rain-soaked M&T Bank Stadium that was less than half full, Baltimore held the Lions to only 229 total yards while racking up 548 of their own to set a franchise record.
The Ravens scored five rushing touchdowns to notch another franchise mark, largely on a career day from running back Ray Rice
.
And, perhaps most importantly, quarterback Joe Flacco
broke a recent trend of disappointing performances. Flacco completed 13 of 20 passes for 230 yards and a 120.8 quarterback rating before leaving in the fourth quarter, rebounding from a three-interception outing last week against the Green Bay Packers.
Even though the Lions did not have starting quarterback Matthew Stafford, who was out with a sprained AC joint in his non-throwing shoulder, and were battling several injuries to other key players, including the loss of running back Kevin Smith when his left knee gave out in the fourth quarter, the Ravens' complete dominance cannot be overlooked.
"It was a team victory," said head coach John Harbaugh. "I think all three phases really stepped up – offense, defense and special teams. It was maybe the first time all year that we put it together in that kind of fashion, and that's encouraging."
Rice and the Ravens started hot and fought through some early miscues to keep the fire burning all day.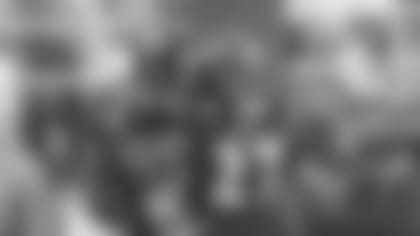 Rice took his first touch 52 yards, but fumbled out of the end zone for a Detroit touchback, his second lost fumble over the past two games. Three plays later, safety Dawan Landry had an interception taken away by a roughing-the-passer penalty on Trevor Pryce.
But, the Ravens held strong when Lions kicker Jason Hanson pushed a 45-yard field goal to the right.
Billy Cundiff
 then lit the scoreboard later in the first quarter with a 38-yard field goal.
Things really kicked in from there, as big plays staked the Ravens a big lead in the second quarter.
Flacco found wideout Derrick Mason for a 62-yard touchdown catch-and-run, Rice scored on a 59-yard touchdown romp, and Cundiff added a 25-yard field goal to cash in on a 30-yard completion to Rice that gave Baltimore a 20-3 advantage heading into halftime.
It was a breakout performance for an offense that had been sputtering of late. Rice set a career high with 13 rushes for 166 yards and four receptions for 53 yards. Mason captained a passing attack with five catches for 94 yards.
Both Mason's grab and Rice's gallop were impressive.
On third-and-2 from the Ravens' 38-yard line, Mason was sandwiched between Phillip Buchanon and Marvin White before breaking free and sprinting untouched to the end zone.
"It was a routine slant play, and my own sole purpose was on catching the ball," explained Mason, who doubled over after his score because he had the wind knocked out of him. "It was lucky I was concentrating on catching the ball, because I didn't see the defender, and he made a good hit. Luckily, I bounced off the guy that was behind me, and I was able to stay on my feet."
The Lions answered with a 15-play, 69-yard march that was capped by a 22-yard field goal from Hanson before Rice exploded up through the line and logged his seventh rushing touchdown of the season, catching a key downfield block from Mason along the way.
"That stuff happened during the week at practice," Rice told reporters. "I can tell you right now, I remember on the Thursday practice running the same run to the left side, timing it up perfectly and hitting it and scoring in practice."
The second half was more of the same.
The Ravens took their initial possession after the break 74 yards to set up a Le'Ron McClain 3-yard touchdown plunge on the heels of Demetrius Williams' leaping 34-yard reception.
Willis McGahee capitalized on a 31-yard completion to tight end Todd Heap with an 8-yard touchdown run, and then added a 19-yard touchdown to put the game well out of reach with a 41-3 Ravens lead.
Even though the Ravens decided to pull most of their starters, including Flacco, at that point, records continued to be met.
Backup quarterback Troy Smith's 15-yard touchdown scamper and Cundiff's ensuing extra point tied the team mark for most points scored in a single game.
The Ravens could have surpassed that bar too with a last-second field goal, as they were within range as time expired. Instead, they opted to take a knee.
Harbaugh cited a solid work week for Baltimore's improved execution following a disappointing 27-14 loss last Monday night.
"When you put a big week of practice together, you at least have a chance to execute on Sunday," Harbaugh said. "We've put together good weeks and haven't executed as well on Sunday. I think the week before was a good example of that. It's what they do well week-in and week-out."
At 7-6, the Ravens now find themselves still in the hunt for a wild-card spot in the playoffs on a day when the top two contenders, the Denver Broncos and Jacksonville Jaguars, both lost.
"We know what we have to do," McGahee said. "We know that we have to win the rest of our games out, regardless of what happens. And I know we need a team or two to lose a game so that we can jump in there and be safe, but you know, we're going to go out there and play, because we were in this situation last year."