Baltimore Ravens training camp will be tough, but it won't hold a candle to offensive tackle Stephane Nembot's childhood summers in the village.
It was then that Nembot, with spears and ropes in hand, trapped antelope, pigs and countless other meals in rural Cameroon (Africa).
Yes, Nembot (name-bot) is a trained tribesman. He grew up in the city of Douala, but his mother hails from the Cameroonian tribe of Bafoussam and his father is from Bangoua. Each summer, it was mandatory that he split his time between their native villages.
"You train in the ways of the tradition so you can pass it down from generation to generation," Nembot said. "My mom's side is a lot more severe. They don't mess around."
Nembot's story has taken him from those countryside playgrounds to America, where he came as a high schooler to play basketball but ended up being persuaded into playing football – a sport he had never even heard of.
Now Nembot is trying to keep the journey alive. He's one of 12 undrafted rookies vying to make the Ravens' 53-man roster. At least one undrafted rookie has made the team for 12 straight years.
Nembot may not have the best chances among those in his class, but he may have the best story.
Hunting Lions And Eating Elephant Ears
Wherever Nembot has gone, the rumor, and question, have followed.
Did you really kill a lion?
Nembot smiles and shakes his head. No, he hasn't killed a lion. He was on the hunt, however. Nembot's uncle dealt the final blow.
This is life in rural Africa, where boys go to learn the ways of their ancestors. There, Nembot became quite a skilled trapper. He's eaten lion, giraffe and many other animals. His favorite food?
"Elephant ears," he said. "They take a looooong time to cook."
More than hunting, Nembot fondly remembers growing mangoes and papaya, and climbing huge avocado trees to shake out their buttery yield. He still pines for the taste of sugar cane behind his bottom lip. He thinks Americans' fascination with hiking is funny. In Africa, they just call that walking up a mountain, and it's done*with *huge chunks of wood atop your head.
One summer, Nembot's future changed forever. Scouts from UCLA came to Cameroon to take a look at his cousin and promising basketball prospect Luc Richard Mbah a Moute, who now plays for the NBA's Los Angeles Clippers. While they were there, the large and athletic Nembot caught the scouts' attention. The scouts convinced Nembot and his family that he should come to America to enroll in high school to further develop his basketball game.
The scouts did his paperwork and enrolled him at Montclair College Prep, a small high school outside of Los Angeles that could offer him a scholarship. Nembot's family – including extended family – sold everything they had to pay for the flight to America.
"I'll never forget that," Nembot said. "They put $700 in my pocket for emergency money and that was it."
Nembot would have been a high school junior, but he went back a grade because, while he knew 10 different African dialects, French and Spanish, he didn't speak any English. What was a 15-minute assignment for other classmates took him three hours because he had to translate questions to French first, then translate his French answers back to English.
Learning the language of football was a whole other matter.
Nembot had never even heard of the game, and there's no word for it in any of his African dialects. He thought people talking about it were really referring to futbol (soccer). His parents still don't even know what American football is. Despite many explanations, they still mistake it for rugby.
Falling For Football
To get from the classrooms back to his dorm at Montclair Prep, Nembot had to walk across the school's football field. That's when he would get badgered almost daily by Ayinde Bomani, a trainer who held camps for aspiring college football players.
Bomani took one look at the towering Nembot and knew he had to play football. Nembot was too short to be a basketball center, but his size and athleticism made him a drool-worthy football prospect.
"If you play football, you'll go from an average player to everybody wanting you," Bomani told him.
That wasn't convincing enough. After three months, Bomani came up with the trump card.
"'I guarantee, if you play football, you'll see your momma sooner,'" Bomani told Nembot. "And he just smiled."
Nembot suited up for football for the first time as a high school junior. He had to be taught everything, yet after just three days of practice he was the team's starting defensive end. He blew up one kid in practice so hard that the kid stopped playing football. His coach, Juan Campos, simply told him to line up, find the ball and hit whoever had it.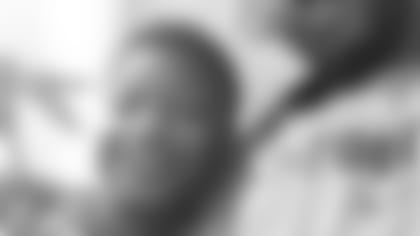 Bomani remembers Nembot's first high school game. He hit the quarterback well after the throw, drawing an obvious flag – much to Nembot's confusion. Being too aggressive usually wasn't the problem, however.
"He was like Eddie Murphy in 'Coming to America,'" Bomani said with a laugh. "I was like, 'Stephane, you've got to be mean!' Even when he messed up and was getting yelled at, he was always so happy cause he was playing football."
Bomani gave Nembot tape of Indianapolis Colts pass rusher Dwight Freeney. Another mentor, Reggie Smith, gave Nembot clips of former Ravens linebacker Ray Lewis. That one did the trick.
"I fell in love with a player," Nembot said. "I couldn't imagine how high in energy this player is. It's like he never gets tired. Even when he gets tired, he's talking, talking, he's motivating himself. That player was Ray Lewis. I dream of being like him."
Nembot remembered one quote from Lewis, which he still recites to himself this day.
"I wasn't the most talented. I wasn't the biggest. I wasn't the strongest. But, by God, I have never found anybody that would outwork me."
Since then, Nembot has been obsessed with outworking everyone else. He was often the last player off the field during Organized Team Activities (OTAs) and minicamp.
"When I do something I really want, I just put all I have into it," Nembot said. "I consider myself as somebody blessed with God-given ability with my body and height, but I don't have the talent. So that's why I always make sure I work and work and work."
Eventually, just as Bomani predicted, the suitors came. Within weeks of playing high school football, Nembot garnered interest from schools captivated by his 6-foot-7, 270-pound frame. After committing to three different schools within the Pac-12, he settled on Colorado because they were the only program that called Cameroon to talk to his parents.
Nembot was made a full-time offensive tackle, where he played alongside Ravens fourth-round rookie Alex Lewis before Lewis transferred to Nebraska. Nembot ended his Colorado career with the second-longest starting streak on the team (44 starts). He was twice named the team's top offensive lineman.
"Stephane is just a really young football player," Lewis said. "He's got a lot of God-given talent, and beyond that, he's a great human being and teammate. He makes leaps and bounds every day because he wants to."
Making It In Baltimore
Nembot doesn't want to make it in the NFL for himself. He wants it for his family and for Cameroon.
"It would be a lifelong achievement to make it in the NFL," Nembot said. "I came to America to be successful. It would mean a lot to me, but also my entire family. Everybody at home is counting on Stephane. I can't disappoint everybody."
Nembot's parents still haven't seen their son play football. He didn't even tell them that he had a chance to be drafted. He wanted to wait until he made a 53-man roster to let them know, but finally caved when he signed with the Ravens as an undrafted rookie.
Nembot came to the Ravens on the recommendation of Tra Thomas, a longtime Philadelphia Eagles offensive tackle. Thomas told Nembot that Ravens Offensive Line Coach Juan Castillo, a longtime former Eagles coach, would be the technician he needed.
Always up for a big, athletic project, Castillo started calling Nembot every week leading up to the draft. He asked about his family and built a relationship with Nembot in case he didn't get drafted.
"I've got two words to describe Stephane Nembot," Castillo said. "Hard worker."
If he's going to make the 53-man roster, Nembot has an uphill climb. He would have to beat out two other reserves in De'Ondre Wesley and Blaine Clausell and perhaps experienced backup James Hurst. If not, Nembot could be a candidate for the practice squad.
Nembot wants to bring his parents to America to see what few people from his city have witnessed. Ultimately, he wants to return to his native country and build an orphanage so he can help people just like they helped him.
To accomplish that, he knows he has a lot more work to do. And sometimes he thinks back to those days spent in the African countryside for lessons.
Mocked as a "city boy" in Africa, he felt like he had to prove himself in the wild every summer. Now, as the football player from Africa, he's still trying to do the same.
"When it comes to hunting time, you want to be at the front of the pack," Nembot said. "You want your tribe to be the tribe that is successful. You want to do always more than other people because they've been doing it for a while.
"I'm always trying to do more just because I feel like I'm so behind. Everybody has experience and understand things. I don't. I feel like I'm playing catch-up. Everything I want, I have to do extra for it. I'm trying to make it for all of us."