Joe Flacco is also an elite gift-giver.
The Ravens quarterback got all of the team's offensive linemen a virtual reality system, and, trust me, they're excited.
An Oculus Rift headset costs about $600 and the Alienware gaming processor is in the $1,000-$2,000 range depending on the model. The Ravens have nine offensive linemen on the 53-man roster. You do the math.
"It's awesome!" backup guard/center John Urschel said. "The computer is awesome – the processor, the storage!"
"Very creative," right tackle Rick Wagner added. "I didn't even know this was out there yet. I've only seen pictures on Twitter."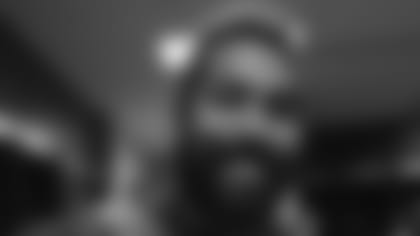 Flacco didn't even get one for himself, and the only gift in his locker looked to be from a young adoring fan. So what does Flacco get in return? How about no sacks?
"Maybe for one game or so; two games would be nice," Flacco said with a smile. "I always try to look for something that's new that year, and this is what I came across. I thought it would be cool."
Flacco has bought his linemen gift cards before, but that's just not as fun. Last year, he bought them drones. As a kid who always got last year's buzzworthy new game, Flacco likes to treat his teammates to what's hot.
"Every year you've got to do a little something different. It's actually a lot of pressure," he said with a laugh. "I try to get it out of the way earlier and earlier every year and make sure it's just taken care of. That way I can get it off my mind and not think about it anymore."
That's just typical Flacco playing it cool like he doesn't care that much.
Yeah, Flacco has plenty of money to buy his linemen nice gifts. What makes him such an excellent gift-giver is not only the thought he puts into it, but the little things.
Flacco also bought some players little individualized gifts. For example, Flacco ordered some specialty Japanese chalk for Urschel, the Ravens' resident Ph.D. mathematician.
"I heard he got a chalkboard," Flacco said. "And he's a big mathematician guy, so I looked up some sweet chalk for him."