This is the story of how Make-A-Wish 18-year-old Josue Hernandez met his idol, Ray Lewis, and got invited into the Ravens' pregame locker room Monday night in Cleveland.
Growing up in Spain, Hernandez didn't know the first thing about American football. Like just about everyone there, soccer was his love.
But things changed in 2007 when Hernandez's dad noticed he started dragging his left leg. He began having trouble walking and stopped using his left hand to eat.
"I didn't really understand what had happened to me," Hernandez recalled.
Later that year, Hernandez was diagnosed with a tumor in his back, which was contacting his spinal cord and slowly paralyzing the left side of his body.
He had surgery in February 2008 in Madrid, but after a couple years, the tumor returned.
Looking for hospitals for a second surgery, his parents discovered Johns Hopkins in Baltimore. In June of 2010, he flew across the Atlantic and Dr. George Jallo and Dr. Alfredo Quinones-Hinojosa performed a second, successful, surgery.
Hernandez spent a month in Baltimore doing physical therapy, and started following the Orioles. During the summer, that's what was on TV.
When he returned to Spain, he continued to follow Baltimore sports and became interested in football, which he preferred. One day he was watching a replay of a Ravens game when he noticed Lewis. At that point, he didn't know No. 52 from any other jersey, but Lewis intrigued him.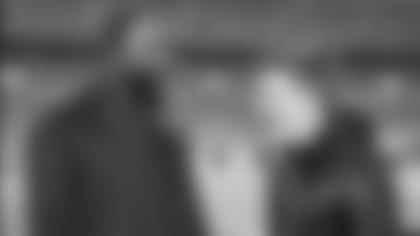 Studying abroad is popular in Spain, so in 2012, Hernandez returned to the States (in Maine) for his sophomore year of high school. That was a very good year for a Ravens* *fan's love for the team to grow.
"That year, I followed the Ravens a lot, and it could not have a better ending than winning the Super Bowl," he said. "I watched almost all the games of the Ravens and became a good fan."
Hernandez went on to spend his junior and senior high school years in Minnesota and New Jersey. In 2013, while he was in Minnesota, Hernandez's mom heard about the Make-A-Wish Foundation and contacted them with her son's wish – to meet Lewis.
On Monday night, Hernandez's wish finally came true. The Make-A-Wish Foundation set up a meeting with Lewis on Monday Night Football, where the retired linebacker was broadcasting the Ravens-Browns game.
Turned out, Hernandez got so much more.
After flying in from Madrid the night before, Hernandez found himself at the Ravens' team hotel for ESPN's production meetings. He met and chatted with quarterback Matt Schaub, kicker Justin Tucker and, lastly, Head Coach John Harbaugh.
"I just liked him. He had a great personality," Harbaugh said of Hernandez. "He was so excited and loves the Ravens so much.
"Here's a young man from Madrid, Spain, who came here to basically fight for his life at Johns Hopkins and became a Ravens fan. I just think it's one of the neatest things I've ever seen. Watch out for that kid someday. We're going to be hearing about him."
Harbaugh took such a liking to Hernandez that he invited him to come into the Ravens locker room the before the game.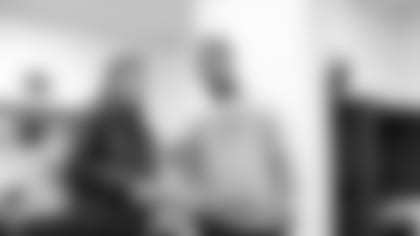 The next day, Hernandez's original wish was granted and he met Lewis as the ESPN crew prepared for the game. Lewis than hung out with him before the game on the field.
"It was awesome to meet him after all this time and we talked and I learned so much from him. It was fantastic," Hernandez said.
Hernandez was brought back to the Ravens locker room. As the players walked by, Hernandez excitedly introduced them to his parents, who don't speak any English and don't know anything about football.
About 15 minutes before kickoff, Harbaugh and Team Chaplain Johnny Shelton dropped a knee and brought the team into their pre-game prayer. When Shelton mentioned Hernandez, the young man nearly broke into tears.
"Everybody prayed for me," Hernandez said. "It was a very emotional moment for me."
Harbaugh then invited Hernandez to the middle of the circle to break the huddle. He told the team to win, which they did in dramatic fashion, 33-27, on a kick-six.
"The outcome of the game was amazing," Hernandez said. "That win was awesome, and the way it was done made it more beautiful. But for me, the game didn´t really matter, because I already had some of the best memories of my life before the game."