As the winner of the Ravens' PSL Owner Rewards program, Roger Sullivan got a once-in-a-lifetime experience at this year's NFL Draft.
Sullivan, 73, attended lavish parties, walked the red carpet into draft just before the prospects, and met NFL Commissioner Roger Goodell multiple times, including on the stage with Ronnie Stanley's jersey in his arms.
"Clearly, being behind the scenes at the jersey handoff, the red carpet walk, breakfast with Goodell, those are things that are mucho fun," Sullivan said.
And now for my favorite part of this story. Sullivan isn't 100 percent satisfied.
"The only negative, which I can't lay at anybody's feet, is the fact that several of us – including you know who – leapt to the conclusion that we would have our 10 seconds of fame on ESPN," Sullivan said.
Sullivan is a New Yorker who moved to Timonium in 1979. He was the Colts' banker back in the day and has been a Ravens season-ticket holder since Day 1 in 1996 (Section 222, Row 11).
As such a dedicated fan, it makes sense that he got this treat. And this was his experience (which sounds absolutely awesome).
He and his wife, Adele, were flown to Chicago Wednesday morning. They checked into their beautiful hotel overlooking Lake Michigan. The weather wasn't so great, so they took a 2-hour bus trip around the city before being whisked away to a swanky dinner at a Chicago nightclub.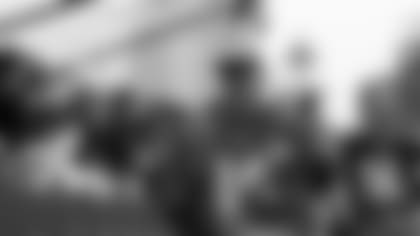 "The food was excellent," Sullivan said. "Very fine live entertainment."
The next morning, on the day of the draft, Sullivan and the rest of the contest winners (one from each of the 32 teams) were told they would have breakfast with a surprise special guest. It turned out to be Goodell. They got time to chat about football and there was a Q&A session and photo ops with everybody. Sullivan was impressed.
"In my experience with [Goodell], he was very pleasant," Sullivan said.
The group then went to a meeting laying out their itinerary while at the draft. It was then that Sullivan learned that he would not be appearing on television when the Ravens' pick was made. Problem was, he had already told all his buddies and family back home that they should keep an eye out for him.
"Some of us may have told 100 people that we were going to be on TV," Sullivan said.
With the wind a bit out of his sails, Sullivan went to the Walter Payton Award luncheon, which was also quite fancy and attended by NFL players such as former Ravens wide receiver Anquan Boldin (last year's Walter Payton Man of the Year).
Then Sullivan was taken to the red carpet. He was part of the AFC North contingent, and strutted his stuff wearing the future Ravens draft pick's jersey with the team's hat in a plastic case. Sullivan and his wife then watched the prospects walk the red carpet.
Once the Ravens' pick was made at No. 6, Sullivan was backstage with jersey in hand. Stanley's name was quickly ironed onto the back of the jersey, folded and placed in Sullivan's arms. He raced through the crowd backstage with previously picked prospects and media personalities to meet Goodell on stage. He took four paces and handed Goodell the jersey.
As the cameras followed Stanley and his reaction to being picked, Goodell asked Sullivan what he thought of the pick.
"I wanted Joey Bosa," Sullivan said. "But he was already gone."
Goodell replied: "He's good. A lot people wanted him."
Another dagger. Sullivan watched the next dozen picks or so from the Auditorium Theatre before deciding to head out for some "pops" with Adele. They returned to Baltimore the next day.
"All in all, we had a good time," Sullivan said. "That picture of me walking the red carpet, I'm making it into wallpaper, which my wife isn't very happy about."
At least he can brag to his friends about something, because they still haven't stopped busting his chops about not making it on TV.