Maybe this is another sign that the Ravens' bad luck really has turned.
Brothers Jonathan and Steve Sindler won $65,500 on "Wheel of Fortune" while wearing Ravens purple and Orioles orange. The episode was taped on Sept. 10 and aired Wednesday night.
So here's how it all went down.
Jonathan is a game-show lover who went on the "Price Is Right" in 1997. Ever since then, he's been trying to get back on a game show. He and Steve have flown to California multiple times to try to get on with no luck.
But when "Wheel of Fortune" had an open audition in Towson this past summer, their opportunity had arrived. They showed up with 60 or 70 other people, who had already been whittled down after 60-second video submissions, for three hours of mock games, written tests and interviews.
They, as Jonathan put it, "hammed it up."
Jonathan is a 42-year-old band teacher in Howard County. Steve is a 30-year-old fire lieutenant in Baltimore County who also happens to be an organ donor. He gave part of his liver to his infant daughter, Isabella.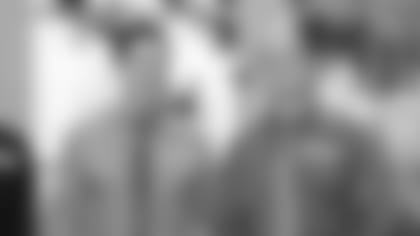 "I told him that story and made them sob," Steve said. "Then Jonathan told them tell a bunch of his teacher bloopers that made them laugh hysterically."
The two were chosen for the show as part of "Family Week," where family members would compete together. It was also part of "Sears Secret Santa Week," with a heavy Christmas theme. The brothers thought they were going to have to wear green and red clothing.
"Neither of us were really thrilled with that," Jonathan said. "I was reading through all the official paperwork that they sent us and there was nothing that said we had to wear those colors. We thought, 'What the heck? Let's do this.' We saw orange and purple and wanted to support the home teams because we are huge Ravens and Orioles fans."
Jonathan, who goes to more Orioles games than his brother, wore an orange shirt and purple tie. Steve, who has had Ravens season tickets since 2000 and can count on one hand how many games he's missed, wore the purple shirt and orange tie.
On Sept. 9, they flew out to California with their dad and only a guarantee of each winning $1,000 for being on the show. They spent all day at the studio going through makeup and mock games. They even met makeup-free and very nice Vanna White, who wished them good luck.
When it was their time to play, they dominated.
"Stephen and I were a really good team," Jonathan said. "Stephen will be the first to tell you that he's not the greatest at solving puzzles. I am. He's really great at strategy."
Steve did the wheel spinning and calculations on when they should solve the puzzle or keep trying for more money to beat out their foes. Jonathan solved five of the nine puzzles, including the bonus round worth $40,000.
The final solution was "Waiting Anxiously" and they began with "ITINGNISLY" on the board. They had 10 seconds to guess the right answer.
"I look over at Stephen and he had this deer-in-the-headlights look. He basically looked at me and said, 'Well, this is going to be a long 10 seconds," Jonathan said. "For some reason, it just popped into my head and we had it. One second was off the clock when I blurted it out."
Each brother expects to get about $25,000 after Uncle Sam takes his cut. Jonathan plans to spend it on furniture and window treatments for his new house. Steve is going to Disney World and on a cruise.
And, trust me, it won't be long until people are looking to hit them up for free Ravens tickets.
"I've suddenly got so many new friends that I never knew I had," Jonathan said with a laugh. "I think I've set a record for most amount of Facebook friend requests in a 24-hour period."