Occasionally, you can find some of the biggest Ravens fans outside of the 410 area code.
Kristalyn Omland wrote a thank-you letter to the Ravens on Jan. 5, two days after her favorite team's disappointing season ended with another loss in Cincinnati.
A fan writing a thank-you letter after a 5-11 season? Yeah, that's a diehard fan.
I'm just a girl from Maryland who loves football and lives in China.
I teach college English in China. As a teacher, I know the gratification of receiving correspondence from an old student, or even hearing from someone that one forgettable thing I'd mentioned in class challenged their entire worldview. I have been blessed to receive many encouraging letters, soon the off-chance that it encourages someone there, I thought I'd write.
Omland grew up in Bethesda, Md. loving football. The Ravens weren't around then, so she, her dad and brother, who eventually grew to be 6-foot-7 and play high school football, were Redskins fans.
She moved away to college in 1996, and wasn't in Baltimore for the Ravens' early years. She was living internationally during the 2000 Super Bowl victory. In 2001, she moved back to Baltimore City for three years and worked for the public schools.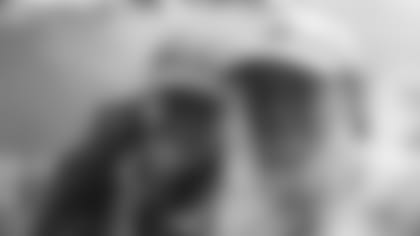 It was then that Omland truly grew her love of Baltimore. She came to like being called, "Hon," which made her feel special. She learned to greet everyone with a warm smile. She learned that Ravens jerseys are totally acceptable Sunday morning church attire.
In short, she found a community. And she embraced it whole-heartedly.
*As I got to know Baltimore up close, I saw how different Baltimore is from other major East Coast cities. It felt like home from the first day. What made it feel like home?  It was in Baltimore that I learned what it means to love your neighbor. At that time, I was preparing to go overseas to be a long-term Christian teacher in China. I was really interested in traveling and learning more about the world and the nations. I was not expecting to fall in love with Baltimore – it was simply to be my stopping ground before moving overseas.  *
The Ravens are the heart and blood of the people of Baltimore. I made the connection: love Baltimore, love the Ravens. I joined the club.
In 2004, Omland left Baltimore to move to China, where she has taught English for the past 12 years. But she wasn't about to leave her favorite team behind. Read the extreme lengths she went through just to watch the team's games:
When I first got here, watching an NFL game live, via any means, was just a dream. I think it was 2009 before I was able to get my first live feed online, and what a wonderful taste of home it was. My dear Baltimore, so far away, felt so close. I started watching more and more games. Before changing clocks in the fall, 1 p.m. games are on at 1 a.m. Monday, and after the time change, 1 p.m. games become 2 a.m. Monday. Thanks to the Ravens, I've actually come to look forward to Mondays! The fall of 2013, when I received my course schedule, I saw that I had no classes on Mondays! That meant I could watch every Ravens game without worrying about getting enough sleep. The same thing happened for fall of 2014, and I watched every game. By 2015, I had already gotten used to getting up early every Monday morning to watch the Ravens, but this season I had to teach at 8 a.m. every Monday. But I had gotten used to watching games live, and the thought of not watching the games killed me. So, this fall, I tried to go to bed around 8 p.m. on Sunday nights, and get up at 1 or 2 a.m. to watch the game, and then go back to sleep for another hour or two before going to class. … After the Seahawks game December 14, someone said to me, "You got up at 2 a.m. and watched a 4-9 team lose 35-6??" I said, "Well, yes, of course … that's just what you do when you're a Ravens fan."
Omland has also tried to bring football to China. Every year, on the Saturday after Thanksgiving, she hosts a football game in the snow to introduce the game to some locals. A strong-armed quarterback herself, Omland has more scars than she'd like to admit from playing on a gravel field usually covered with a thin layer of snow.
However, things haven't been so bright for Omland recently. She moved away from her first home in China, and is now teaching at Ningbo Institute of Technology in Ningbo, about two hours south of Shanghai.
I had a really hard semester. I had to move from the city where I'd lived since leaving Baltimore in 2004. Starting over is tough, and I suffered many defeats. A lot of my things were destroyed in the move. My students aren't as good as my previous ones. I don't have many friends here yet. I injured my foot. More often than not, it was either raining, or the air was polluted to the point of not wanting to go outside.
And this is why Omland wrote the Ravens a thank-you letter.
But the hope you displayed encouraged me through a tough season in my life. So many Ravens players talk about Baltimore being a different kind of organization, and I like to think it is partly because of who Baltimore is. In so many ways Baltimore is a down-and-out city, but it will never be defeated. Thank you for your heart. Thank you for your faith and guts, and for guarding your hearts. Thank you for playing your hearts out for the city of Baltimore. Thank you for remaining united in adversity, and not letting a 5-11 record define you. Thank you for your integrity. Thank you for not accepting profanity. Thank you for giving so many people second chances. Thank you for uncovering so many diamonds in the rough. Thank you for making me proud to wear my Ravens sweatshirt, no matter what your record, because you mean so much more than just football.
Thanks for being an incredible fan, Kristalyn. We'll try to give you even more to cheer for next season.